2008 Fly Lines
Jump To: Intro | Rods | Reels | Fly Lines | Waders | Apparel | Eyewear | Tools & Accessories
HOW HARD is it to come up with a new fly line that makes a meaningful difference in the experience of fly fishing? Well, think of it this way: There are probably around 2000 different fly lines in production in any given year. Of those, a good portion are produced in very small runs, probably under 100. At that level, it's a labor-intensive business with small if any margins, but that's what is required to serve the many different interests of the marketplace, and manufacturers can't afford to give up market share. If they don't make a fly line, someone else will. The amount of effort that goes into researching and satisfying the desires of every fly fisher out there is immense. In short, the only new idea that is likely to happen comes from technological break-through, and even that possibility is tempered by the likelihood that a competitor has patented a similar process.
So when a company like 3M's Scientific Anglers decides to introduce a new $100 fly line, you can be darn sure that it is a measured risk. The distinctive low-frequency zing of Sharkskin passing through guides became a sweet sound for SA marketers, though, as FFR's doubting Thomases began reporting back to the booth. "That price is a little salty" they say, "but I can sell it." "The darn thing really zips through the guides."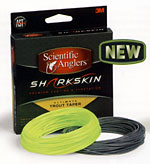 Traditionally, fly line designers followed three paths to the the holy grail of longer casts: impregnated lubricants, smaller diameter, or stiffness. The secret to the Sharkskin's performance is the use of a "micro-textured" surface that feels to the fingers just like you imagine it would. Less surface contact with rod guides means less friction and longer casts (we heard 7%). The tiny valleys in the texture also trap air, causing the line to sit on top of the water, not in it, which has the added benefit of making picking up line easier. Both of these characteristics seem to have made it possible for SA to increase the length of the front taper. Finally — we think — the textured surface promises to eliminate "line flash," the glint of sunlight off of an aerialized fly line that many anglers swear scares fish.
Will the Sharkskin line endure the hard use it is intended for? Will other problems turn up — like a tendency to hold dirt or interact poorly with someone's line cleaner or rod guides — after the line is in the hands of those who aren't paid to be careful with it? So far, the line's performance is leaving everyone thinking that the product could absorb some potential issues and still be a huge bonus for fly fishers.
Meanwhile SA is also expanding its '08 line with seven new spey lines and two Streamer Express fly lines, while adding Dry Tip Technology to its best-selling Trout, GPX and XPS lines.
While seeing lots of good press in the past year from saltwater tournament anglers who seem to think their lines are akin to a secret weapon, Monic is adding four new tapers to their very popular Tropical Clear lines, which were first introduced in 1994. Named the FST series ("Fish Specific Taper"), the new tapers target tarpon, permit, bonefish and redfish. Monic also has a couple of nifty leader system products in its '08 line: floating leaders, and a shrink tube material that enables anglers to quickly add a loop to a leader section or attach a butt section to a fly line. Both are made possible with the use the proprietary materials Monic developed for it's fly lines and coatings.
RIO Products is out with a seriously high-tech development in fly line coatings that they call XS ("Extreme Slickness"). The XS coating contains a blend of two new polymer ingredients that RIO CEO John Harder assured us were radically different than anything used before in a fly line. As Harder said to us in his booth, "The real secret to great fly lines is chemical engineering. We're doing stuff that makes the science of rod-building look like child's play." Coming from the man who pioneered the use of Rulon in drag systems and was responsible for many of the design elements commonly used in modern fly reels, we'll take his word for it. RIO is also introducing a new RIO Gold general purpose trout fly line that uses the XS coating and incorporates the subtle moss color in the head that is so popular with anglers concerned with stealthy fly delivery.
Frog Hair had a very interesting new dual-tapered knotless leader that they were showing among other new products for 2008. The nine-and-a-half-foot 20-pound-test class leader that we picked up has a 0.027-inch-diameter butt section, a 0.015-inch-diameter class section, and a 0.035-inch-diameter shock tippet, all in a continuous strand of nylon.
Cortland's new Precision Dyna-Tip Trout Line also sports a high-floating tip section and marries a new "Rocket 2" type taper to their classic 555 Dyna-Tip line.
Jim Teeny, Inc. has a two new lines coming out in 2008: a one-piece, 600- and 650-grain line for salmon and steelhead spey casters called the Mark Bachmann's Integrated Spey Line ($68), and Pat Ehler's Carp Line, a sage green line with four-foot yellow tip that allows anglers to stay in better touch with their fly.
Continuing its development of lines with polyurethane coatings, Airflo introduced a new Ridge Nymph floating line at the FFR show. ("Ridge technology," which Airflo introduced last year, involves tiny ridges that run parallel to the line from beginning to end.) The new line is designed to aid nymphers in the "sharp lift-off" required by the technique. Airflo also has a new super-tough saltwater line coming out. The GT is built around a 50-pound-test core designed to withstand highly destructive environments like coral reefs and rubble shorelines.