Video Hatch: 2010 Florida Fish Kill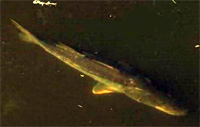 Brett Fitzgerald of the Snook Foundation narrates this informative short video about the effects of Florida's "nuclear winter" on snook populations.
"The Christmas Eve freeze of 1989 killed 500,000 snook statewide. In 1977, the year that it snowed in the Bahamas, an estimated one million snook were frozen to death. January 2010's freeze was colder, and lasted even longer, than either of those events."
Watch the video.
---
Next Story→
Big Snakes: Adventures with Reptiles in South Florida