MidCurrent's 2021 Holiday Fly Fishing Gift Guide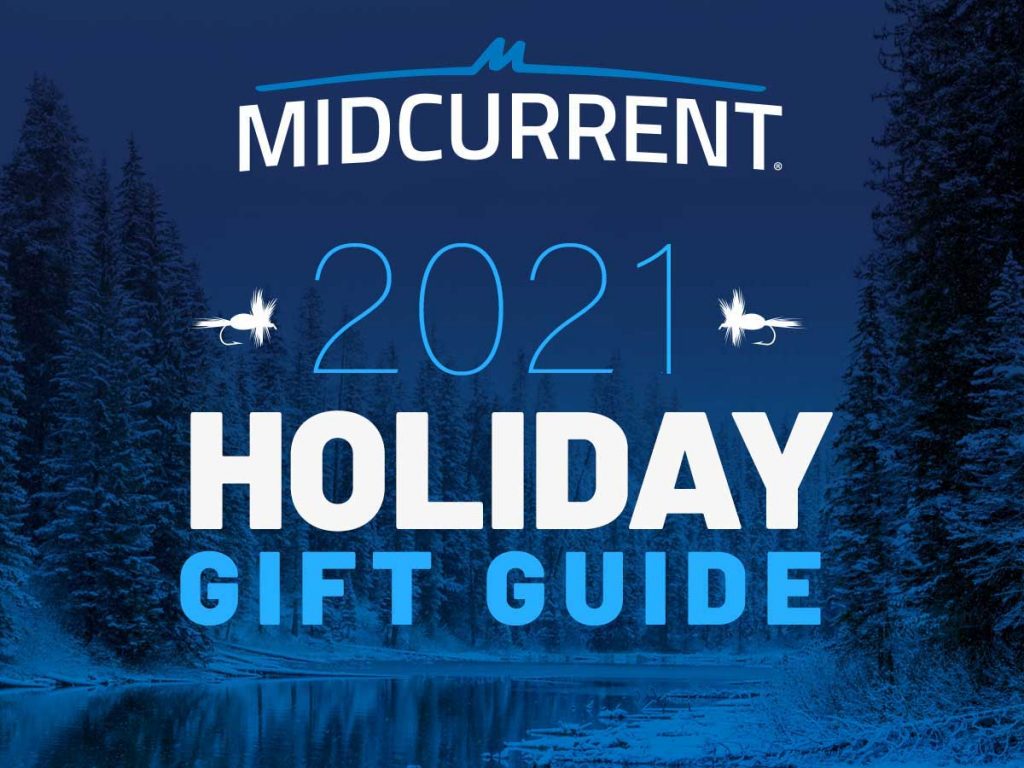 2021 WILL LIKELY go down for most fly fishers—be they anglers, guides, fly shop owners, or manufacturers—as one of the busiest years we can remember. With the surge in fly fishing's popularity and the surprise appearance of global supply chain issues, it's impressive that so many brands put out such spectacular products this year.
With the holidays here, and with the sheer volume of new gear on the market, sorting through it all to find the right gift for the angler in your life isn't easy. So the whole team here pitched in to put the 2021 MidCurrent Holiday Gift Guide together to help you find the right gift for any angler, at any price. From rods and reels to books and outerwear, I guarantee every angler will find something in this guide that they not only want but need.
The Winston AIR 2 is one of the best fly rods put out this year, and it's my personal favorite rod that the company from Twin Bridges has ever built. It's light, responsive, has virtually no swing weight, and is just flat-out fun to fish. In a 5wt, the AIR 2 throws dries and small streamers with equal ease and aplomb. The only real issue with this rod is the price. With a sticker price of $1,095.00, the AIR 2 isn't cheap, but it's an investment that will return many happy fishing years.
From the manufacturer: "All-around rods need a broad casting range to cover various fishing situations. The new AIR 2 rods generate higher line speeds, faster recovery rates, and feature a groundbreaking fast-action that is unbelievably fun to fish. They can do anything – present tiny dry flies to wary trout on flat water, cast a heavy streamer to the far bank in the wind, launch the entire line when you need it, and make accurate close-range shots without losing feel.  AIR 2 rods represent the ultimate in feel, performance, and beauty. Handcrafted in Twin Bridges, Montana and available at the finest fly shops worldwide."
30 years ago, Buff USA created the first product in the "seamless tubular headwear" category, giving outdoors enthusiasts yet another option to protect themselves from unwanted UV rays. It's not surprising why anglers adopted Buff so quickly. Spend as much time on the water as we do, and you'll want as much UV protection as possible.
Buff continues to roll out new products year after year, and this holiday season they have two new collections that make great stocking stuffers.
The Solar Gloves are the lightest-weight gloves Buff makes, and they offer up to SPF 40 protection, making them ideal for multiple on-the-water applications. A pair of Solar Gloves costs $20.00.
From the manufacturer: "At home on a kayak, paddleboard, small stream or a fishing boat, our lightest-weight gloves are so comfortable you might forget you're wearing them. The breathable fabric offers UPF 40+ sun protection and dries amazingly fast. And the seamless, bonded-cuff finish prevents chafing, even if you wear them all day. The BUFF® Solar Glove™ is approved and recommended by The Skin Cancer Foundation. MSRP $20."
My personal favorite, however, is the Grateful Dead neckwear. This collection features SPF 50 protection, and the Buffs are made from 95% recycled materials. Grateful Dead neckwear costs $24.00.
From the manufacturer: "Summer vibes and good times are here with the new BUFF® Grateful Dead Collection. With 12+ ways-to-wear BUFF® Original Multifunctional Headwear, you can keep jammin' all day long. BUFF® Original EcoStretch Grateful Dead Multifunctional Neckwear is engineered with a 4-Way, seamless, ULTRA STRETCH fabric construction that features UPF 50 protection, and 95% recycled REPREVE® Performance Microfiber. Approved and recommended by The Skin Cancer Foundation. Can be worn more than 12+ different ways, from a cap to a balaclava to a hair tie, for a personalized style and perfect fit.
Costa makes some of the best fly fishing sunglasses on the planet. Their proprietary 580 polarized lenses eliminate glare, enhance color, and make spotting fish much easier. I personally own two pairs of Costa sunglasses—both with different lenses—and would recommend them to anyone.
The Untangled Collection really stands out, however, because the frames are made from 97% recycled plastic, sourced entirely from discarded fishing nets. Instead of letting those nets end up in our fisheries, Costa found a fantastic way to put them to good use.
The Santiago frames boast the most coverage, making them ideal for long days on the water. The Santiago is also only available with glass lenses, a feature I personally like. Glass gives you a sharper image, and doesn't scratch near as easily as polycarbonate lenses.
With a price at $226.00, the Untangled Santiago shades are a great buy for anglers looking to upgrade their sunglasses.
From the manufacturer: "Discarded fishing nets are the most harmful form of plastic pollution in our oceans, but Costa is helping to change that. Made of 97% recycled fishing nets, Costa's Untangled Collection of sustainable sunglasses are as good for fishing as they are for the planet. One of four new core performance frames, Santiago, offers hooding and side shields to keep light from leaking in, keeper-ready temples and Hydrolite® rubber grips to keep your frames locked in place, and a vented nose pad to reduce fogging. That's all in addition to Costa's famed color-enhancing, polarized 580G lens."
Sea Run fishing cases have turned plenty of heads in the fly fishing world lately. They're attractive, well-built items that are just as functional as they are pretty. Most of us here at MidCurrent have had the chance to use them this year, and we've all walked away impressed.
New for 2021 are the Norfolk and Riffle cases. The Norfolk is essentially an updated version of the Expedition case, with a newly-designed interior. Of particular note is that the Norfolk has room for six rods that are up to ten feet long, which is an absolute must in today's world of Euro nymphing.
The Riffle case is built to serve as your daily fishing case. It's compact enough to sit in the car while you're at work, but roomy enough to hold three rods up to 11 feet long, along with the reels, fly boxes, and other accouterments needed for a day on the water.
The Classic case isn't brand new, but it's been one of Sea Run's most popular cases over the past couple of years. It features a pretty leather trim, with room enough for up to five fly rods.
From the manufacturer:  "New from SEA RUN CASES are the NORFOLK Expedition and RIFFLE Daily fly fishing travel cases. The NORFOLK case is based on the bones of the original award-winning Expedition with a reconfigured interior. Now with more expanded compartments in the bottom and the top stores up to six rods (10 foot 4-piece). The RIFFLE case is compact and fits your best reels, accessories, and three rods (11 foot 4-piece). Each case is designed with our patented double-wall ABS technology for secure and tough travel. QR versions are available, equipped with a Quick Release (QR) shoulder strap for hands-free use. Retail starting at $329 and available at your local fly shop or learn more at searuncases.com."
Korkers hasn't made a pair of boots yet that I don't love, but the River Ops are competing to be the personal favorite from the Portland, OR-based company.
The River Ops boots are tough, built to be abused, and lighter than you'd expect. Add to that Korkers' proprietary Omnitrax sole system and a brand-new manufacturing process that features no exposed seams (reducing potential wear points on the boots), and you have a fantastic set of wading boots. A pair of River Ops will likely last an angler the better part of a decade, if not more.
From the manufacturer: "A tactically-inspired wading boot built for guide-caliber performance. Designed to take users deep into the backcountry with a level of durability, stability, and comfort never before seen in water-specific footwear. The exceptional durability of Korkers' River Ops™ boot is rooted in the new Exo-Tec™ technology, a molded exoskeleton of protective armor with zero exposed stitching. Not only does the Exo-Tec™ upper fend off abrasion from sharp rocks, its flexibility allows for a high range of motion and athletic movement. An enhanced TPU heel counter offers additional stability and protection while the unique internal Ankle Wrap™ provides excellent ankle support and comfort. Korkers Internal Drainage system quickly purges water and keeps every step feeling light and agile, while the unique Lace Lock feature allows for a customized bi-zonal fit."
No gift guide in 2021 would be complete without at least one Euro nymphing. Enter the Epiphany from the Moonshine Rod Company. Moonshine focuses on building rods with top-shelf components at prices that don't make your wallet shudder. The Epiphany is a customer favorite, and offered in 2, 3, and 4-weight configurations.
From the manufacturer: "The Epiphany is Moonshine's newly redesigned Euro nymphing rod. We shaved over 1oz. off our original design and upgraded our components, making our new offering ultra-sensitive while still providing a fatigue-free day. Featuring a blackout, anti-glare, high modulus blank, AAAA cork, TiSiC stripping guides, light-wire single-foot and snake guides, the components on this rod are among the best in the business. We also added alignment dots and copper accents with an embroidered 5 compartment rod tube. With a lifetime warranty and an extra tip, it's hard to beat this performing, sharp-looking rig!"
Trxstle has been building rod storage systems for a while now, but their CRC Rod Carrier is easily the company's most versatile product. For starters, it's telescopic, meaning you can store Euro nymph rods and small-stream sticks with equal ease. The CRC also features suspension liners, to better protect your rods while on the road. It even breaks down small enough to use the entire rod carrier as an over-the-shoulder rod tube.
If wrist watches are your style and you're looking for something that's as at home while fishing as it is at a nice dinner afterward, then the Vaer D4 Solar Drive Watch is just the ticket. Since it's solar-powered, you'll never have to worry about losing track of time while out on the water. Plus the classic sport watch design is a definite eye-catcher.
From the manufacturer: "Traveling to a remote location? Surviving for weeks in the woods? This is the watch you want on your wrist. Powered by light (sun, lamps, candles etc.) and offering the extreme accuracy of quartz, the USA assembled D4 Solar Diver will keep you on-time in all conditions, including at extreme ocean depths. Now available for pre-order for $329 ($379 with bracelet)."
The Vesper is a rod that we've fished extensively here at MidCurrent. It's a quick, responsive stick that has a do-it-all attitude without the do-it-all price. The build quality, like you'll find on every Moonshine rod, is top-notch. If you're a fan of fast-action rods that still have a soft enough tip for fishing light tippets, the Vesper is worth a look.
From the manufacturer: "The Vesper is Moonshine's new high-performance rod that outperforms others in its price range. How? We put the majority of build costs into what makes great rod, great—the blank. These are nano matrix materials, which net lighter, stronger and faster recovering tools with superb accuracy and swing weight. The Vesper features an anti-glare, high-modulus slate blank with copper accents and alignment dots. Topping it all off is FLOR grade cork, TiSiC stripping guides, light wire single-foot guides, custom turned-in-house reel seats with premium hardware, and a 5 compartment rod sock with embroidered tube. Best of all, a lifetime warranty with extra tip to the original owner!"
I had the chance to walk through the Bauer factory in Montana this year and came away very impressed. Bauer's attention to detail and quality of materials was unlike anything I've seen in a reel factory. The best part of that trip, though, was putting an RVR through its paces on the Big Hole River. A 4/5 RVR was enough to put the brakes on some of the Big Hole's larger brown trout, and I reckon it would've handled even heavier fish just fine. There's little-to-no startup inertia, which means the drag engages instantly, resulting in fewer lost fish and shorter fights.
The RVR reels start at $695.00, right in line with other premium reels from folks like Lamson, Abel, Nautilus, and Hatch. Given that the RVR is built in the USA, double-anodized, and completely machined, it's a rock-solid reel that'll last anglers for decades.
From the manufacturer: " The Bauer RVR reels are not defined by a single attribute, but rather, by the remarkable combination of unequaled performance, striking aesthetics, and precision manufacturing. These qualities come together to create a reel that surpasses all trout fishing expectations. These specialized trout reels represent the pinnacle of modern technology: 5-Axis machining, dual anodizing, and a fully sealed, zero start-up inertia carbon fiber disk drag, giving anglers the smoothest performing reel on the market. Whether you're looking for your next all-around trout reel, a reel designed specifically for euro-nymphing, or microspey fishing, look no further than the RVR."
Orvis makes some of my favorite gear on the market, and their Loaded Lanyard is no exception. It's a thoughtfully-designed piece of gear that comes loaded with everything you need for a day on the water. For the money, it's hard to find a better value for all the little knick-knacks every fly angler needs.
From the manufacturer: "The Molle-style webbing lays flat on your body, preventing the lanyard from twisting and allows many places to customize your lanyard and tool storage. Six paracord loops also offer easy docking and points for attachments. The upper forceps dock is designed to keep forceps from swinging and the built-in shirt clip to keep lanyard secure when bending to release fish. The lower fly dock has a spot to keep flies for quick access and easy drying. Loaded lanyard comes with Comfy Grip Forceps, Comfy Grip Nippers, Hyflote Gel, Floatant Holder, Tippet Bar, and 3 spools of 30m SuperStrong+ Tippet."
If you're anything like me and enjoy fishing in the winter (or any inclement weather) then you've likely run into the problem of keeping your hands warm while they're also wet. Gloves are tough to use while fly fishing, because they don't allow you to feel your fly line's feedback like bare hands do. Enter the Snowbee SFT Neoprene Gloves, which according to Snowbee are designed to be completely waterproof without sacrificing feel.
If you're looking to get a significant other into fly fishing, or just want to up your own game—including learning the ins and outs of chasing new-to-you species—then the Orvis Specialty Fly Fishing Schools might just be just what you're looking for. These schools take place at some of the best lodges in the world, with Orvis-approved guides who know their way around the water. Spending a week at one of these schools is a surefire way to ensure you get the skills that could make all the difference on your next trip or outing.
Float tubes are one of the easiest ways to experience stillwater fishing, especially if you don't want to spend thousands of dollars on a boat. For less than $600, you can pick up the Outcase Cruzer Max float tube, which is Outcast's beefed-up version of their classic Cruzer model. The Cruzer Max features extra room so you're more comfortable on those long fishing days, and a new material for the air bladders.
As far as items I'm really excited about in this year's guide, this float tube ranks right near the top. Outcast promises their Summit Float Tube is backpacking-ready, so you can haul it to your favorite far-flung lakes. It weighs just under seven pounds, and packs down small so you can throw it in a backpack for a multi-day trip. Those elusive high-country fish won't be so hard to reach with the Outcast Summit Float Tube.
Snowbee fly rods are probably new to a lot of American anglers, but they've been a solid brand in Europe since the late '70s. I had the chance to fish with a few Snowbee rods earlier this year, and they performed great. While on guide trips, I found that my clients really loved the forgiving action of the Classic 9′ 5-weight rod. It's an absolute bargain for less than $200, and should keep any angler in your household happy.
From the manufacturer: "
If tenkara-style fishing is your thing, or if just you're curious about one of the fastest-growing trends in fly fishing, take a look at the Tenkara USA Ito. This rod "zooms" from 13′ to 14'7″ while still being light in hand and perfect for use on wide, open streams where long reach is a must. Tenkara USA introduced tenkara to North America and remains one of the most trusted tenkara brands in America. You won't be disappointed with what the Ito offers.
From the manufacturer: "The Tenkara USA Ito is a true delight to fish on any open mountain stream. It is our longest zoom rod, with the lightest possible feel, making it an excellent recommendation for larger rivers and ponds. The innovative 'zoom' function offers versatility by allowing the rod to be fished at two different lengths, 13ft and 14ft 7in, and our unique "keep your plug" system at the bottom of the rod provides an elegant solution for securing it while you fish. Pair it with the starter kit or tenkara – the book for a beautiful gift."
Douglas makes some of my favorite fly rods, and their Sky G series is one of my current favorites. What's really impressed me with Douglas, though, is the quality of their mid-to-entry-level priced rods. The Douglas LRS is one of my go-to rods when guiding, and the new ERA is sure to earn a spot in that quiver, too. It's a fast-action, lightweight rod that comes with Douglas' lifetime warranty and handles everything from dry flies to streamers.

For years I tied flies with equipment my grandfather used back in the '70s. I love the nostalgia of using those tools, but I also want to keep them around to hand down to my own kids. So, I've recently worked on adding new tools to my tying bench, which is where Loon comes in. Loon Outdoors makes some of the best fly tying tools and accessories on the planet, and I've found myself absolutely loving these items in particular:

Vise Pawn – For those using a vise without a materials clamp, or if you simply want another option for keeping hackle or thread out of the way, the Vise Pawn is a fantastic option.
Bench Rings – With the Loon Bench rings I'm able to keep all my materials connected and within easy reach.
Razor Scissors – The Razor Scissors from Loon are a great option, affordably priced, and as sharp as the name suggests.
Orvis consistently turns out products I love. From their rods and reels to apparel and boots, it's hard to find something the company makes that I don't enjoy. The new PRO HD Insulated Hoodie is another winner for the company out of Vermont. This jacket is big, rugged, and outrageously warm. It's not heavy, thanks to the 170g of PrimaLoft Gold insulation, and it doesn't inhibit movement like some winter coats do. As a bonus, it keeps you warm even when wet.
Range Fly Reels is a new fly reel brand owned and operated by the folks behind Walton Rods. Range Reels are machined in Canada but designed here in America. They feature a rock-solid drag, classic design, and a great price point. The Avail is currently their only model, but plans are in the works for more. The Avail is a large-arbor reel with tons of backing and line storage, so you won't have to worry about losing your next big catch.
I was hesitant to try drilling aluminum discs, spikes, and plates into the soles of my wading boots, but now I can't tell you why. The upgrade in traction you get by adding studs to your boots is amazing, and few companies offer the range and quality of products that Rock Treads does. Rock Treads are designed to work with all boots—interchangeable and permanent soles alike—to give you more traction when wading any river.
If you're in the market for an heirloom-quality piece of fishing gear, but aren't sure what to splurge on, then the Tom Morgan Rodsmiths 10″ Quilted Maple Net is a great place to start. Featuring a 10-inch rubber basket and the legendary Tom Morgan quality, you'll be hard-pressed to find a better-looking net on the river.
---