Gear Review: Snowbee Fly Rods
Back in March, I covered the release of a new rod that was the result of a collaboration between Denny Rickards and Snowbee. Now, a few months later, I've had the opportunity to fish and review both the 9′ 6wt Denny Rickards Signature Series Diamond 2 and a 9′ 5wt Prestige G-XS.
While these are two rods built for entirely separate purposes, they share a similarity that goes beyond the brand name. Both the G-XS and Denny Rickards are well-built, attractive rods that perform admirably for their price point. The G-XS is a bit too fast for my liking, but I'm in the minority when it comes to rod action. The overwhelming majority of fly anglers will love how quick the G-XS is.
The Denny Rickards rod is purpose-built for stillwater angling, and it's been a fantastic addition to my guide quiver. During one of my first guide trips this season, I had two young kids in the boat. The youngest had the Denny Rickards rod, and she was able to hook and land three trout by herself. The stiff backbone—but forgiving tip—of the Denny Rickards rod certainly helped her have a great day on the water.
With introductions done, let's take a deeper look at both fly rods. We'll start off with the G-XS, then move on to the Denny Rickards.
Snowbee Prestige G-XS 9′ 5wt
The Prestige G-XS is the top-of-the-line rod family from Snowbee. The G-XS utilizes what Snowbee calls a "space-age" material combined with the usual graphite and carbon fiber to create a blank that's strong, light, and responsive.
While I can't speak to whether that material is a huge difference maker, I will say the G-XS did surprise me with its reserve casting power and accuracy. Add to that the softer tip section, and I reckon Snowbee is on to something with the use of this new material, in conjunction with graphite.
The rod itself is pretty to look at, with a bright red blank and matching wraps tipped with gold. The cork is soft and what you'd expect from a rod in this price range, but the maple reel seat inserts certainly make it look like a more expensive rod.
From fishing dries to smaller streamers, the 9′ 5wt G-XS is a very capable rod for most trout situations. The tip is softer than I'd expect, given the incredibly stiff blank. The blank stiffness does lend itself well to casting against the wind, or turning over long leaders.
At $549, the G-XS is priced between most mid-range and flagship fly rods. With Snowbee's lifetime warranty, it's certainly worth casting one at your local fly shop.
Now, I want to discuss a few more features of this rod in greater detail.
Reserve Power
The amount of power packed into the G-XS blank is really surprising. The rod itself is a bit heavy, but that weight is immediately put to use when you're punching line past 50 feet. I threw lawn casts out to 80 feet without much effort, and I'm far from an excellent caster.
On the water, the reserve power in the blank helps you turn over long leaders—like a dry-dropper rig—or even smaller streamers. Of course, you'll have more luck moving big fish in heavy water with a rod as strong as the G-XS.
User-Friendly Action
I alluded to this earlier, but the G-XS is an incredibly fast rod. It reminds me quite a bit of the Sage RPL. The G-XS demands a quick, smooth casting stroke to coax the best performance from the rod. For most anglers, that's a very user-friendly action. While I personally prefer a medium to slow action rod, I know I'm in the minority there. And that doesn't prevent me from recognizing—and appreciating—a well-done fast-action rod.
Soft Tip
Finally, it's worth noting the G-XS has a softer tip than I expected. With a rod this fast, I reckoned I'd get a stiff, unyielding tip section. That's not the case, though, in part because Snowbee designed this rod to specifically address the problems that arise from stiff tips.
While I wouldn't say it's as soft as the Orvis H3F, Winston Pure, or Douglas Sky G tip, the tip on the G-XS is soft enough for use in just about any trout fishing scenario.
Wrapping Up
At $549, the Snowbee Prestige G-XS exists in the no-man's-land price range between mid-level and high-end rods. The performance is right on par with the price, though, so you're getting a decent rod for the money. The only real knock I have against the G-XS is the swing weight. It's heavier than I'd like, but you don't notice it much unless you're throwing really long casts, or heavy flies, all day.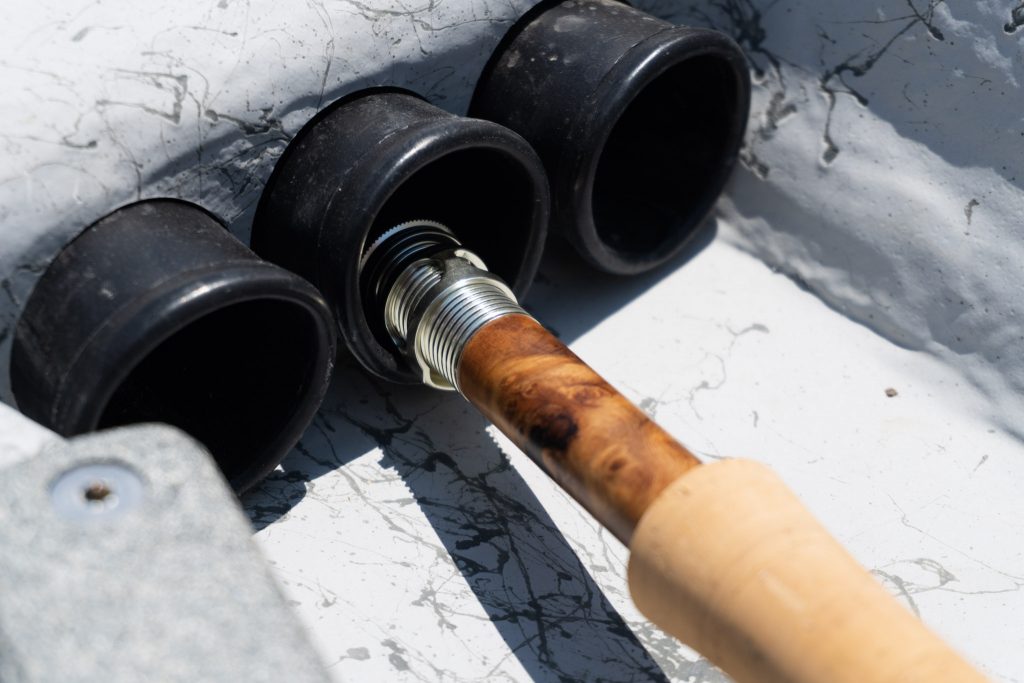 Denny Rickards Signature Stillwater Rod
Denny Rickards, a famed stillwater fly angler, teamed up with Snowbee to create a rod designed and tuned for fishing lakes and ponds. The Denny Rickards Signature Stillwater Rod is built on Snowbee's Diamond 2 blank, but differs from the Diamond 2 line in a few notable ways.
First off, the Denny Rickards is available only in a 9′ 6wt model. That's a move I actually appreciate from Snowbee, because a 6wt is the sweet spot for almost all stillwater angling.
Second, the Denny Rickards is a wickedly fast rod. This is to the G-XS what the Sage Igniter is to the Sage Dart. The fast-action is warranted, however, because Snowbee and Denny Rickards wanted a rod that still performs against wind, or when throwing heavy rigs. Because wind tends to howl even worse on lakes than on rivers, a fast rod is a welcome addition to an angler's stillwater quiver.
Priced at $349, the Denny Rickards is right in that sweet spot where tons of great options exist. So, why would you choose the Denny Rickards as your next stillwater rod? Let's take a deeper look at some of this stick's features.
Purpose-Built Taper
Snowbee made no bones about the Denny Rickards being a strictly stillwater rod. That's why it was built, and why they brought in an expert like Denny Rickards to help them design it. Personally, I love when a brand is willing to purposefully build a product, instead of trying to create a do-it-all solution to more than one problem.
Anglers need a stiff, quick, sensitive rod for stillwater fishing, and the Denny Rickards delivers quite admirably.
I tried fishing the Denny Rickards as a nymph rod from my drift boat for a bit, and I wasn't too impressed. It felt heavy, clunky, and not suited for the task at hand. The moment I got it out on a lake (where it's intended to be) the rod almost felt like a brand-new stick. It was responsive, placed flies right where I wanted them, and still had enough sensitivity to feel subtle strikes while I pulled leeches back to shore with a hand-twist retrieve.
Overall, I was very happy with the performance on stillwater. It's clear this rod has a purpose-built taper, and Snowbee didn't miss the mark here.
Roll Casting
The Denny Rickards might be the best roll-casting rod I've ever fished. At least, it is on stillwater.
While guiding, I watched clients who'd never fly fished before, execute nearly perfect roll casts within minutes of picking up the Denny Rickards. As much as I'd love to credit that to my expert teaching skills, this is a case of the right rod making a huge difference.
If you fish stillwater often from a float tube or kayak, the Denny Rickards will be a huge help for your roll casts, since you're starting the cast from such a low position.
It doesn't matter if you're using three nymphs, a streamer on a sink tip, or a dry-dropper rig. The Denny Rickards roll casts it with aplomb.
Build Quality
For a $350 rod, the Denny Rickards looks great. The blank is a nice olive green that shines in direct sunlight. The cork is better than I expected on a rod at this price, and the skeleton-style aluminum reel seat is a nice touch. You can write this off as hyperbole if you want, but I think the Denny Rickards looks just as good as the Prestige G-XS.
Wrapping Up
The Denny Rickards is a rod that'll finally end many anglers' quest for a great stillwater fly rod. It's a casting machine, stiff enough to handle big wind gusts, and roll casts better than any rod I've ever used on stillwater. That Snowbee built it with a sensitive enough tip to feel subtle takes is just a huge bonus.
The rod comes with a lifetime warranty, and only runs you $349. That's a steal, no matter who you are. If you're looking for a purpose-built rod for stillwater, I'd strongly suggest you find a fly shop that carries Snowbee near you and give this rod a try.
---