First Glance: LifeProof Nuud Phone Case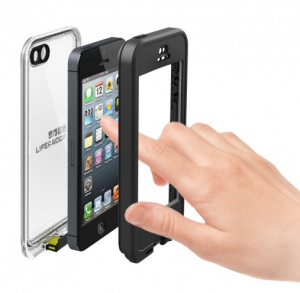 Last year I reported on the LifePro Fre iPhone case.  It was the first case for a phone I ever owned and I'll admit I was skeptical. It turns out that I was blown away. As someone who's around water a lot it proved to be a perfect case. Its slim profile and rugged toughness were as advertised. I boated, fished and even went swimming with the case a few times by accident and my phone was fine. The only drawback for someone like me who was pretty rough on the case was the plastic over the screen. It worked perfectly fine, but sometimes I wished it wasn't there.
Enter the LifeProof Nuud case. It's almost identical to the Fre, but it doesn't have anything covering the glass and is still waterproof to 6.6 feet. I've been using it for about two weeks now and am absolutely loving it. LifeProof claims it's the lightest, thinnest and most functional case ever conceived, and I have to agree.  Not having the covering over the glass is just amazing, and yes it's waterproof. I tested it a few times in the sink and once in a bass fishing dunking (waded a little to deep).
Here are the details on the phone:
The thinnest, lightest, most functional all-protective iPhone 5 case ever made
Screenless technology lets you touch your iPhone 5's actual touchscreen
Protected by The Four Proofs:

Waterproof: Fully submersible to 6.6 feet (2m)
Dirt proof: Totally sealed from dirt and dust
Snow proof: Completely closed to snow and ice
Shockproof: Survives drops from 6.6 feet (2m)
Complete access to touchscreen, plus all buttons, ports and controls
Maximum sound output and clarity
Anti-reflective optical-glass camera lens
Includes optional scratch protectors
Your nüüd for iPhone 5 is backed by a 1-year warranty
Cost on the Nuud is $89.99 and  it is, in my opinion, worth every penny.  I'll follow up later with a more in-depth review after a more use out in the field.
---
Next Story→
Redington Partners with GoPro Mountain Games