Addition to NS Series from Thomas & Thomas
New from Thomas & Thomas comes the announcement of an addition of a fuller-flexing rapid-recovery 6 weight to their popular NS rod series. The NS 6 is designed with trout anglers in mind who are "looking to cover big water with large streamers and also moves the series into summer steelhead and grilse territory," says T&T owner Mark Richens.
Read the full press release in the extended entry. 
Thomas & Thomas Announces Addition to NS Series of Distance Trout Rods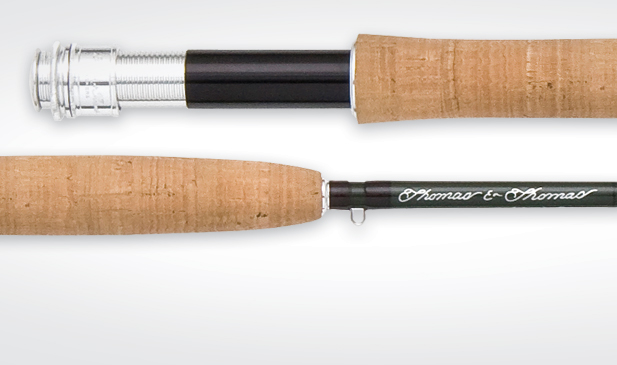 Greenfield, MA – October 8, 2012. USA fly rod maker, Thomas & Thomas is pleased to announce the addition of a 6 weight to its NS series of distance trout rods.
NS denotes 'No Sanctuary' and the new 6 weight joins the successful 5 weight in this specialist series designed for big water trout fishing. The NS 906-4 is priced at $775 and will be available for order at fly shops and online at www.thomasandthomas.com from October 1, 2012.
Commenting on the new NS 6 Mark Richens said, "When we launched the NS5 for the 2012 season it represented a deviation from the norm. Clearly there was an application for fast action, distance trout rods but we didn't know if the market would view T&T as the right rodmaker to meet the need (given our long association with more 'subtle' trout rods). The NS5 was an experiment, but it quickly established itself as our best seller in 2012. We've enjoyed some amazing correspondence from customers in awe of the capabilities of the NS5.
Evidently, big water trout anglers recognized the benefits inherent in the design. The NS is a special rod – light and thin, but with incredible power. So many fast trout rods rely upon a very soft tip to create tight loops. But such designs are flawed when it comes to picking line off the water to recast – the tip collapses, especially when sink tips and large, heavy flies are in play. They also have limitations in the way they protect tippet when setting the hook at long distance. The NS design overcomes these issues. It is slightly fuller flexing, and the rapid recovery of the high-modulus materials results in a rod that can hold incredible amounts of line in the air, shoot line effortlessly and deliver presentations with accuracy.
It makes absolute sense for us to extend the NS series in to a six weight. This rod will be a big hit with trout anglers looking to cover big water with large streamers, and also moves the series in to summer steelhead and grilse territory."
About Thomas & Thomas:
Born in 1969, of an obsession to create the world's finest fly rods, Thomas & Thomas strives to set the standard for craftsmanship, performance and aesthetics in rodmaking. From a small shop in rural New England, Thomas & Thomas builds timeless classics from bamboo and fiberglass and modern masterpieces incorporating the latest graphite technologies.
For more information please visit www.thomasandthomas.com or contact Trevor Bross on +1 413 475 3840 or [email protected].
---
Next Story→
Podcast Interview: Anthony Magardino of Beaverkill Fly Rods