Flats Boots: Talked Out of My Chucks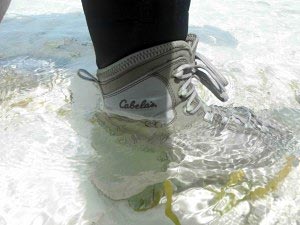 Those of you who have followed my flats-fishing adventures over the past decade will understand how difficult it is for me to write this review. I have waded in Chuck Taylor All-Stars for years. Part of that has been because I've been too cheap to cough up $150 for a pair of boots designed for walking in sand, and part of that has been because I like the punk-rock, Ramones-esque visual that comes with stalking bonefish in old-school, high-top sneakers.
But before I left for a recent trip to Long Island in the Bahamas, I got a note from Chuck Smock (the irony is rich indeed), asking me if I was really beholden to my canvas-tops, and if I'd be willing to give another option a try. Being the swag-hog that I am, I ordered up a pair of size eleven "Bone Sneakers" and took them to the Bahamas.
I could not have been happier for having done so. Do-it-yourself bonefishing on Long Island involves marching for miles and miles, sometimes through ankle-deep muck. The Bone Sneakers were a godsend, preventing chaps and blisters that would have inevitably happened had I stuck to the "too cool for school" fashion statement.
Thing is, the appeal, for me, with Chucks, was really all about price. For $90 instead of the $40 one spends for sneakers, you get legitimate ankle support, a grippy tread, lightweight construction that doesn't make your feet blister and sweat (even if you wear 2mm boot socks underneath, which I highly recommend as the key to preventing chaffing and cuts).
Is it worth the extra $50? Yes it is. And that's still far less than a pair of premium brand-name flats boots.
I'm sorry, Joey. I'm sorry Dee-Dee. I'll still wear the Chucks when I'm bending punk chords on my Stratocaster. But when I'm walking the flats, I'm going with the Bone Sneakers.
---
Next Story→
First Glance: Costa's New Double Haul Sunglasses