Orvis Announces Two Budget-Friendly Fly Reels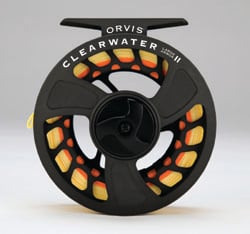 Clearwater Large Arbor Reel
The Clearwater large arbor reel from Orvis is a die-cast aluminum large arbor that is lightweight enough to balance properly with your favorite rod. Two years in design and development and with a powerful disc drag that can hold its own with high-performance machined reels, the all new Clearwater Large Arbor cost significantly less than its machined cousins, but has not only the looks, but the guts of a higher priced version. Easily converted to either left- or right-hand retrieve, the Clearwater has a positive click drag knob for consistent settings every time. Whether you're looking for your first large arbor, fishing on a budget, or want a spare or two in the bag, the new Clearwater Large Arbor can handle anything a machined reel can, and completely changes the game in die-cast reels.
The new Clearwater reel will be available in two sizes, plus a cartridge version. The Clearwater II ($79; spool $39 per spare spool), for 4-weight through 6-weight lines; the Clearwater IV ($79; $39 per spare spool), for 7-weight through 9-weight lines; and the cartridge version of the Clearwater IV ($125; $19 per spare cartridge), for 6-weight through 8-weight lines.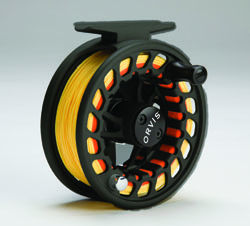 Encounter Large Arbor Reel
The all new Orvis Encounter Large Arbor is a value-priced reel with all the credentials of a much higher-priced large arbor. Made of a molded composite, the Encounter is extremely lightweight, but the inline drag system is the most powerful in its price class. Easy right- and left-hand conversion with a positive click drag knob to allow for consistent drag settings. For the budget-minded angler or a first reel, the Orvis Encounter Large Arbor is a great option at $49 ($25 per spare spool).
Click here to find an Orvis dealer near you.  More mentions of Orvis on MidCurrent.
---
Next Story→
RIO Brings New Powerflex Trout Leaders to Market for 2012