Father Daughter Farm Pond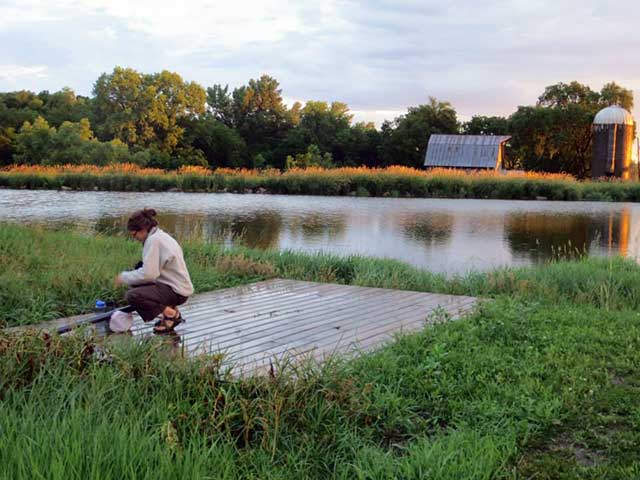 The one regret I have from childhood is not taking advantage of the ponds dotting farm country like zits on my adolescent face. And I could have, so easily. Even though my family was a suspicious lot to locals—city transplants for the love of horses, thanks to my dad's long-suffering of our obsession.  The farmers all knew me: I was the sucker who took care of their motherless calves every spring. Some died, some didn't, but I tried my best for them all nonetheless. I bottle-fed and cuddled them in my sleeping bag under a heatlamp while rats ran on the barn rafters like old folks going round and round on the track at the local YMCA, always holding hands.
If I'd asked farmers for permission, they'd have thought—no threat. They'd have said Yes. Being an innocent-looking female can work in your favor, at least sometimes. No one expects deviance from a girl with her hair in two braids.
But I never asked. I never had reason, being more concerned with gaining access to ride the grass edges and terraces of their cornfields than the fish in their waters.
My dad buries people for a living. Marries them too, on occasion. But people lose life more often than they find love and so it goes. He's not a preacher in the traditional sense of the word, although he does minister—honoring the life of people who didn't claim a religion, the vows of those who have no "church home." These beginnings and ends have rites around them—traditions sprung from trying to create meaning and memory. He stands upright and does his job with compassion, knowing we'll all be in that place sooner or later. Funerals are for those remaining, my dad says. For those who need closure, to accept truth. For those who have to keep on long after you're gone. It doesn't matter what you want, he says. You'll be dead.
He'd married the farmer and his bride on a windy May day. White silk blowing east, the veil flying like a ghost. On the peninsula of the family's farm pond under a gazebo festooned with well wishes, they took their vows. He showed me a photo and all I could say was, Papa, I want to fish that pond. I don't particularly like weddings.
Farmer Nick says any time, he emailed later. You've just got to get yourself home.
Something I hadn't been for a while. There's a whole list of excuses, of course: crazy relatives, work and pets and vacation time, memories of a happy summer and broken marriage.
But I gathered myself, packed my fly rod, had a stiff drink before hopping on the Amtrak, which arrived into Lincoln, Nebraska hours late and in the rain, as all trains should. It's an expectation of sorts, like soggy casseroles at a potlatch and having children before you're out of your twenties.
The next morning my dad and I drove to the farmer's wedding pond, under an eggplant prairie sky that grew like a welt, maturing into a bruise of a thunderstorm later in the day. A sign out front of the house displayed the family name. Funny how everyone here knows everyone else, yet those signs remain. Generation after generation, like the headstone to a family plot, dreams tilled and planted, year after year. Sometimes they even have an "established" date engraved or burned into the wood. Longer than any of my heritage has been in one place.
In Colorado, trail-miles and elevation bring the solitude… not friendly farmer connections and a short walk from a Toyota sedan. But that's what we had. And I breathed a deep thanks while looking at new water, which always secrets away what you might see. The questions of what might be and could have been are mutes, looking back in reflection. But you come to know the game pretty well after a while—come to recognize the patterns of inlets, outlets, and structures sticking up like icebergs. You start knowing where they like to hide, just like you know a runaway dog always goes to the neighbor who has the best scraps.
I rigged a rod for my dad, just as he used to do for me when I was a kid with my Free Willy Zebco and nightcrawlers. And despite our mutual low expectations, we caught bass and catfish on damselfly nymphs stripped in slow as the thunderstorm rolled by to our south.
It was wonderful.
And surprising—because growing up, our fishing trips weren't successful by standard measure. There weren't many fish, if any, and the largest ever caught was eaten off the stringer by a muskrat trailing our yellow canoe. But we still went out, my dad still rowed, my sister and I still gathered nightcrawlers beforehand. And that was the success of it all, that we always tried. It never hurts to ask, I learned that from my dad. Sure, you might get shut down, but you also might get a yes and have the time of your life. Which is really just a series of asking for things that aren't yours anyways. For phone numbers, jobs, ice in your coffee, hearts you promise not to break… and for waters you want to fish with your dad.