ESP Small Stream Series from Thomas & Thomas
Designed with the small stream angler in mind, the newly announced ESP (Extra Sensory Presentation) rods from Thomas & Thomas complement "babbling brooks, rich chalk streams and technical spring creeks" with a smooth medium action and precision for tight casts. The ESP is perfect for "anglers who like to be free of the confines of the driftboat," and will be available for the 2013 season.
Read the full press release in the extended entry.
Thomas & Thomas Announce ESP Series of Small Stream Trout Rods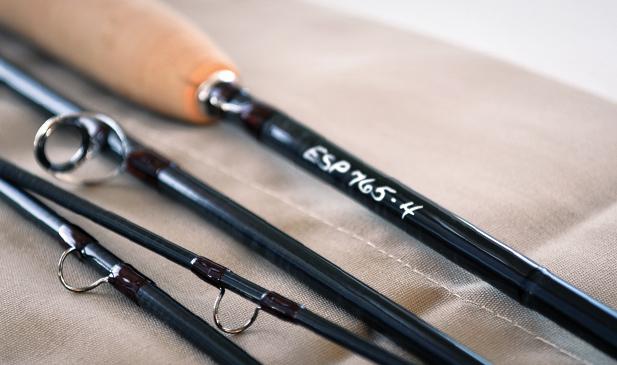 Greenfield, MA – October 8th, 2012. USA fly rod maker, Thomas & Thomas is pleased to announce the launch of its ESP series of small stream trout rods, for the 2013 season.
ESP denotes Extra Sensory Presentation. The series is comprised of six, four piece models, 763-4, 764-4, 765-4, 803-4, 804-4, 805-4 with prices starting at $720 and will be available for order at fly shops and online at www.thomasandthomas.com from October 1, 2012.
Thomas & Thomas mixed art, craft, science and a drop of alchemy to develop the ESP series – smooth, crisp, medium action fly rods to delight small stream aficionados. By utilizing a blend of new composite materials T&T has developed a rod series that speaks the language of seasoned stalkers – trout anglers who like to be free of the confines of the driftboat, away from the crowds and closer to the entomological action.
This is a rod series for babbling brooks, rich chalk streams and technical spring creeks. The ESP feels light in the hand and flexes with minimal haul for smooth, controlled casts at short and medium distances. In confined spaces, the rod's action will enable anglers to get creative with roll casts and 'bow and arrow' target shooting. If longer presentations are required the ESP possesses plenty of reserve power – field testers report that the 7'6" rods will cast almost as far as any 9' rod in equivalent line weights, when required to do so. The ESP makes presentation totally intuitive, handles super- stealth tippet sizes, and raises the bar for precision and finesse when the hatch is on.
As the latest in a long line of small streams rod from Thomas & Thomas, the ESP will not disappoint aesthetically. At T&T, graphite always gets the bamboo treatment – the ESP features only the finest materials and components. The clear graphite blank is hand rolled at T&T's shop and adorned with Snake Brand guides, chestnut wraps with black edging, a new lightweight, milled-aluminum, up-locking reel seat with beautiful tiger maple spacer complemented by a western cork grip.
Commenting on the new ESP series Mark Richens said, "The moment you pull these little rods from their tube, you just want to head out in to the backcountry and go fishing. Our design team has worked tirelessly to perfect these actions and have achieved a remarkable result – incredibly accurate small-stream rods that load in-close, but will perform flawlessly when the wind picks up or the pools get wider. We're really excited to have a new offering in this important category – as an eastern rodmaker we had better be able to build great small stream rods. The ESP proves emphatically that we can and will enable us to continue our efforts to win new hearts and minds for Thomas & Thomas. We're seeing momentum building daily and the ESP will take us another step toward our goal of being universally recognized as the 'Made in USA' rodmaker of choice."
About Thomas & Thomas:
Born in 1969, of an obsession to create the world's finest fly rods, Thomas & Thomas strives to set the standard for craftsmanship, performance and aesthetics in rodmaking. From a small shop in rural New England, Thomas & Thomas builds timeless classics from bamboo and fiberglass and modern masterpieces incorporating the latest graphite technologies.
For more information please visit www.thomasandthomas.com or contact Trevor Bross on +1 413 475 3840 or [email protected]
---
←Previous Story
Podcast Interview: Anthony Magardino of Beaverkill Fly Rods