GPX Hover Line Wins Award
Released in 2012, the GPX Hover line by Scientific Anglers was awarded a Best of Show award for Freshwater Fly Line at the IFTD show in Reno this August. Designed to float just below the surface, the Hover is perfect for lake fishing chironomids and emergers, getting your line under surface chop in windy conditions.
Read the full press release in the extended entry.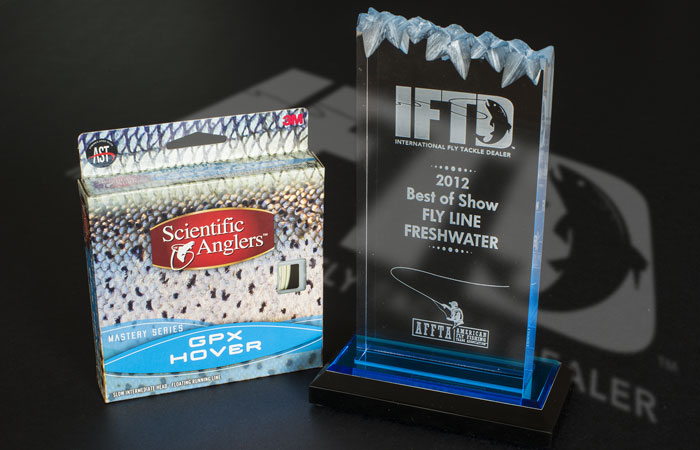 Scientific Anglers announces new for release in late 2012 a new addition to the GPX fly line family. The new line called the GPX Hover is targeted towards the anglers that want to fish just under the surface. This sub-surface feature gives the ability to reduce drag when fishing chronomids, emergers and other flies fished just under the surface. It also gets your line under surface chop which is crucial in low drag situations. The GPX Hover is engineered to be density compensated to level out at 1 to 4 inches below the surface. It will maintain a level at a slow retrieve to be extremely effective in that fishing zone. As with all of our GPX lines it is one half heavy in weight to help aid in loading  faster action rods.  The Hover includes Scientific Anglers SAID feature where the line type and weight are printed on the line, AST which is our patented shooting technology and a front loop. The line retails for $74.94 in Mastery shops around the world. The GPX Hover was designed with input from several of our pros and our chief line designer Tim Pommer.
Scientific Anglers invented the modern day PVC based fly lines in 1945. The company based in Midland Michigan holds several patents on fly lines.  The most recent technology developed is a patent pending technology featuring micro texturing on the surface of fly lines. This micro texturing  enhances casting, floatation and longevity of the line. Other technologies include  Advanced Shooting Technology (AST), Drytip and SA ID.  Scientific Anglers lines are available around the world.
---
Next Story→
Video: Vedavoo Flyfishing - Tightlines Sling Pack