Scientific Anglers Grand Slam Line
Designed specifically for catching tarpon, permit, and bonefish, the Scientific Anglers "Grand Slam" line was developed with professional Keys guide Bruce Chard. With an aggressive taper for hauling heavy flies with long leaders, the Grand Slam line has some of the most advanced technology on the market today, promising to "change the way you fish the salt."
Read the full press release in the extended entry.
Sponsored Link: Buy Scientific Anglers Fly Lines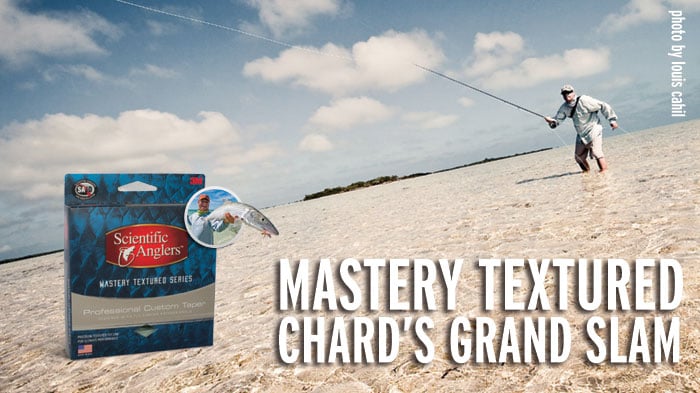 Scientific Anglers is proud to introduce the first Mastery Textured Professional Taper developed with professional flats guide, Captain Bruce Chard. Chard's new Grand Slam line taper was developed in the 2011/2012 season to answer the needs that Bruce had for the best all around saltwater line for catching "The Slam" – Tarpon, Permit, and Bonefish. The line features an aggressive taper that is ideal for in-shore saltwater situations and excels at turning over heavy flies and super long leaders. Perfect for a stealthy approach to spooky fish. The head delivers enough energy to cut through rough winds that are often encountered in tropical environments. With his years of knowledge and experience guiding in the Florida keys, Bruce and our fly line developer, Tim Pommer, worked together to bring all of the technology that Scientific Anglers has to offer to develop a saltwater fly line that will change the way you fish the salt.

From Bruce:
The demands for a great salt water fly presentation are high.  The New Scientific Anglers Bruce Chard Grand Slam Fly Line covers all the bases of a premium salt water fly line.  With an extra short front taper dumping energy into the leader system helping to roll out long leaders with heavier flies into the wind, an over weighted belly loading your rod immediately for quick short presentations, longer rear taper for additional accuracy and distance and smaller diameter running line for increased line shootabilty lowering false casting. This line has it all!
All this backed by Scientific Anglers' superior fly line texturing technology makes this line one of the most advanced salt water fly lines on the market today.  This unique Bruce Chard designed salt short taper has a proven track record for over a decade offering flats anglers around the world the best premium salt water fly line taper available.
$84.95
Bruce Chard's signature grand slam taper
Superior casting, shooting and durability
Textured surfaces trap air to improve:
– Floatation
– Reduce drag on line pick-up
– Sheds water on back cast
Low memory and minimal tangling
SA ID – SA MTX SLAM WF X F – where X denotes line weight

---