ZebraLight Headlamps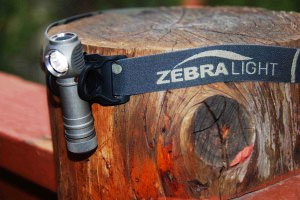 Whether you're camping without electricity, or fishing past the evening hatch (read mousing!) a great headlamp is important. As I've said before, I'm a minimalist, so heavy, complicated systems with many wires and attachments don't do it for me, even if they cast a beam that would turn on spelunkers.
I've been dabbling around with headlamps from ZebraLight, an Irving, Texas-based company. The H51FWAA Neutral White model suits me best. The beam has three settings, bright enough to light a dark trail, or subtle (and natural) enough to spot a knot or fly when you need it.
What I like best is that it can clip on and off the headband, so you can use it like a mini handheld if you want to poke your head into a storage compartment on a boat, or just check for spiders in your hiking boots. It runs on a AA battery, and if you use a lithium variety, the power lasts plenty long. It's also waterproof to two meters for 30 minutes, so dropping it in the river or waiting out a rainstorm isn't an issue. The cost is $64.
---
Next Story→
Quick Fix: Use Medical Tape to Make a Sunglass Retainer