"Shoe In" Stud Covers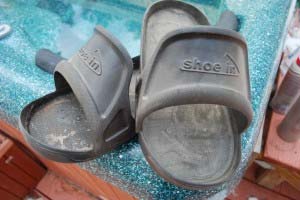 Many of us (though not all) have bought into the anti-invasive species mantra that leads us to wear boots without felt soles. And many of us (not all) have found that adding studs to rubber soles is the best way to actually remain upright in a river when we're wading with a conscience.
Thing is, jumping into some guide's hand-hewn custom wooden driftboat with studded boots is like dragging long fingernails down a chalkboard, if not an outright declaration of war. And if you're forgetful like me, you like to wader up but then find yourself popping back inside the home, or dashing in the fly shop to grab a spare spool of tippet—so skating on spikes, or leaving logger-esque marks on a hardwood floor.  It can be dangerous at best, and possibly grounds for divorce.
So along comes the Shoe In to help. Granted, at first glance, they look like flip-flops for a Yeti. But you can slip your studded boots inside, and walk or stand anywhere without committing a major offense.
I've fished with them inside a drift boat (and a raft, even). No problem. Want to anchor up and wade? No problem. Kick them off and do your thing.
If, however, you forget to step out of them, they are totally worthless for wading a river, and a sure-fire catalyst for a spill. These aren't wading shoes. They're cover-your-ass slip-ons. But in this day and age, they are exceptionally handy. And for $35 through Orvis, they're a smart and affordable piece of gear to add to the arsenal… especially if you fish in spikes often, and also fish from boats. Consider the investment a public service.
---