DIY Pushpoles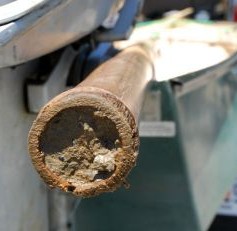 Pushpoles are most commonly associated with flats fishing–and for good reason. Modern graphite or fiberglass poles are the bread and butter of flats guides in the Florida Keys and the lagoons of Texas. But did you know pushpoles have a history of being used as canoe controls in Maine?
While fishing in the Bahamas and Mexico, I noticed that none of the native guides have access to the high-end carbon or fiberglass pushpoles we are used to here in the States. Instead, they make do with heavy hardwood poles–light tree trunks, really. I recently needed to make myself a pushpole for carp fishing Atlanta's Chattahoochee river out of my canoe. Remembering the guides I saw in Mexico (but not wanting to haul that much weight) I hit on a very acceptable solution: bamboo.
My bamboo pole is about 18′ long and around two and a half inches thick at the base. It's seen a couple hundred hours on the water both in my hands and as a redfish pole in a friend's custom Gheenoe (more about that in a later post). Because it is naturally made of hollow sections, it is lightweight but still strong, and it floats (a plus if you drop it). While certainly not a substitute for a Stiffy or even one of TFO's excellent graphite multi-piece poles, it has got the job done for us, and opened up a whole new fishing environment. We've even caught a few carp.
Do you DIY your way through fly-fishing? Share your innovations in the Comments section!
---