Nymphing for Big Nanty Browns
Natives call this river The Nanty.  Signs along Gorge Road advertise it as the Nantahala.  My buddy Ken tells me we'll be fishing this river from a boat, since I'm without waders and the Nanty is too cold to skin it.
But this is a late afternoon in early June and I'm in the mountains of North Carolina. I've just spent five hours teaching casting in the swelt of the North Georgia sun. Then I drove two hours following a manic dually diesel on a twisty mountain trail; and the locals kept passing me on curves, which kept me in a goddam-slow-down-for-the-non-natives-on-this-helix-hell-route kind of mood.  So I'll be damned if I don't at least get my sweaty Florida feet into some serious cold mountain water.  And I mean now.
So I do, step right on in, right up to my glutes, right there next to the rubber boat we'd humped over a steel handrail into the river. Yeow, Ken was right about the water, at 48º my hypothermia klaxons scream and my testicles take off in search of more hospitable housing.
My buddy Ken Kastorff has learned much in his three decades guiding these highland rivers—and he's not hesitant to share—which makes him a man people listen to.  I'm here today because he graciously invited me to do some R & D fishing on his home river, the Nantahala, outside of Bryson City, NC.
The Nantahala River makes a chilly escape from the bottom of the Nantahala Dam, then it tumbles 15 miles to Fontana Lake, near Bryson City. The part we'll fish, the Gorge, is a fast and rugged water, a boiling, spitting, bumpy ride.  We'll fish surging rapids and there will be lots of positioning through the drops and around river rocks.  Stretches of this river are so narrow, with banks so steep, that they see sunlight only at midday, a few  never at all.
The Nanty is not a major player in the big trout picture, but it does make a showing on Trout Unlimited's top 100 U.S. streams. Still, it has a bit of an image problem. This is not an ad-man's fine and delicate trout water.  The Nanty is too fast, too wild, it's too. . .well, exhilarating. Fishing the Nantahala River is an X-game sport, especially in The Gorge.
All of which makes it more real-life anyway.
And the fishing can be very good.  Note the italics. Exhilarating fishing equals challenging fishing. Ken has asked me to fish this water for some of the big brown trout that station here. Two state-records have come from this river, but neither were caught on a fly. Ken aims to change that. Big Nanty browns grow to impressive lengths, and they are natural products of the river, not your garden-variety trophy fish—not pellet fed to a fat sassiness.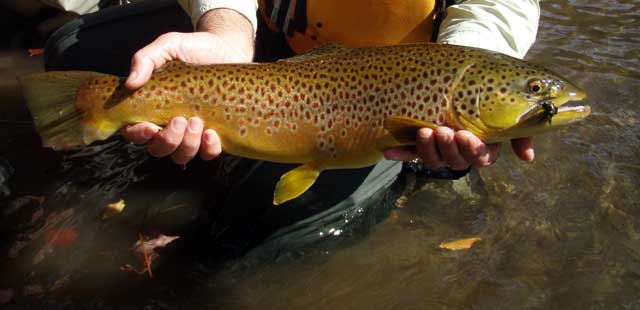 Big browns of the Nantahala prefer big black streamers—but on only some days, apparently. Today they don't, or they just don't like mine. Hard to say on a river like this.  I start by tying on a big black streamer on my TFO 5-weight.  Later I'll throw a weighted tandem-nymph rig with a BB shot pinched a foot above the terminal knot.
Fast-water trouting is a specialty skill, lots of hands-on, lots of hours dredging the bottoms of cold-water rivers. This fishing calls for a sort of 'fling and flop' casting style, or, more aptly  'fling and zing.'  At the same time it's technical casting, rounded casts to keep the terminal tackle from tangling, and angled deliveries—all of which will be around or under jutting rock, rhododendron or really beautiful blooming mountain laurel.
Getting the fly to the fish is only part of the game. Much of the time you get one cast as you carom between boulders and through the small channels between them.  One chance, then you're past the prime lie. Fast water is no place to hone one's casting skills—or line-control skills.  Here you command your fly line or you get skunked, or worse, hung up.  Seeing the take and setting the hook is a masters-level course. In the tumble and boil of a fast-river bottom, a fish can spot your fly, taste it and spit it back at you before you ever know it.
You can understand the challenge of hooking a big fish in these waters, but netting a fish in fast-running water from an oar-powered boat is its own can of worms. Add the arrival of a raftload of novice paddlers, and an unobservant kayaker or two; toss in the fish's fight-with-all-he's-got attitude; tumble in the vagaries of flow, current, eddy and rock—and your chance of not landing that really big fish goes way up.
And still they get caught.  The best anglers—pros like Kastorff and his pal author and pro-caster Mac Brown of Bryson City—those guys have it down. But it's home water to them. They use advance techniques we lesser anglers wouldn't conceive. They might drag the nymph slightly faster than the current. They fish tandem and triple flies, and odd looking ones, at that. They dredge streamers on the bottom, pulling them in advance of the flow, or retard them.  And they fish the shallows, the bubbly, churning, charging riffles. Their flies are sacrificial, offerings to the fish gods.
I spent the better part of two days fishing this stunningly cold river from Ken's rubber craft, a utilitarian boat built for hard use and safety. With seats fore and aft, the oarsman sits amidships. It's perfect for a river that moves this quickly, one that responds well to the oar. My perch is in front; Ken mans the oars from the center seat. He is an expert oarsman— a revered canoe instructor and a legendary kayaking coach. So I float with confidence down this bumpy mountain water in search of these big browns.
Because this river is in Western North Carolina and because it is very close to the Smoky Mountain National Park, it sees lots of river traffic. Possibly a hundred rafts passed us each day. . .and many more kayakers. Nearly everyone who goes by asks if we're catching fish. It's impolite not to respond, but you find yourself wishing no one would ask. The answering gets tiresome. So here's the conundrum: Do you tell them you're doing great, catching lots of fish? Or do you tell them the truth as they whoosh by, that you're out testing the waters for really big fish and that you're not really fishing for the small guys?
Conundrum, Part 2: Fishing the river is part of Ken's business at Endless River Adventures. It's not good for business to tell the truth either way; that is, if you say you're taking lots of fish, you're enticing more anglers to fish this river than it can handle; if you say 'not many,' then Ken loses potential guiding clients.
So Ken's developed a psychology that pretty much salves the situation:  He's carries a stringer of small  plastic sharks. When someone asks if he's catching fish (which nearly everyone does) he quietly displays the stringer. It's great for a laugh; real fishermen get the joke, the myriad paddlers think it's clever, and six-pack rafters think it's funny—and he's not given up any info on the quality of fishing on this inviting, tumbling water.
Answering the same question a hundred times a day could get annoying, especially if you have a client in the boat who can't cast, or who doesn't listen, or if the fish aren't biting and it's 95 degrees. A stringer of plastic fish keeps humor in the process, it diffuses the bomb. A smart solution, really.
Oddly, with all the interest from the passing paddlers, and barring a couple of riverside worm wranglers, ours are the only rods we see on this river.
We never do catch that big brown Ken is looking for. I land maybe 15 fish both days, but these are respectable fish, and hard won. Mac Brown called later the final day of fishing. He'd had the U.S. Fly Fishing Team on a nearby river for some coaching. These are the hottest young rods in the country; they represent us in international fly fishing competition. Mac told me most of his guys caught far fewer fish. Said the past couple of days had been real tough fishing.
So Ken and I didn't do too badly, fishing what is largely a paddling river, looking for those big Nanty browns. Mac sent me a pic a couple of days later of a 29-inch fish caught on a streamer by a local fly guy. I know the spot. Ken put me on it and told me to fish it hard as we passed over it—twice. I did.
But did I fish it well? That is another question entirely.
Ken Kastorff and Endless River Adventures runs flyfishing, birding, and eco-trips through Central and South America.  He's just finishing the main lodge at a new place in Ecuador. His prices there are extremely reasonable and the fishing is reportedly some of the best in the world. The Ecuador Lodge offers trout trips, bird tours, eco tours, and lots of kayaking.
For more information on fishing the Bryson City, NC area visit www.endlessriveradventures.com or call Ken Kastorff at 800-224-7238.