Bonefishing in the Bahamas
Berry Islands, Bahamas Bonefishing
The Bahamas rank at the top of world bonefishing destinations and with good reason. The name "Bahamas" is derived from the Spanish "Baja mar," which means shallow seas, and the islands' sprawling shallows act as the largest contiguous bonefish habitat in the western hemisphere, and perhaps the world.
Bahamas bonefishing is special. If you were going to custom build a flats fishing paradise, the Bahamas would perfectly fit the mold. Schools of bonefish in the 2- to 5-pound range are very common. However you can expect shots at fish in the 5 to 10-pound range as well. These bigger fish will test your gear and skills! The biggest bonefish get as big as 15 pounds in the Bahamas, so stay sharp, you never know when the fish of a lifetime is going to cross your bow.
At Soul Fly Lodge in the Berry Islands, you can expect to fish in a number of different elements. You will get the opportunity to wade vast white sands flats in search of tailing bonefish. There is nothing quite like stalking your target on foot. It's an intimate experience where your mind goes completely blank as you scan the flats searching for signs of your quarry. The Berry Islands are also home to backcountry creeks, oceanside edges, flats covered in lush turtle grass, and dense mangrove systems. Bonefish inhabit all of these different elements and they act a little differently in each so you'll never get bored of chasing this cunning target.
Bonefish eat a wide range of foods on the flats but most anglers turn to small shrimp and crab patterns to seal the deal with this species. Some favorite flies of veteran anglers include the Gotcha, Crazy Charlie, EP spawning shrimp, Peterson's Spawning Shrimp and Veverka's Mantis Shrimp. Fish these flies a little smaller in #6 & #8 sized patterns for spooky or finicky fish and throw larger, heavier sizes for permit or bonefish in deeper water.
Unparalleled Fly Fishing Resources
It's the wealth of marine resources that lie only a short distance from the Florida coast that attracts both the bonefish and anglers to this vast puzzle of shallow flats, mangroves shoreline and nearby deep waters that create a haven for many species of fish. There are over 700 islands in the Bahamas, but only around 30 are inhabited which gives you a great chance of finding yourself in solitude on these expansive waters. Game fishing opportunities are exceptional. Anglers can target bonefish, tarpon, and permit, as well as barracuda, sharks, mutton snapper, mangrove snapper, triggerfish, and jacks. With gin-clear waters and endless flats with hard white sand bottoms, the Bahamas are among the best locations in the world for sight fishing for bonefish. North to south, the Berry Island chain is roughly 30 miles long with flats that stretch for miles east to west giving anglers a seemingly endless amount of water to fish. Soul Fly Lodge in the Berry Islands is the first and only bonefish lodge in this chain finally giving access for traveling anglers to easily explore the unpressured waters.
The bonefishing in the Berry Islands is terrific but it's the other challenging flats species that will keep and hold your attention. The permit fishing in the Berry Islands is very notable and it's a great destination to target these famously challenging fish. Casting to a 30-pound permit on white sand is an experience that you will likely never forget. Be sure to consult your heart doctor before casting at big permit!

Bonefishing Is More Like Hunting Than Fishing
Finding and stalking bonefish is like nothing else in the world of fly fishing. It requires stealth, careful presentation, and of course deep knowledge of fish behavior and habitat.  When you're in pursuit of bonefish you always sight fishing, looking for your target to cast at.  As you meander slowly across shallow flats you'll meet a number of interesting species like barracuda, sharks, triggerfish, mutton snapper, permit, and more. It's these other encounters on bonefish flats with remarkable fish that only add to the experience.
Once your guide has found either a school, small group, or single bonefish it's now time to work hand in hand, together, to get tight with one of the world's most sought-after species.  Your guide will call out the direction and distance of the fish.  Now you better be ready!  It's time to take a deep breath and start your cast.  Never rush your presentation to a bonefish; the calmer you are, the more successful you will be.  Keep your eyes and ears open and listen to your guide.  He or she will be directing you to the fish from start to finish.  Working closely with your flats guide is the ultimate in teamwork fishing.  Once the angler connects with a bonefish it's incredibly satisfying for both angler and guide because one can't have success without the other!
Now get ready for a blistering fight because as soon as your bonefish is hooked it will turn and run 40 mph in the opposite direction!  You'll always remember fighting your first bonefish.  You can hear it described a thousand times but there is nothing like feeling a bonefish's power firsthand.
The Berry Islands – A Unique Haven for Anglers
Consisting of 30 named cays north and east of Andros Island, and covering about thirty square miles of the northwestern part of the Out Islands, the Berry Islands lie alongside a deep-ocean blue water canyon known as the Tongue of the Ocean.  The chain stretches roughly 30 miles north to south and is littered with stretches of smaller unnamed cays, backcountry systems and wide-open flats.  Channels cut through the island allowing fish passage from the east side of the Berry Islands to the west.
The Berry Island chain is truly unique because of its geography and lack of flats fishing pressure.  It's the makeup of flats and cays that attracts, collects, and holds numerous flats species.  Each chain of islands in the Bahamas has its own set of attractive characteristics but there is just something special about the beauty and fishing in Berry Islands.
Why Soul Fly Lodge Is Unique Among Bahamas Destinations
Fly fishing lodges in the Bahamas range from operations run out of hotels owned by large corporations to tiny one- or two-guide operations tucked into the outer reaches of the Bahamas. Soul Fly Lodge offers something different.  On the surface, we are the first fly fishing lodge in the Berry Islands; a fabled chain, home to double-digit bonefish, white sand flats, and shots at permit & other enticing flats species. The Berrys are often spoken of in hushed conversation. This chain has been one of those out-of-reach destinations that many anglers have yet to check off their bucket list… until now. Soul Fly Lodge is more than just a fly fishing lodge; the depth of our operations originates from our intention to put community, conservation, and sustainability first. Your stay at the lodge will fuel our mission, and the quality of the fishery, our hospitality, and your unforgettable experience will bring you back year after year.
Soul Fly Lodge is perched on the east side of Great Harbour Cay overlooking the mighty Atlantic. A short sandy path, just beyond our 20' x 50' freshwater pool, meanders through palm trees down to an idyllic Bahamian beach. Two miles to the south sits Shark Creek Beach which Travel & Leisure Magazine just called one of the Top 25 Most Beautiful Beaches In the World. Our four double-occupancy guest rooms boast ensuite bathrooms and all the comforts like AC, WiFi, and private patios. Soul Fly Lodge is the next chapter of the former Carriearl Boutique Hotel which originally was the home of Earl Blackwell, better known as Mr. Celebrity, who made Great Harbour Cay popular back in the '60s amongst movie stars and celebrities of the time. Despite its early popularity, the island has retained a quiet feel; surrounded by Bahamian wilderness, backcountry creeks, and vast productive flats. Our newly rebranded restaurant & bar, The Carriearl Roost, combines local ingredients with inventive Bahamian flair to forever raise the bar on "Bahamas Out Island" dining. With a brand new airport and direct flights from Florida, the wilds of Great Harbour Cay are just a short skip from the US.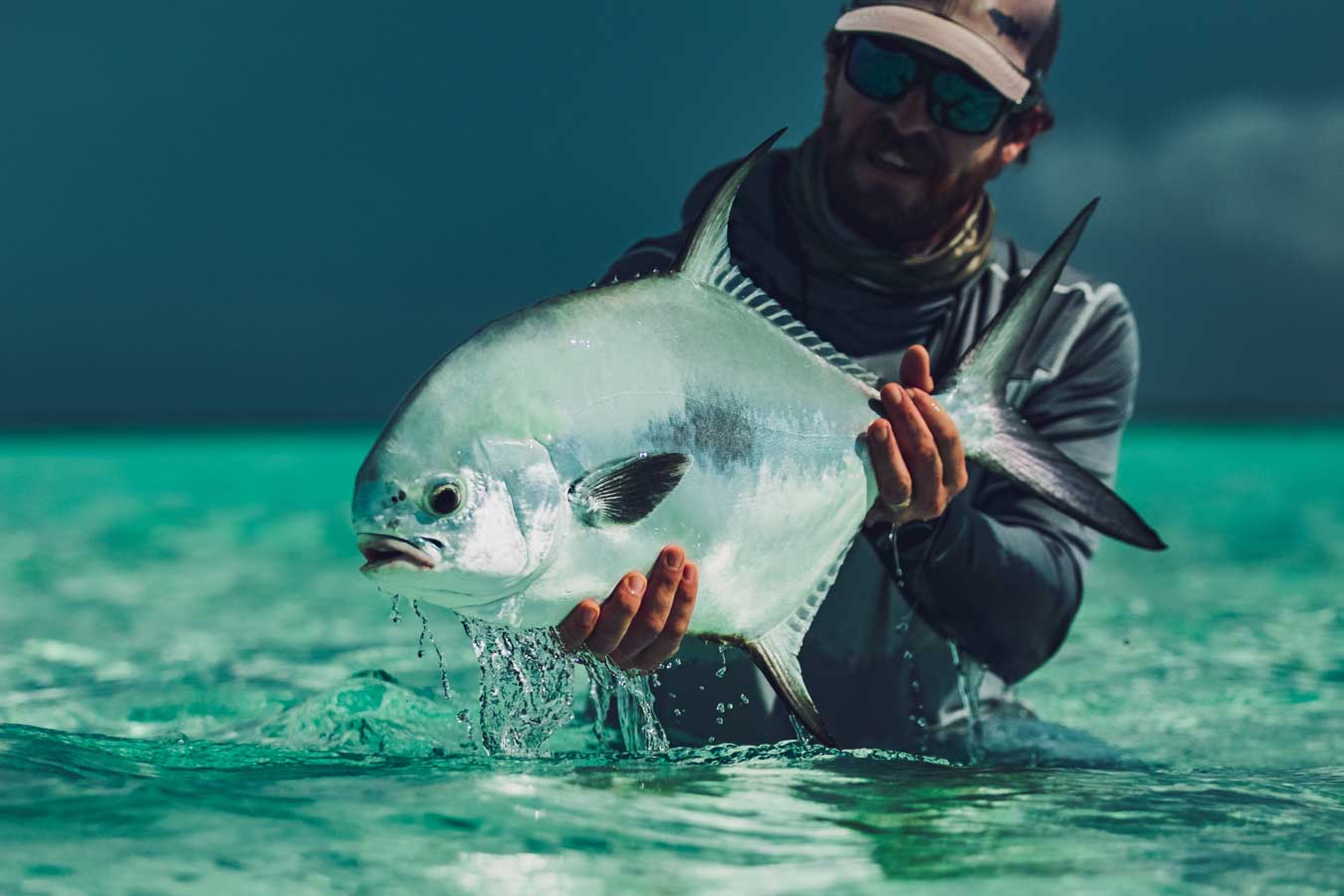 Let's be honest, the fishing that surrounds the Berry Islands is the main event. The diverse environs range from turtle grass-covered flats to backcountry creeks, expanses of firm wadable white sand flats to mangrove systems, and classic permit water with miles of shoreline, coves, and cays. The wadeability of the Berry Island fishery enables anglers to have an intimate experience in the skinniest of water for tailing bonefish. Short runs to the fishing grounds in our brand new fleet of Maverick 17 HPX's allow anglers to take full advantage of their fishing day. Bonefish, permit, triggerfish, barracuda, mutton snapper, and more cruise the flats and give anglers an opportunity to pursue multiple species in a trip. Not to mention, Great Harbour Cay is surrounded by some of the finest offshore fishing in the Bahamas.
The lodge, new boats, tasty food, accessibility, and the incredible fishery are, of course, vital to your experience, but these elements simply set the stage for your time at Soul Fly Lodge. The complexities of our refined, simple and attentive hospitality are designed to meet you exactly where you are. We hold our local community relationships in the highest honor. By investing in the local people and community we are investing in ourselves, our collective future, our business, and your experience. You might forget your 20th bonefish but you will never forget legendary guides like Percy Darville. It's a privilege to access these rich Bahamian waters. Respect for the resource reverberates through our actions and must remain at the forefront of our intentions to leave this fishery better than how we found it. We promise to promote proper catch & release tactics, engage in fisheries research, and constantly monitor our fishing pressure. We promise to go to great lengths to source local foods, reduce waste & single-use plastics, and to lower our carbon footprint each year. You can count on us reporting on each of these categories through our blog and eventually through a more formal report. We will report not to boast but to promote the convergence of sustainability, community, and business.
Our team launches Soul Fly Lodge with the intention to operate with transparency. We will be the first to admit our imperfections but we will not let perfection hinder progress. We will work hard to do better each year; your support will help us to constantly improve and further invest into our mission. We have an enormous amount of work ahead to fulfill our promises but, with your support, we'll get there together. And throughout our entire journey you will always be able to count on the comforts, attentive service, excellent bonefish guides, remarkable fishery, and the wonderful people that make Soul Fly Lodge.
---