Audrey Wilson Prepares for World Championship and Offers Five Tips to Make you a Better Caster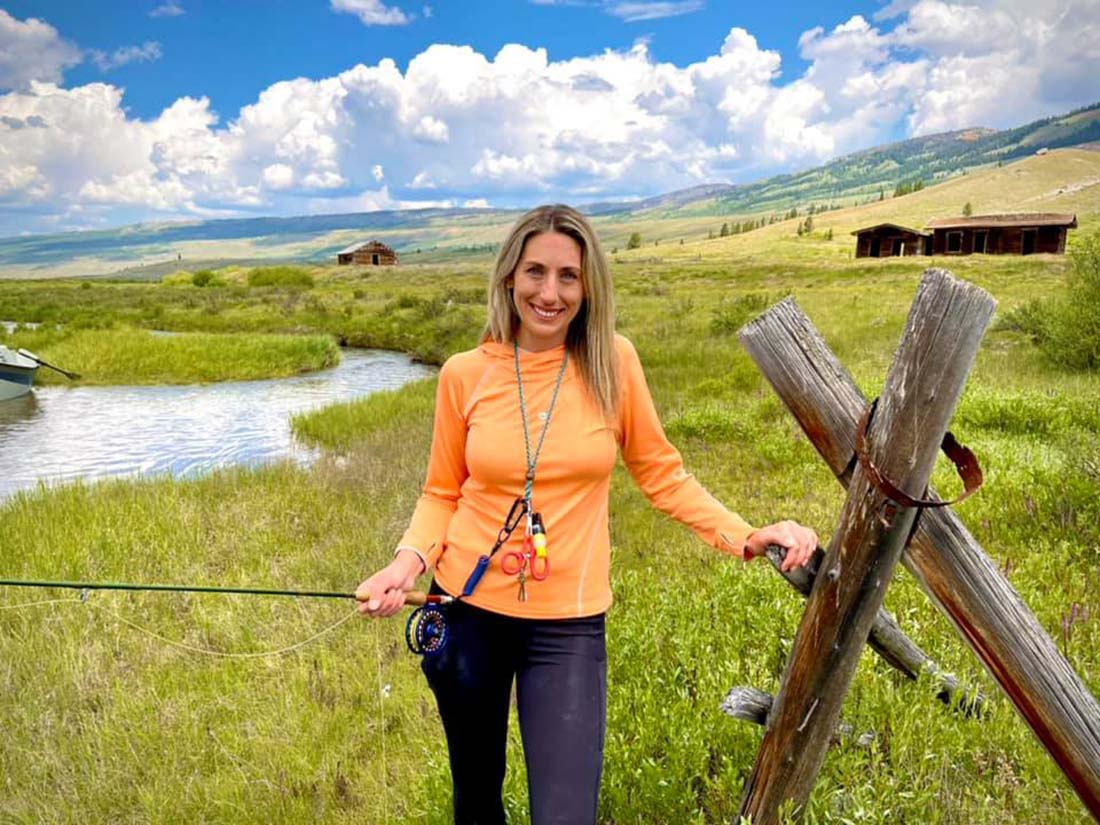 A member of the USA Casting Team, 38-year-old Audrey Wilson has found her way on a journey to the World Champion of Fly Casting in Norway this August 2022. Growing up in Roy, Utah, where she fell in love with the outdoors as a small girl while camping, hiking and canoeing with her parents and brother, Wilson initially became intrigued by fly fishing after she saw the film "A River Runs Through It" when she was 8 years old. It wasn't until her early 20s, however, that she dedicated weekends to learning the art of casting on the Green River below the Flaming Gorge dam, then tried her skills on the ocean and on rivers throughout the west. Her most memorable catch in the early days was a 26-inch cut-bow trout snagged with a big cicada fly pattern from a drift boat.
Audrey is a multiple casting champion, and you can view her accomplishments at the bottom of this page. In addition to competing and running her own casting instruction business, At First Cast, 10 years ago Wilson began volunteering for Casting for Recovery (CFR), an organization offering free fly fishing retreats for breast cancer survivors and helping them move forward with their lives. She leads the Utah program.
"Not long after I started getting involved, my mom passed away from a different disease. I learned how important it is that people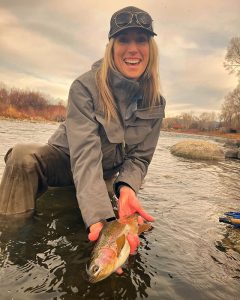 have emotional, physical and social support through severe chronic illnesses," Wilson says. "Although I've given a lot to CFR, it's given me so much, too. I believe fly fishing provides so much opportunity to connect to others and to nature. For the breast cancer survivors of CFR, fly fishing also helps to build mental and physical strength all while providing opportunity to overcome new challenges with confidence."
"Fly fishing helps us to slow down and find our rhythm, it helps to identify and learn about how we address changing conditions," she says, adding that she learns every time she teaches. "If I can help one student learn or fix one element of their cast and they walk away knowing they have the steps they need to continue to be successful, it's very rewarding for me and I believe rewarding for them as well. It hooks us both."
Audrey is looking forward to competing this year in Norway for her spot on the podium at the World Championships. It doesn't come without expenses, however, and she's seeking support for her journey to compete and inspire others. Her friend has set up this GoFundMe account to help her get there. She hopes to stand on the podium and reach yet another benchmark in the sport that continues to deliver a unique connection to others, confidence in herself, peace and solace.
"There's nothing like watching a beautiful cast unroll as the fly lands on the surface of the water then leads to a surface eat by a beautiful fish," Audrey says. "I love the places fly fishing takes me. I cherish and love the people who I've met along this journey."
Audrey's Top Five Tips for Better Casting
The rod tip must travel in a straight line path for a straight cast. Let's say you make the rod tip move in a continuous circular motion above your head. The line will begin to move in a circle until you stop moving the rod tip. The line will still travel circularly but gravity will eventually make it fall. So if you move the rod tip from front to back and it's anything but straight, you will have a curve in your cast.
You must stop the rod in the front and back, and stop it high. What I mean is, while you're casting, it mustn't look like you're waving a flag. You must come to an abrupt stop when you move the rod to the back before you move the rod forward, and vice versa. Also, remember what I said about how the line goes where you tell it to go. If you stop the rod tip far behind you at the ground or you do the same in the front, the line will go there too, and it won't have the energy to roll out and then load the rod for your next cast.
You must pause after the front and back stop. After each stop you must pause to allow the fly line to unroll completely. As the line is traveling, or unrolling, this is what gives power to the rod to then cast it in the opposite direction. The weight of the line is bending the rod, or "loading" the rod, giving it energy and power to then make a cast. If you pause too long the line will fall to the ground and energy is lost.
You must accelerate with smooth application of power from the front to back or back to front stop. Jerky movements will create slack in the line during your cast and change your cast, or worst case create a terrible "wind" knot. Let the rod do the work as you move smoothly while accelerating until you come to a stop.
Eliminate slack. Slack in the line while you attempt to cast amounts to no control of the line, because you've lost the direct connection to the rod. "Strip" or pull in line until there's no slack.
Audrey's Achievements
2022
Go Pro Mountain Games 2 Fly X-Stream Casting and Fishing in Vail, Colorado – SILVER
Top Gun Wasatch Expo – CHAMPION
2021
Go Pro Mountain Games 2 Fly X-Stream Casting and Fishing in Vail, Colorado – CHAMPION
2019
First Utah Woman to Certify – Fly Fishers International Casting Instructor
American Casting Association USA Nationals – SILVER
Go Pro Mountain Games 2 Fly X-Stream Casting and Fishing in Vail, Colorado – CHAMPION
Top Gun Wasatch Expo – 2nd Place
2018
Top Gun Wasatch Expo – CHAMPION
2017
Top Gun Wasatch Expo – CHAMPION
Go Pro Mountain Games 2 Fly X-Stream Casting and Fishing in Vail, Colorado – 2nd PLACE
2016
Go Pro Mountain Games 2 Fly X-Stream Casting and Fishing in Vail, Colorado – 3rd PLACE
Utah Best of the West – FLY CASTING CHAMPION
2014
Fly Fishers International – CHAMPION
---