Fly Fishing Gear Review: Skwala Fishing Apparel
Skwala Fishing is a new fly fishing apparel and outerwear company headquartered in Bozeman, Montana. Debuting in the same town as other renowned gear manufacturers meant Skwala had to feel confident they were offering something the industry really needed. And when they announced their launch in March of this year, I had a whole host of questions.
After spending more than a month with their Fusion 3/2 Puffy, RS Wading Jacket and Sol Tactical Hoody, I'm more than impressed—I'm downright excited. With the attention to detail and intentional design in their products, Skwala gear will change the fly fishing apparel market in great ways.
Kevin Sloan, CEO and founder of Skwala, reiterated that this was a goal when he started the company— not to create just another fly fishing outerwear and apparel company, but to thoughtfully build products designed to answer the needs of every angler.
After weeks of using Skwala gear in a cold, windy, and wet Wyoming, I have yet to find anything that I'd change about the three products I tested: the Fusion 3/2 Puffy, RS Wading Jacket, and Sol Tactical Hoody.
The Fusion 3/2 Puffy is the best insulating layer I've ever used. Built to become as ubiquitous on the river as other puffy jackets are to ski towns, the Fusion 3/2 Puffy has every feature you need in an insulating layer. It's light, stretchy, outrageously warm, water-resistant, and cuts the wind admirably.
Insulation
The insulation in the Fusion 3/2 Puffy caught my attention more than any other design factor. Skwala doesn't use Primaloft at a time when it seems every warm jacket does. Instead, the company uses an innovative new material called 3DeFX+.
This material is breathable, yet it still stretches and moves with the wearer—something Primaloft doesn't do. Building garments that stretch and move within the range-of-motion anglers need was a key design component for Skwala, and achieving that freedom of movement while maintaining warmth is an impressive accomplishment.
I wore the Fusion 3/2 Puffy in snow, rain, and the famous Wyoming wind. Whether it was my primary layer or underneath a waterproof shell, I never once felt that I needed something more to keep me warm. The Fusion 3/2 Puffy cuts wind and beads water excellently, making it an ideal choice in just about any bad weather situation.
It's also worth noting that I stayed warm without sweating too much or getting clammy. Skwala attributes this to the fact that their shell fabric isn't backed by a heavy PU layer, which lets it breathe.
Freedom of Movement
I touched on this above, but it bears mentioning again: Skwala tried hard to create garments that move with the angler. The range-of-motion we need while on the water isn't the same as that a rifle hunter needs to stay warm.
The Fusion 3/2 Puffy stretches and moves with you without losing its shape, rigidity, or warmth. Often, I forgot I was wearing the Puffy because it fit so well and doesn't get in the way of fly casting, rowing, or hiking.
Skwala used a spiral yarn called Primeflex that stretches without using any elastic. This achieved two design goals. The first is that the Fusion 3/2 Puffy can stretch for the usual moves a fly angler makes while on the water. The second is that by not using elastic the fabric becomes inherently water-resistant. Elastic fabrics absorb water and "wet out", but the fabric Skwala uses in the 3/2 Puffy doesn't.
Fit
Skwala CEO Kevin Sloan made it clear that he and his team did their best to build gear that's fitted, and more so than anything else on the market. Where some manufacturers just build bulky coats to keep you warm, Skwala focused on creating gear that fits the angler. The result is that the Fusion 3/2 Puffy doesn't bunch up under my waders. And with the 3/2 Puffy being such a slim jacket anyways, it also makes me look less like the Stay Puft Marshmallow Man (and I need all the help I can get).
Adjustable Hood
One other feature I need to discuss is the 3/2 Puffy's built-in adjustable hood. You can loosen or tighten it with a simple drawstring located on the back of the hood. I found this really useful when fishing in strong winds when I didn't want the hood whipping off my head. This is just one more example of the level of detail with which Skwala builds all their gear.
Wrap-Up
The Fusion 3/2 Puffy is the single best insulating layer I've ever worn while on the water. It's light, compact, keeps you incredibly warm, and moves with you. The Puffy doesn't bunch up, it cuts the wind, and it's water resistant. I'm not sure what else you can reasonably expect from an insulating layer like this. The Fusion 3/2 Puffy retails for $299.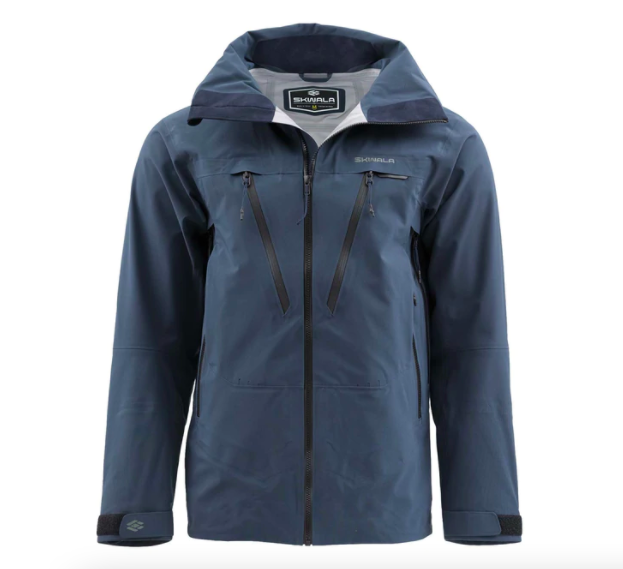 The RS Jacket is Skwala's solution to keeping anglers dry and warm no matter what Mother Nature does. This is a fully waterproof rain jacket that integrates with their RS waders. I also found the RS Jacket to work extremely well as a final insulating layer against really cold wind. The RS Jacket over my Fusion 3/2 Puffy, with a bit of light merino wool as a base layer, kept me legitimately warm in a host of different weather conditions.
Flexible, Breathable, Waterproof Fabric
Most rain jackets aren't known for their flexibility. The RS Jacket aims to change that trend. By utilizing flexible textiles, Skwala was able to create a rain jacket that's completely waterproof yet maintains enough flex to move with you as you're on the water—a common design theme in all Skwala gear.
The RS Jacket isn't as light and stretchy as their Carbon, but it still has enough inherent stretch that you shouldn't worry about it bunching up when you cast, row, or hike.
Finally, the RS Jacket is built to breathe, which actually helps keep you warm. You won't feel clammy or soaked through with sweat after wearing it for a full day.
Range of Motion
The RS Jacket is built with the angler's range of motion in mind. For example, when you're high sticking a drift through prime pocket water, how often does your waterproof jacket ride up? The RS Jacket doesn't. It stays in place even when you stretch out.
The RS Jacket doesn't get in the way of rowing, either, keeping you warm and dry no matter how hard you pull on the oars. The RS Jacket is fantastic to wear while hiking, as well.
Warmth
The RS Jacket is great as a final insulating layer. It's big enough to fit comfortably over your waders, but it's not bulky. Again, creating well-fitted garments was a big design goal for Skwala, and it's remarkable how slim and compact their jackets are while providing this level of performance.
Because the RS Jacket cuts the wind so well, it adds a layer of warmth in even the worst of conditions.
Pockets
I love the pass-through pockets on the RS Jacket. This is something I wish all wading jackets had. When wearing the RS Jacket over a pair of waders, the pass-through pockets allow you to access your outer wading pockets, which is one of the best places to warm up cold hands. The hand pockets on the RS Jacket are also fleece-lined, so they offer a bit of warmth by themselves.
The rest of the pockets offer a ton of storage options, so you won't run out of room. Whether its an extra box of flies, or a spare reel and spool, the RS Jacket has more than enough storage for you.
Slim, Compact Hood
Every wading jacket needs a good hood, but when you're not using the hood, it often bunches up around your neck. That's not the case with the drop hood on the RS Jacket. The hood is slim and compact even if you have the neck zipped all the way up and the hood down.It also features hood adjustment cords hidden in the front chest pocket so they stay out of the way when not needed.
When wearing the hood, you'll notice it's large enough to keep water off of your face, but doesn't inhibit your vision.
Internal Wrist Cuff
This is a feature that's becoming standard on most wading jackets, so it's no surprise Skwala included it here. The internal wrist cuff is fully taped and sealed, which means you can stick your forearm into the water without fear of getting wet. This internal cuff also eliminates the dreaded moment when you tip your arm up slightly and all the rainwater on your jacket tumbles down your sleeve.
Wrap-Up
The RS Jacket is one of the best wading jackets I've ever used. It's light, breathable, and completely waterproof. The stretch built into the fabric makes for a wonderful wearing experience, and I really love how it doesn't ride up or move when I'm rowing, high sticking a drift, or hiking. That I don't feel clammy after wearing it all day is just another bonus on top of the tons of other great features. The RS Jacket retails for $499.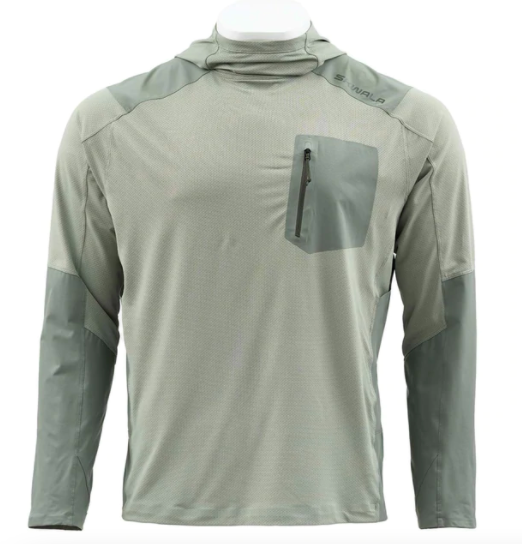 The Sol Tactical Hoody is Skwala's sun shirt that also doubles as a great base layer. I have a feeling that once summer hits I'll be wearing this shirt more than any others in my closet.
Fabric Design
Most sun shirts on the market right now are built from a single piece of the same fabric, which is usually a knit. The Sol Tactical Hoody uses Primeflex Stretch Fabric in high-wear areas, like the lower arms and shoulders. This fabric is far more durable than the knit fabric used in the rest of the garment.
I've noticed that my own Sol Tactical Hoody shows almost no signs of wear after plenty of heavy use. The lone sign of "wear" is a pizza stain, which is entirely my fault.
This fabric is also rated at 50 UPF, which means you won't need to drown yourself in sunscreen.
Enormous Pockets
On either side of the Hoody are two enormous pockets that can hold everything from a spare water bottle to boxes of flies, tippet spools, and floatant. Skwala included these pockets to give anglers a single garment that can store everything you need for a day on the water. Just grab a rod and reel, throw your flies into the pockets, and you're ready for a day of chasing fish.
Fit and Comfort
Just like every other piece of Skwala gear, the Sol Tactical Hoody was designed to meet the needs of an active angler. It has a standard shirt fit but a ton of extra articulation in the arms and shoulders to allow for the full range of motion anglers demand. 
The fabric is insanely light, and this shirt is one of the most comfortable I own. 
Wrap-Up
The Sol Tactical Hoody is one of the top sun shirts I've ever used. It's light, comfortable, and I love the addition of the big storage pockets on the sides. Using two types of fabric to increase the longevity of this shirt was a great call by the folks at Skwala, and I'm excited to see what they come up with next. The Sol Tactical Hoody retails for $119.  
To learn more about Skwala fly fishing gear, visit Skwalafishing.com
---