Beyond the Cast: Women Embrace Fly Fishing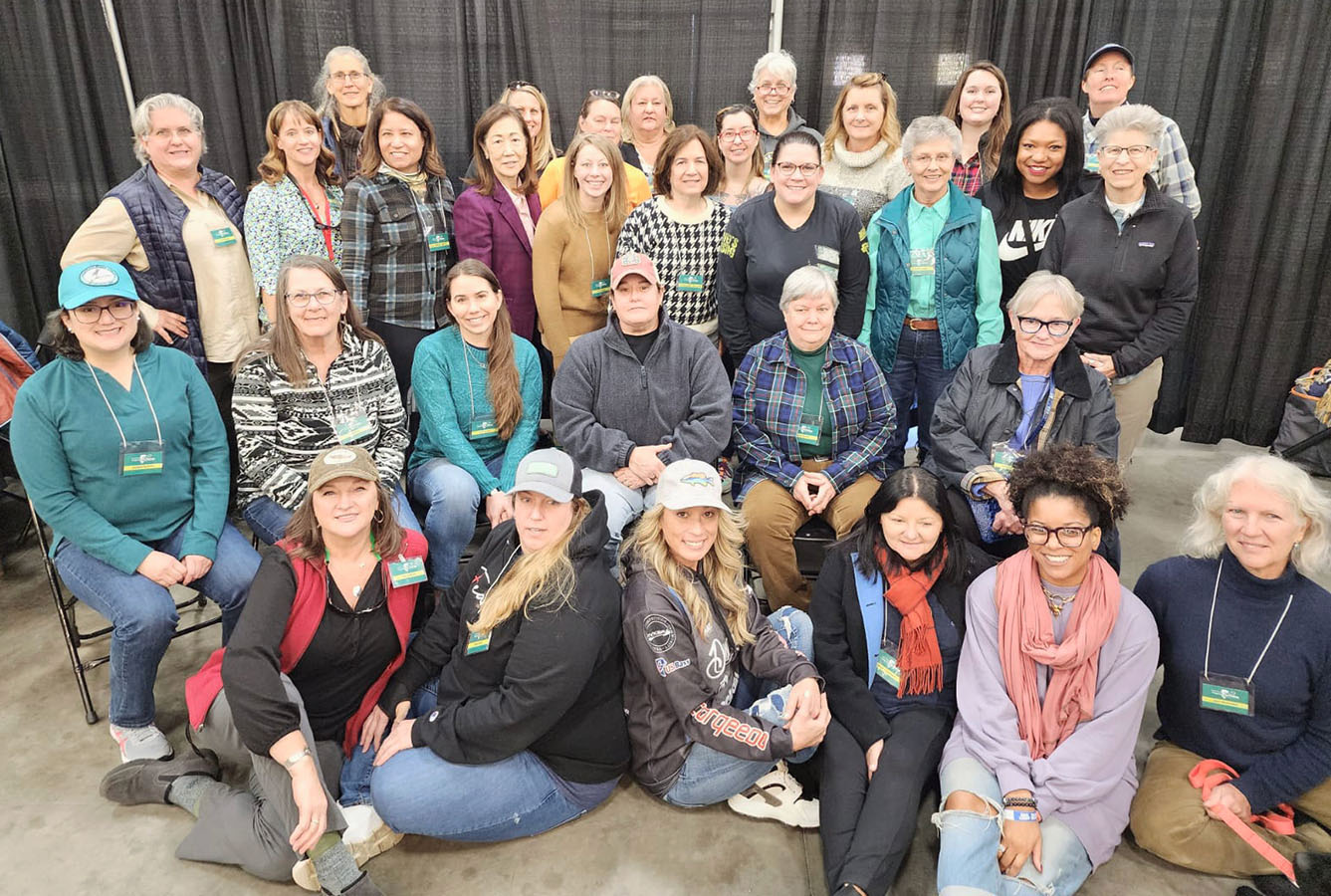 More than two dozen women participated in the first annual Beyond the Cast Women's Fly Fishing Symposium at the 2023 Virginia Fly Fishing & Wine Festival. The 22nd annual Virginia Fly & Wine, held at the Farm Bureau Building on the state fairgrounds in Doswell on January 14-15, 2023, played host to the unique Beyond the Cast symposium, which was sponsored by Take Me Fishing and included classes by and for outdoor-enthusiastic women.
"For years we've offered free casting classes for women," said Virginia Fly & Wine director Beau Beasley. "Those beginner lessons are baked into our cake, so to speak. But this year we wanted to go beyond: beyond beginner, beyond a woman and her fly rod. We wanted to build advanced skills, and perhaps even more importantly, we wanted to build a community—to help like-minded women connect. Ultimately, to encourage women to get outdoors and fish together."
Participants ranging in age from twenty-something to sixty-something spent two days learning everything from advanced trout-fishing tactics to safe wading practices to basic entomology to savvy shopping to angling with a kayak. Virginia conservation officers taught students what to do when they encounter wildlife. At a working lunch, students met and spoke to women business owners and industry leaders like Kim Ranalla founder of Miss Mayfly, Sara Holt from Project Healing Waters Fly Fishing, and  Beverly Smith vice president of volunteer operations for Trout Unlimited.
"I'm always so encouraged to see space and time carved out just for women at these historically male-dominated fly-fishing shows," said Smith. "The Virginia Fly & Wine brought together women from all walks of life, the agenda was robust—I can't tell you the number of women who showed up at the TU booth eager to learn more and get engaged."
Beyond the Cast participants came from as far away as Maine and Georgia to attend the two-day event, which kicked off with a Friday night meet & greet. "An experience like this demystifies an otherwise intimidating, 'insider' sport," said Beasley. "Attendees told me with tears in their eyes how welcome they felt, how much the weekend meant to them. Several women realized they lived pretty close to each other and began to organize outings right there on the spot. I mean, our vision for this budding community was coming to fruition right there at the festival."               
Stephanie Vatalaro, senior vice president of marketing and communications for the Recreational Boating & Fishing Foundation (RBFF) and a vital partner in the development of the Beyond the Cast Women's Fly Fishing Symposium, said "Research tells us female anglers have significantly greater perseverance, grit, perceived health, and life satisfaction than non-anglers. We were happy to support this incredible opportunity for women to not only learn how to fly fish but also connect with their peers to foster continued participation."
"I think Beyond the Cast has demonstrated that when women are warmly welcomed into spaces, they make those spaces their own," said Beasley. "Our world-class instructors, our bold and curious participants—they rose to the occasion and are helping to build the community they've been looking for. We're so grateful to Take Me Fishing for catching our vision and sponsoring something new and fresh. And we cordially invite Southwest outdoorswomen to join us at the next Beyond the Cast Women's Fly Fishing Symposium, which will run concurrently with the sixth annual Texas Fly Fishing & Brew Festival in Mesquite, Texas on February 25-26, 2023."
---