Anglers Get A Range Of Tippet Sizes with RIO's New 3-Pack of Powerflex Tippet
RIO Products has announced their Powerflex Tippet is now available in a new and convenient 3-pack.
Read more in the press release below.
Anglers Get A Range Of Tippet Sizes with RIO's new 3-Pack of Powerflex Tippet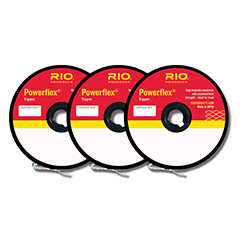 IDAHO FALLS, IDAHO (May 2, 2016) – Providing great value to guides and anglers, RIO Products, manufacturer of lines, leaders, tippets, and accessories, offers its popular Powerflex Tippet in a convenient 3-pack in a range of sizes.
RIO's Powerflex Tippet is made from high tenacity co-polymers, which gives it excellent knot strength, stretch, and suppleness. The material is ideal for dry flies, nymphs and soft hackles, and is particularly suited to the trout angler. A PTFE coating helps knots slide up tightly, neatly and without friction, and the light grey color enhances its subtlety in the water.
With the Powerflex Tippet 3-Pack, anglers get a value pack of three spools of this high performance material in a convenient, reusable plastic container that is ideal for flies, split shot or indicators –  all for a value price of $12.95. Three size ranges of 0x to 2x (15lb to 10lb), 3x to 5x (8.2lb to 5lb), and 4x to 6x (6.4lb to 3.4lb), ensure that all angler's needs are covered.
For more information, watch the video here.
About RIO Products:
RIO is a pioneer in developing fly lines, leaders and tippet material to enhance fly fishing experiences across the globe. Offering premium fly lines for both freshwater and saltwater fishing applications, RIO consistently utilizes field experience and scientific testing to create the best products on the market for anglers. Founded 20 years ago in the mountains of Idaho, RIO continues to develop innovative products, design revolutionary tapers and refine performance-driven fly line technologies. For more information about RIO Products, please visit www.rioproducts.com. Connect with us through Facebook, Instagram, Twitter, and Vimeo.
---