Andy Mill joins Belize Tarpon Tagging Expedition
The Belize Tarpon Tagging Expedition offers anglers an opportunity to help participate in field work that will advance tarpon research, while also enjoying fishing opportunities in Belize. The 2015 expedition will be led in part by Andy Mill.
Read more in the press release below.
Andy Mill joins Belize Tarpon Tagging Expedition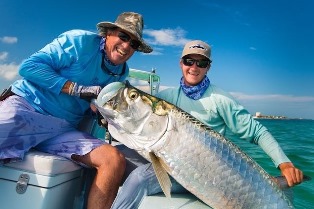 Andy Mill and his son Nicky have signed on to help lead the 2015 Belize Tarpon Tagging Expedition. This coming August 15th-22nd El Pescador Lodge will play host to the 3rd annual expedition. An effort of the Fieldworkers Club and supporting research of the University of Miami's, Tarpon and Bonefish Research Center. The expedition provides anglers with an opportunity to actually help advance tarpon research while learning from the sport's finest, all while enjoying world class fishing in Belize.
Not just a fishing trip, an expedition. Led by Adam Marton and famed tarpon angler (the man who wrote the book on tarpon fishing with a fly rod), Andy Mill. The expedition will provide a few lucky anglers an exciting opportunity for learning. This is a chance to drill down and focus on learning the tactics behind becoming a highly skilled tarpon fly angler. Intended to pole vault your knowledge and build the foundation for a lifetime of making the fish eat. This will be an on the water opportunity to learn how to read the fish, present the fly, feed the fish, set the hook and fight the beast and all from Andy Mill.
Andy Mill's success is profound, awarded Olympic downhill ski racer, network TV broadcaster and tournament fly angler. Winning more invitational fly tournaments than anyone. Author of the award winning book "A Passion for Tarpon" (Wild River Press) he has become one of our sports leading authorities. He has joined on to share what he knows with this group of passionate tarpon anglers.
"Most fly rodders who seriously fish for giant tarpon regard Andy Mill as the best and his record is unequaled. He's also a modest unassuming guy. Andy will be co-hosting the Tarpon Tagging Expedition this year to Belize. This is a great opportunity to spend time with Andy who's always willing share his expertise and to assist in a worthwhile project."
– Lefty Kreh, January 19, 2015
"Andy Mill is the type of predator angler I used to be, around 40 years ago, when I was setting all kinds of world records! He is one of the best teachers of how to, when to and the reasons why, when it comes to tarpon fishing. We have jointly done some programs at IGFA for Hells Bay Boats and each time we do a program, I end up learning new and important techniques from Andy. I am sure the lucky anglers on this trip will come away with a multitude of knowledge about tarpon fishing and I wish I could be there with you!"
– Stu Apte, January 19, 2015
The success of the 2015 expedition depends on several engaged anglers who want to do everything they can to advance tarpon research while fishing, learning and having a ton of fun in Belize. It's not an easy task to hook, land and tag a 100-pound plus tarpon and we could sure use some good help.
If you'd like to join the 2015 Belize Tarpon Tagging Expedition now is your chance.
For more information please contact:
Adam Marton
The Fieldworkers Club, 1043 North Honore Street, Chicago, IL 60622
312-440-1200, [email protected] www.fieldworkersclub.com
Belize Tarpon Tagging Expedition Film available at:
About:
The Belize Tarpon Tagging Expedition is an effort of The Fieldworkers Club, an organization that leads scientific fly fishing expeditions and provides critical partnerships between anglers and scientists. www.fieldworkersclub.com
---