Jackson River Landowner Breaks Silence
MidCurrent has just learned that author and award-winning conservation writer Beau Beasley has obtained an exclusive interview with the plaintiff in the ongoing North/South Development v Crawford civil suit that has captivated the attention of anglers and landowners across the Mid-Atlantic. The suit involves alleged trespassing by anglers wading on the Jackson riverbed while fishing. The plaintiff in the case, North/South Development, brought the suit in an effort to restrict use of the riverbed in a section of the Jackson River from Smith Bridge to Indian Draft. The plaintiffs request $10,000 in judgments and that the defendants be barred from further trespassing.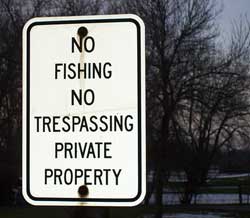 Beasley was "pleasantly surprised" to receive a call from the landowner, who offered him an exclusive interview. "I was more than willing to hear the landowner's side of the story. I tried to get their side of the story earlier but was turned down for an interview. I'm glad they changed their minds." Beasley said the landowner believed that he'd received unfair treatment by some media outlets. "The landowners have taken a beating in the court of public opinion, but they deserve to have their side of the story heard as well." Beasley has gained notoriety in the fly fishing community for his thorough research and evenhanded reporting.
The civil suit alleges that two anglers had been warned repeatedly to stay off of what the landowners claim is private riverbed deeded to them from a 17th century land grant issued by the King of England. Oddly, the dispute doesn't set a precedent: The 1996 Virginia Supreme Court Kraft v Burr decision stipulated that landowners who held a "Crown Grant" to a section of the Jackson River could indeed bar fishing guide Chuck Kraft from angling in that section of the river. The current plaintiffs in the case claim to have a similar grant.
The defendants in the current case argue that they had no reason to believe they were trespassing, despite the "No Fishing" signs posted along the riverbank by River's Edge, a residential developer owned by North/South Development. Law enforcement officers called to the scene did not ticket the anglers, who carried valid Virginia fishing licenses and were fishing in an area that posted maps, issued by the Virginia Department of Game and Inland Fisheries, indicated was open to the public. The county commonwealth's attorney also views the area as public property. The plaintiffs pursued a civil suit when they were unsuccessful in getting a conviction in criminal court.
For an overview of riparian access and usage laws, check out Beau Beasley's recent article "Who Owns the River" in the January issue of American Angler. The article covers the Jackson River dispute in Virginia as well as disputed water in Tennessee and Utah.
Related Stories: Jackson River Privatization Update | Will the Jackson River Become Privatized?
photo by ttarasiuk
---