New Fly Tying Tools: "Sixth Finger" Scissors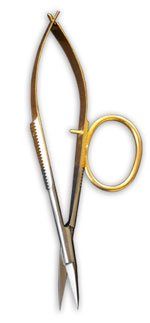 Looking for an inexpensive way to make fly tying more enjoyable this winter? Inventor Keith Barton sent us a pair of his new patent-pending "Sixth Finger" tying scissors a few weeks ago, and although I've tied mostly saltwater flies with them, I can vouch for the concept of spring-loaded scissors that fit (and stay) comfortably in the hand as something of a godsend. I'm beginning to test them with tiny midges too (as many as I can stand) and find that I prefer the precise control that my old dual-finger-loop pair didn't give me.
The secret to the way the Sixth Finger scissors work is the single finger loop welded to one side. It's positioned so that when you release the scissors, they stay resting in palm while you do other tasks: wrapping hackle, gluing, selecting feathers, finishing, stacking… whatever. This design could have been done wrong — the blade points could slip too low in the hand when you release the scissors, the balance could be off, the shape of the handle could be too wide or too thin, or the workmanship could be shoddy. But Barton — who by the way has been writing some pretty insightful stuff about fly tying on his blog SingleBarbed.com — has combined utility and high-end construction in a delightful little tool. What's more, they cost only around $20 (plus shipping).
You can buy Sixth Finger scissors from MidCurrent, or by emailing Barton directly.
---