The Fortress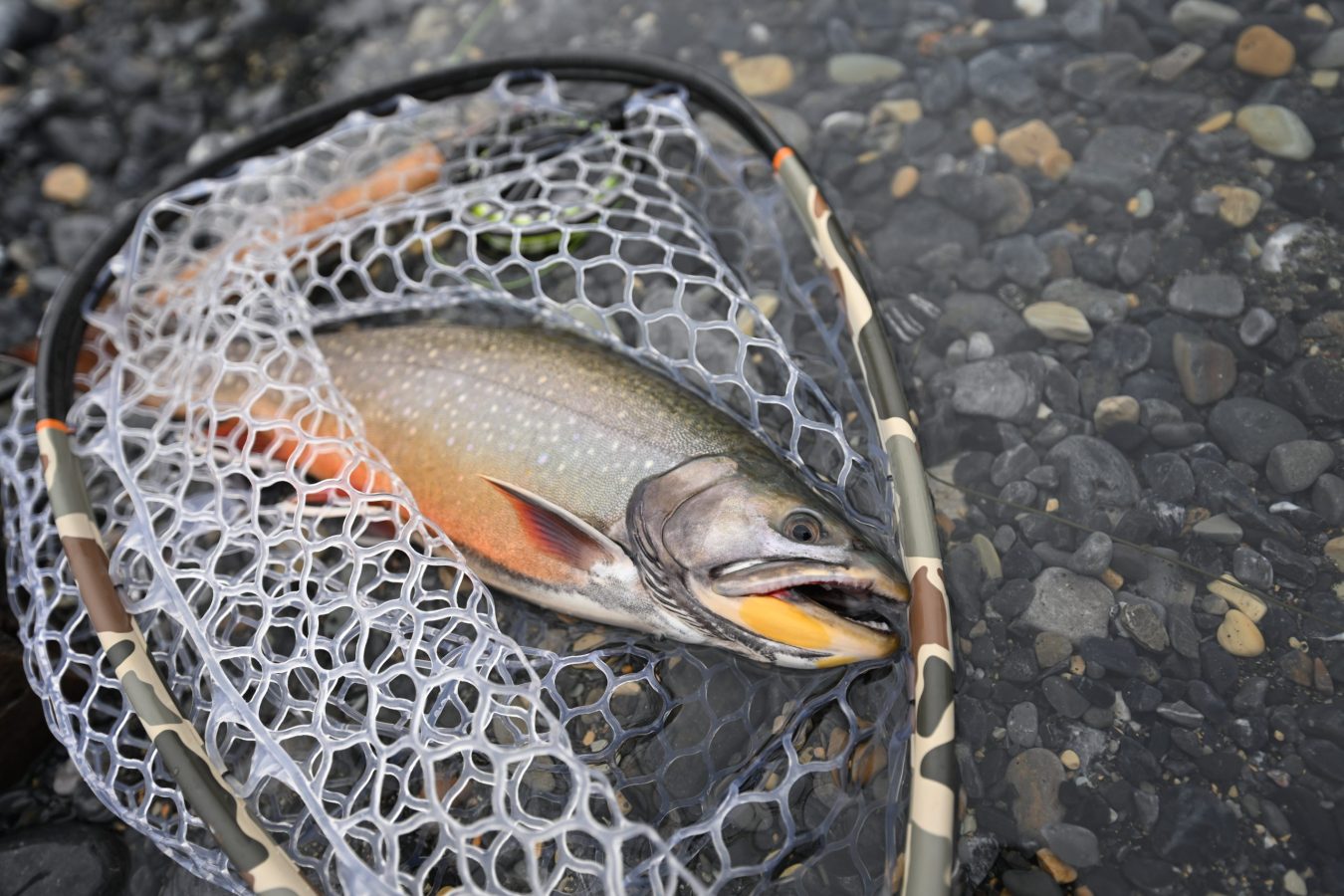 I was nine hours into the drive before I realized that Cline River isn't actually a town and, instead, is a simple outpost in the Alberta wilderness. There's a motel, a campground, some old-school gasoline pumps, a small convenience store, a restaurant…  and nothing else.
The restaurant was key because I wanted to get something good for a birthday dinner. I figured there would be several options in Cline River and hadn't stopped at Fairmont or Radium Hot Springs, nor Lake Louise—all offering excellent dining—to do so. Wanted to get where I was going, find a solid campsite, and then relax with dinner and a beer.
Unfortunately, the restaurant was closed and the convenience store was soon to be. So I hustled in, got a bag of Doritos and a half-pound of jerky, plus a twelver of Alexander Keith, and called it a one-man party.
I don't know which lake I camped next to. I just backed up so the bed of my truck faced the water and popped open a beer. The lake was milky, glacial fed for sure, and I doubted a fish could survive in it. Then I saw a rise, then another and thought, either whitefish or cutthroat. Any other time I would have fetched a rod from the truck and just thrown. You know, to see what's out there. Maybe discover a fly-fishing wonderland that hasn't been demolished by IG. But I didn't have an Alberta license. I knew I wouldn't get checked, but licensing is kind of a cardinal rule in our family, and I didn't want to be the one to make our track record go down in flames.
So I watched the fish rise and the sun drop, then crawled into a sleeping bag and soundly drifted off, knowing I was only a couple miles from a helipad where I would catch a morning flight to Fortress Lake.
Fortress Lake is buried deep in the Canadian Rockies, north of Banff, east of Golden, and northwest of Cline River. If you choose to get there on foot, you're looking at a 25-mile hike in and 25 miles back out. By helicopter, it's a 40-minute, staggeringly beautiful flight.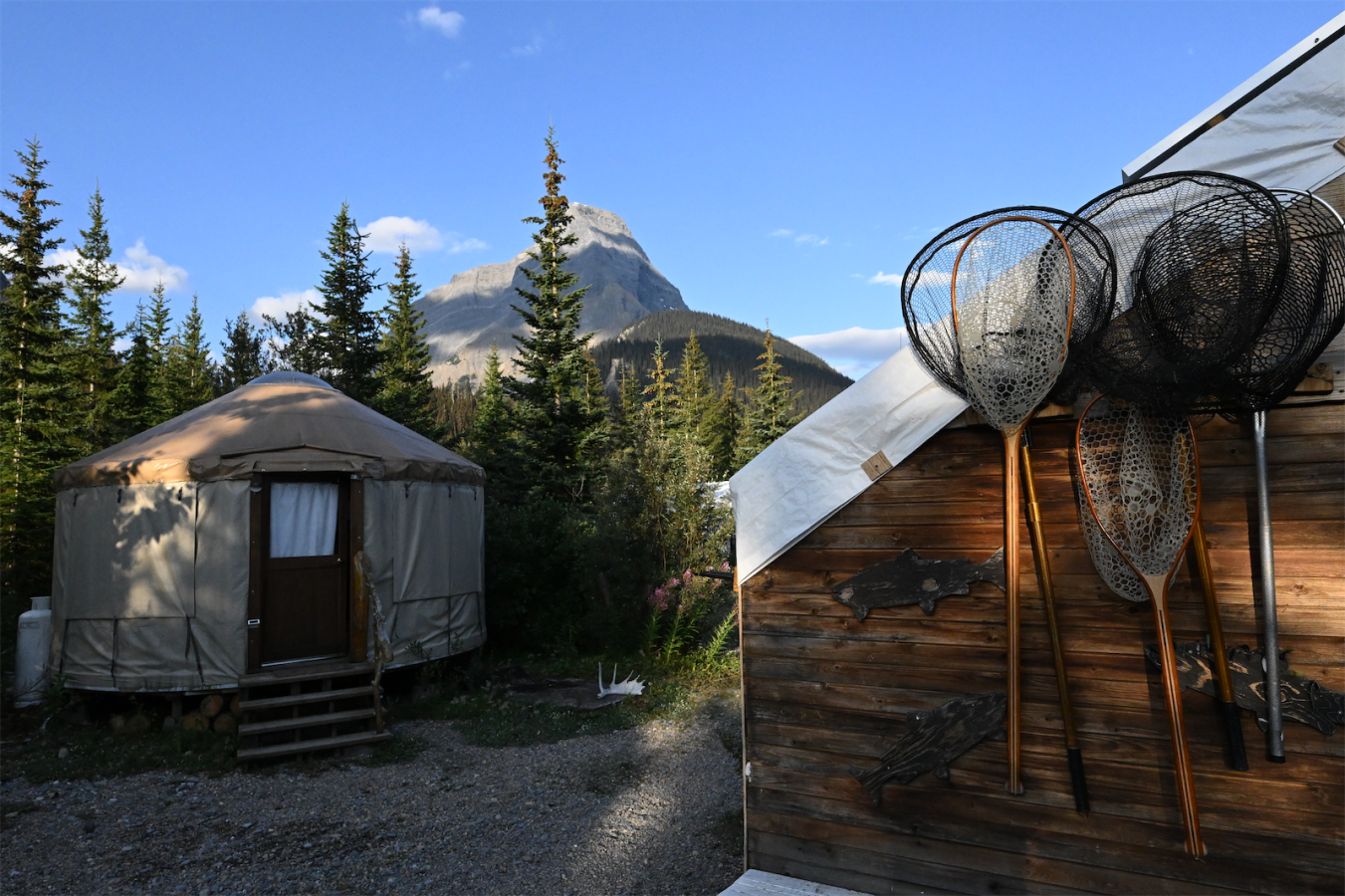 Despite that remoteness, Fortress isn't unknown. Albertans and British Columbians have enjoyed this unique offering since David Thompson explored and mapped the area back in the 1800s. Sometime in the late 1920s or early 1930s, depending on whose story you believe, eastern brook trout from Ontario's Nipigon region were stocked into Fortress. The fish thrived, starting a self-sustaining population that hasn't lost traction in almost a hundred years of existence.
The Nipigon River produced a 14.5-pound world-record brook trout back in 1915; I suppose a bucket biologist would have said there was no better fish to place in a sterile lake than those related to that massive Nipigon brook trout. So, in they went.
Today, Fortress, which carries an amazing turquoise glow and is surrounded by towering granite mountains (hence the name), offers that Nipigon strain in spades. Some say an 11-pound fish came out of the lake years ago. Others say five-pounders are landed on a regular basis. I perused the online videos and images before heading to Fortress and told myself to keep expectations in check.
It's difficult not to believe that an 11-pounder is swimming out there, somewhere, or maybe even a fish exceeding that historic 14-pound mark, but like I expected, our party of four, all guests at Craig Somers' Fortress Lake Lodge, never got anything over four and a half pounds. But, we caught scads of solid three-pound fish, brookies that measured 16 to 20 inches or so. One guy in the group said he landed a 22-incher, but I never saw it. I do, however, believe his story and he was ultra ecstatic when describing the catch, which he'd landed on a treasured bamboo rod.
These were hard-fighting fish gearing up for the spawn, some still bright and silvery, others turned orange on their bellies, yellow on their chins, and dark on their sides and backs. They weren't truly in the spawn, but they were aggressive enough to know it would happen soon.
Knowing this, we focussed attention on the mouths of feeder creeks where the brookies congregated. Chisel Creek, Fortress Creek, Three Creeks, and the mouth of the Wood River all produced good numbers. With Chisel resting just a short walk from camp, we could get up early and fish to our hearts content before breakfast at 9 a.m. Later, we could fish after dinner for as many hours as we pleased. During the day, Somers and his head guide ran us to various locales where we always found fish. We tried leeches here, streamers there, and even small nymphs under indicators in the Wood River shallows. All produced, which set up some serious tussles with those meaty trout.
These fish didn't come to the net easily. Instead, they hit the flies near bottom and on drop-offs then raced away to deeper water where they bulldogged for a while until they lost some strength. When released they took off quickly, like nothing ever happened.
At times you might get a bump on every cast. Other times it seemed like the fish were onto us and you couldn't buy an eat. You could wander back to camp for a nap or a bite to eat, then head out an hour later and the bite would be back on. Over the course of each day I imagine we averaged about 20-fish per person, which is a lot of brook trout anywhere you can find them. And these fish, if taken on almost any stream in the world, would have been called, "trophy class."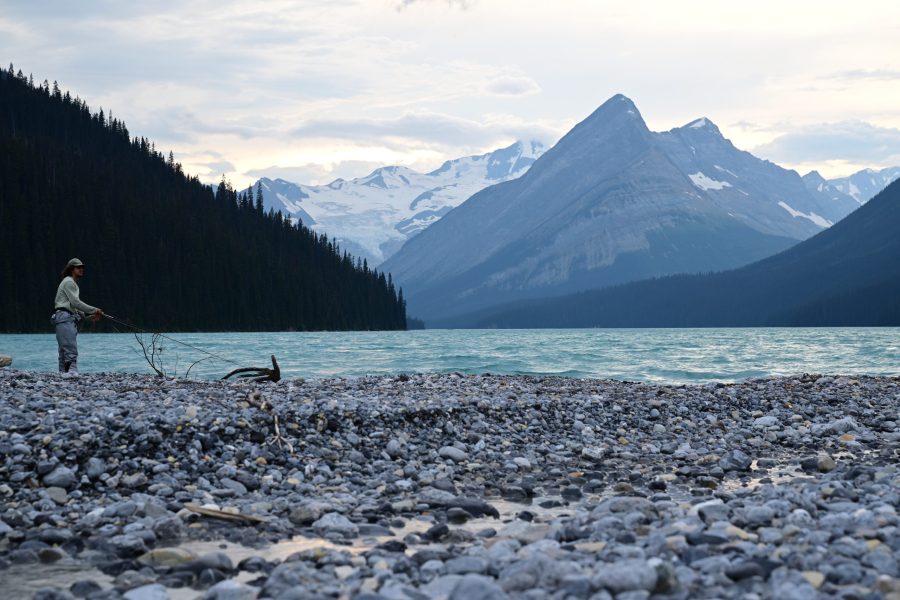 I never kept an accurate count of numbers, but one day I got up early and had about 15 fish to the net before breakfast. I picked up another half dozen fishing different parts of the lake. Before dinner we hit the Wood River area and I may have picked up another 10 on small nymphs and leeches. After dinner I returned to Chisel and stuck a few more for good measure. They were all photo-worthy fish and I documented their stunning colors. When it was all over, and I wandered back to camp to have a drink with the boys, I probably had landed and released 40-some 16 to 19-inch brook trout, which is about as good as brook trout fishing can get.
I haven't been to Labrador or South America where, I'm told, similar potential may exist, but I doubt you could match the scenery found at Fortress—it has to be the most jaw-dropping place on the planet to catch brook trout. And you do it in solitude—very few people hike into the lake and only a handful pony up to fly in by helicopter.
After five days spent catching solid brook trout at Fortress we all agreed it's a wonderful fishery and Fortress Lake Lodge, which combines wood-sided and canvas-roofed cabins (each with a wood stove), with large yurts for dining and showering, is a great place to stay. Brook trout at dawn, a hearty breakfast at nine, fish all day, dinner at six, then more brook trout patrol until the stars light up the northern sky.
Before flying out on our final day, one of the anglers who's fished around the world, said, "I'm bringing my dad here next year. He has to see this place because there's no other place like it." I replied, "Tell me which week and I'll bring my dad, too." Then we climbed into the helicopter and took off into the mountains, a camp in the middle of nowhere slowing fading out of view.
---