Travel and Trout Fishing in the Scottish Borders
This article was first published in Strung Magazine: Life At the Treeline. Strung Magazine is the only publication dedicated to living a mindful sporting lifestyle in the 21st century. Staple feature departments dedicated to fly fishing, responsible hunting, destination travel, and the preservation of natural resources are bolstered by rotating features focused on paddlesports, snowsports, mountain biking, rock climbing, and craft beer/spirits. Subscribe here.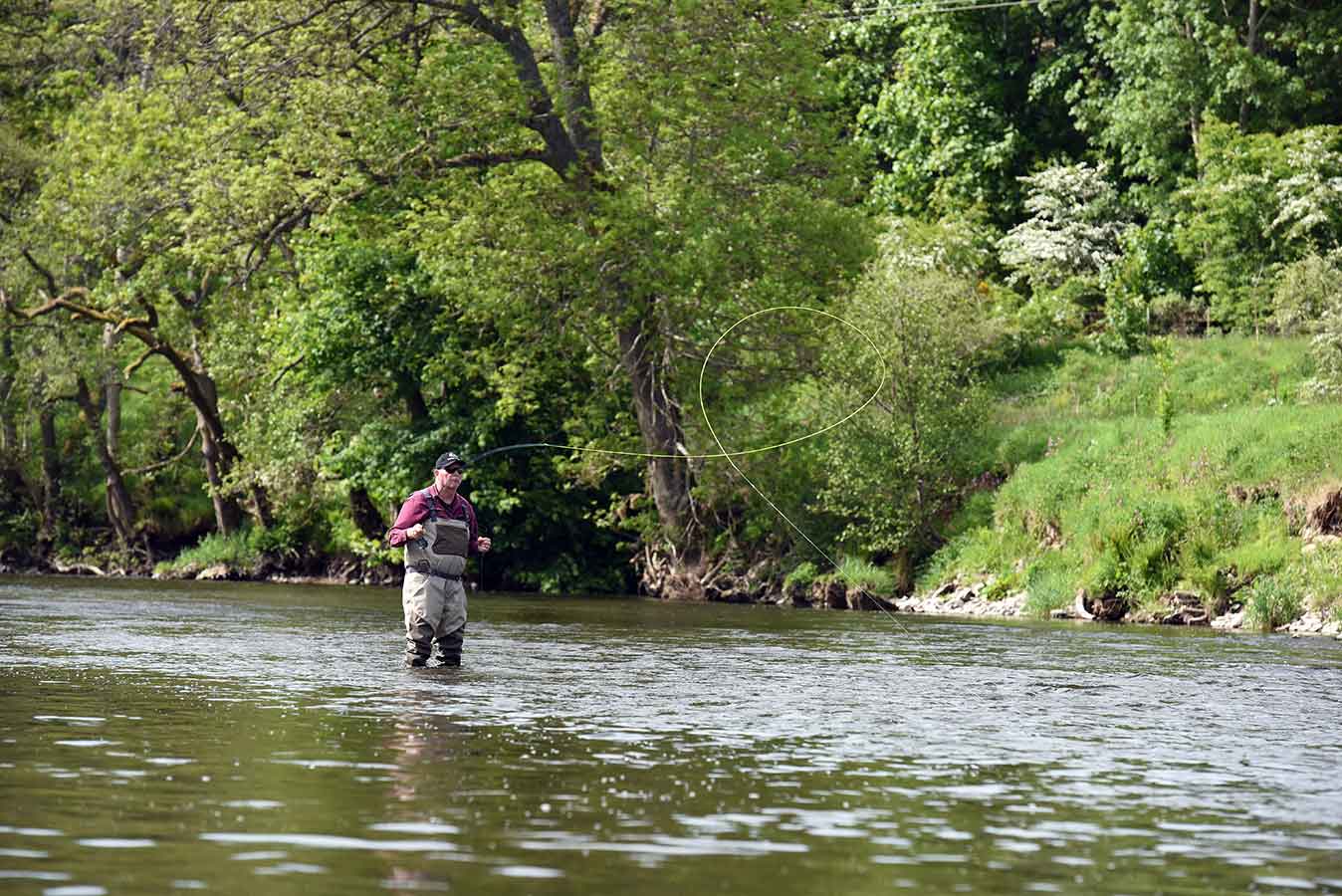 "That was a good fish," Stewart said. "Try and take a cast from the bank."
I looked to the other side of the river, to the smooth water shaded by overhanging trees, where the trout were cutting the surface intermittently to take mayflies that were gliding along in the foam lines. Was he joking…? That had to be 90 feet. To cast a fly that far with a 5-weight is a tall order for anyone. But to attempt to deliver a size-14 dry fly attached to a long length of 3-pound tippet, in an upstream wind that's coming into your rod arm, and expect to drop it in the choice feeding lane, and manage a drag-free float, and actually hook a fish … well that was just crazy.
I told him I needed to get closer.
This was our third trip to Scotland in a year. Lori and I had been together 16 years, 11 of them married, and we'd never taken a real vacation together. I'd woken up one day and realized that we'd tag-teamed our way through 10 years of school—a second bachelor's degree for me, a master's for her, then a master's for me followed by a post-master's certification for her. We'd be paying student loans with our social security checks.
At some point you realize that all you have is time; this was underscored for us by the recent death of a friend at age 53 (he had grown up in England, but had never been to Scotland). That may have explained the overkill: Between May of 2017 and June of 2018, Lori and I spent 35 days in Scotland, including Hogmanay in Edinburgh, their New Year's Eve celebration.
"George, wouldn't you love to Spey cast on the River Spey…?" Lori had asked, dreamily, during one of her planning sessions. That's my wife—to the manor born. If I could just get her interested in fishing we'd each have a quiver of high-end sticks—updated yearly—we'd be dripping with Simms and Patagonia, and our excursions would make social media fishing porn look like Harlequin Romance.
"If I'm going to fish in Scotland," I said, "I'm going to fish for something I actually have a chance of catching."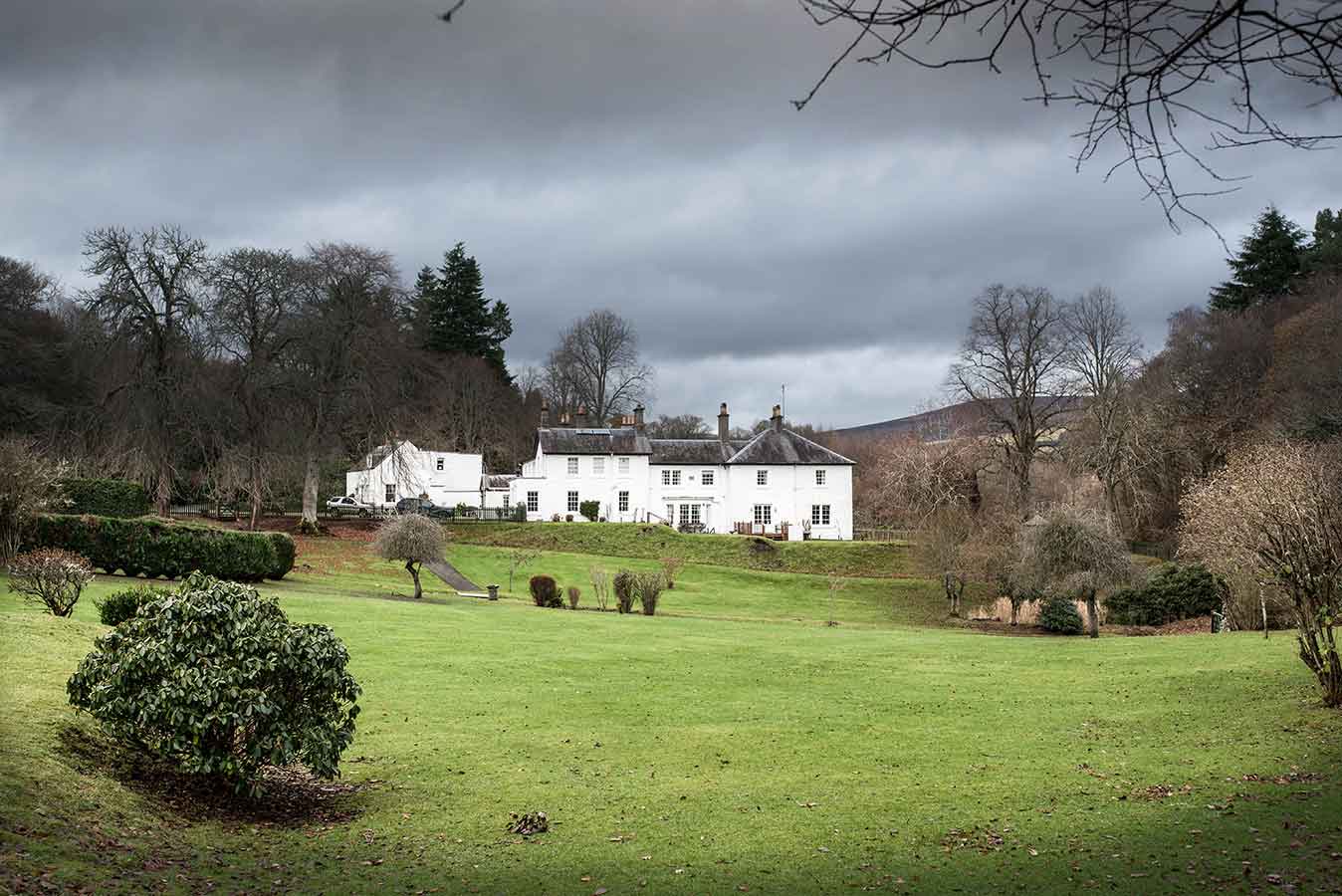 Lori found the guide—or rather, the ghillie—Stewart Collingswood. Ordinarily I'm more careful about whom I fish with than to leave arrangements to my wife. But this was a vacation—not really a fishing trip—so I wasn't going to quibble. Lori does her homework: Stewart came highly recommend. If I could spend a day in Scotland casting over fish on moving water, I'd be happy.
It was all set. We'd leave Edinburgh just after Hogmanay, on January 2nd, and I'd fish the River Tweed for grayling with Stewart Collingswood on the 3rd.
Stewart Collingswood. When Lori said his name I pictured a gentleman in his 70s, Shetland blazer with leather patches at the elbows. Knitted necktie and Wellington boots. He'd be sporting a woolen flat cap, and perhaps he'd smoke a pipe. At the end of the fishing day we'd all have a dram in front of a log fire at the local pub, and Stewart would adopt us. Lori and I would chuck the jobs in healthcare and move to Scotland. I'd be Stewart's apprentice ghillie, tying improved clinch knots for well-heeled dilettantes. Lori would tend sheep. It was pleasant to think about.
In most cases, traveling to Scotland from the United States requires multiple flights or multiple modes of transportation. We left Boston at 9:30 pm, flying just over six hours to get into London around 8:30 am their time (3:30 am our time). From there we navigated the London tube system to get to King's Cross St. Pancras, where we boarded a Virgin Atlantic train to Edinburgh. A four-and-a-half-hour train ride through the English countryside would have been pleasant enough, had it not been plagued by sleep deprivation. By the time we got to our room at the Old Town Chambers, we'd been awake for nearly 30 hours. Even after a two-hour coma nap, it was all we could do to make our dinner reservation at the Innis & Gunn Beer Kitchen. That first night we slept 11 hours.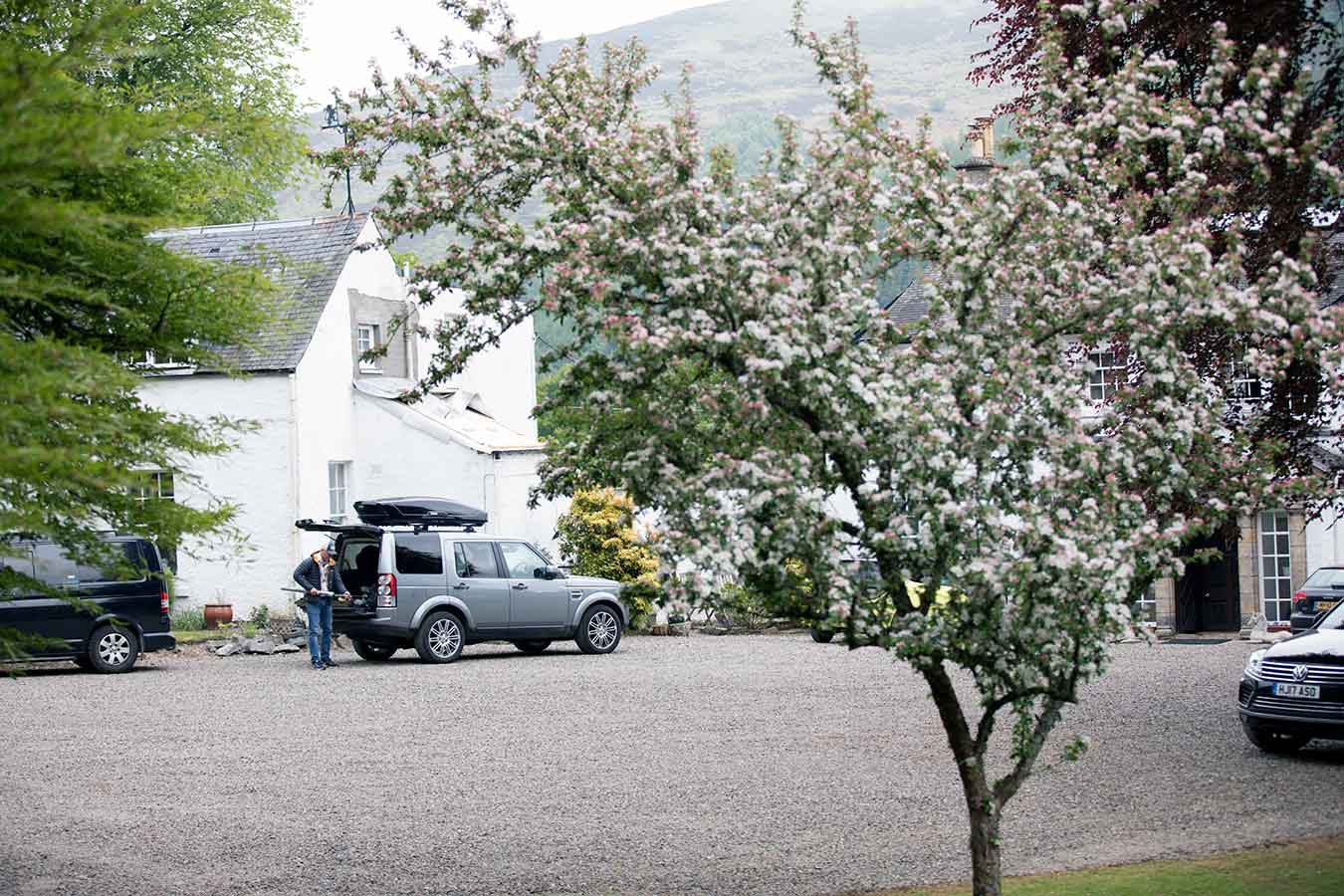 Frankly, I'm not a huge fan of cities, but if you have to spend a few days in one, you could do worse than Edinburgh. What began as a fort in the 7th century, the "Athens of the North" is today the hub of Scottish tourism. Getting a room off the aptly named Royal Mile, which stretches from Edinburgh Castle to Holyrood Palace (the Queen's digs when she's in town), puts you within walking distance of a lifetime's worth of eating, drinking, and shopping-'til-you-puke. Cashmere, knitwear, kilts (the genuine article as well as the Alibaba knockoffs), whisky shops, gift shops, cigar shops, fudge….
I can take about two hours of this before I'm ready for a drink. Fortunately, wherever you are in Edinburgh you need only to step off the street to plunk yourself down at a bar. The Jinglin' Geordie (22 Fleshmarket Close) became one of our favorites—the namesake bar of George Heriot (1563-1624), loanshark to Scottish royalty. I recommend you try a pint of the Deuchars IPA. Produced by one of Scotland's large brewers, Deuchars (pronounced Jookers by the locals) is served on cask. Cask ales differ from keg beers in that they undergo a secondary fermentation in the dispensing container—that is, the cask. The carbonation is natural, and no extraneous gas is used to dispense the beer. The ale is gravity-fed, drawn over a bed of live yeast at cellar temperature (50 to 55 degrees Fahrenheit) using a hand pump called a beer engine. The resulting pour has a creamy head and mouthfeel unobtainable using forced carbonation. If you've never had it before, an easy way to tell if the beer is on cask is to look at the dispensing nozzle. A beer engine has a swan neck—as opposed to a spigot for keg beer. The neck reaches to the bottom of a pint glass, and the pint is pulled over four or more pumps with the handle—as opposed to the single trip of the lever needed for forced carbonation.
If you're used to American hop grenades, you'll find the character of Deuchars greatly subdued. Don't let that dissuade you, as this is an excellent example of the British style of IPA.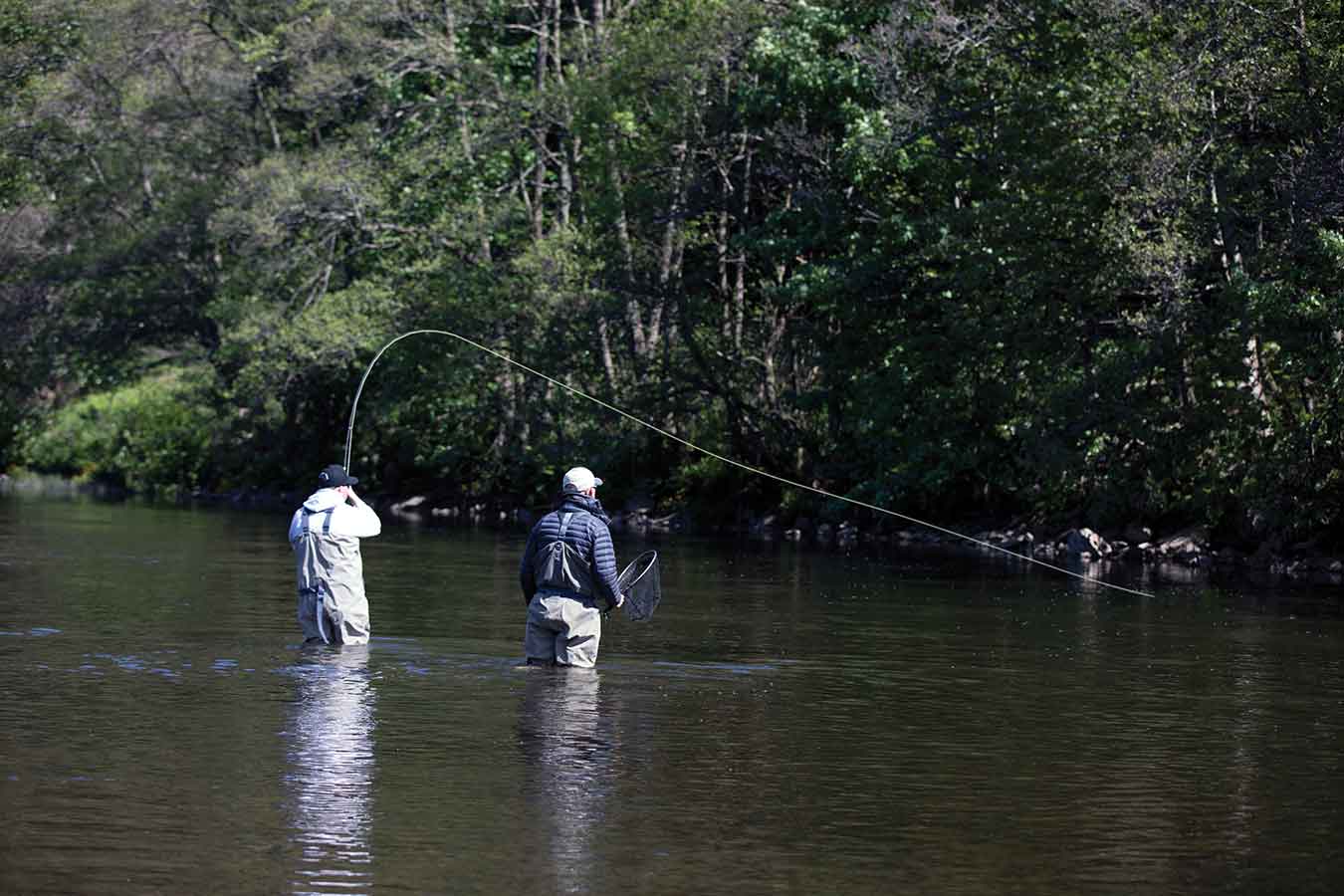 Another Edinburgh watering hole we liked very much, a short cab ride from the Royal Mile, was the Sheep Heid Inn (main dishes from £9.95), one of Scotland's oldest pubs, reputedly in business since the mid 1300s. Here I strongly recommend you make dinner reservations; the night we were there we almost didn't get seated.
Hogmanay was about what I had expected. Lori seemed disappointed. (I'm still not clear on how my wife, who doesn't really drink, determined that the world's largest drunken street party was on her bucket list.)
"What did you think it would be?" I asked.
"I thought we'd be arm-in-arm with a bunch of Scots, singing 'Auld Lang Syne.'"
"Really…?"
The small village of Walkerburn, in the Upper Tweed Valley, lies an hour south of Edinburgh on the A72. Much of Scotland's beauty gets overshadowed by the reputation of the Highlands, but the Scottish Borders has its own unique charm that rivals any in the country, with enough history, sights, and activities to easily take up an entire vacation.
Built in the mid 1800s near the banks of the River Tweed, Elibank House (from £55 per night) was for many generations the family estate of the Murrays, Earls of Elibank, from whom novelist and poet Sir Walter Scott was descended. It's now run as a bed and breakfast by Adam and Eleanor Beatty, along with Adam's mother, Rosemary. Stewart had it listed on his website as simply "Tweed Fishing Lodge," and he described it to me over the phone as "an excellent value." Those were two great understatements. To describe Elibank as a fishing lodge doesn't begin to do it justice. As for it being an excellent value, not only was it the least-expensive place we stayed throughout our three trips, but it was also our favorite. (We like it so much, in fact, I'm hesitant to write about it lest I ruin the place for us.)
Situated on 214 acres, half of which are woodland, Elibank House offers more than 1.5 miles of private single-bank fishing—that is, the opposite bank is owned by someone else—which includes eight named pools divided into two beats. Stewart had emailed me photos of two nice grayling he had caught the day after Christmas. Unfortunately, in the intervening week, rain and snowmelt had raised the water to its banks. I donned waders but never waded: One step into the river would have put me neck-deep.
I Czech-nymphed that water from what seemed like dawn to dusk—but my first grayling wasn't to be. At the end of the day, Stewart paid me the high compliment of calling me "a low-maintenance client," and, because of the poor conditions, he invited me back in May to try my hand at dry fly fishing for brown trout. A third Scotland trip was an easy sell to Lori.
We finally got the travel right. Norwegian Air flies direct out of Providence, Rhode Island. This put us in Edinburgh at about 9:30 am. The Norwegian flight is no-frills, but what you'll save in travel time is worth it, and makes a long weekend in Scotland a real possibility.
We rented a car at the airport—or what passed for a car—a lemon-yellow Toyota Aygo, about the size of a vegetable cart—and made the hour's drive south, arriving at Elibank around 11:30. After a short nap in our room, the Woodcock, Lori and I decided to enjoy the rest of the day on the estate. Adam lent me a pair of his waders, and while he took Lori in his buggy up to look at the castle ruins that reside on the property, I took a walk down to the river.
Thomas & Thomas had lent me a rod for the trip, a 9-foot, four-piece Avantt 6-weight, which travelled without a tube in my rolling suitcase. I had spooled a Valentine model number 83 single-action reel (acquired drunk-shopping on eBay) with a 235-grain Wulff Ambush fly line. This was the ideal outfit, I imagined, to swing streamers and wet flies on a Scottish river.
I didn't know what minnows might be available to Scottish brown trout, but wherever wild trout are found, so are their young. I had tied a handful of the Little Brown Trout, Samuel Slaymaker's classic pattern, on a Daiichi XPoint streamer hook. I substituted various colors of Arctic fox for the bucktail, squirrel, and pheasant the original called for. Arctic fox has a lot of inherent action in the water and is tough as nails.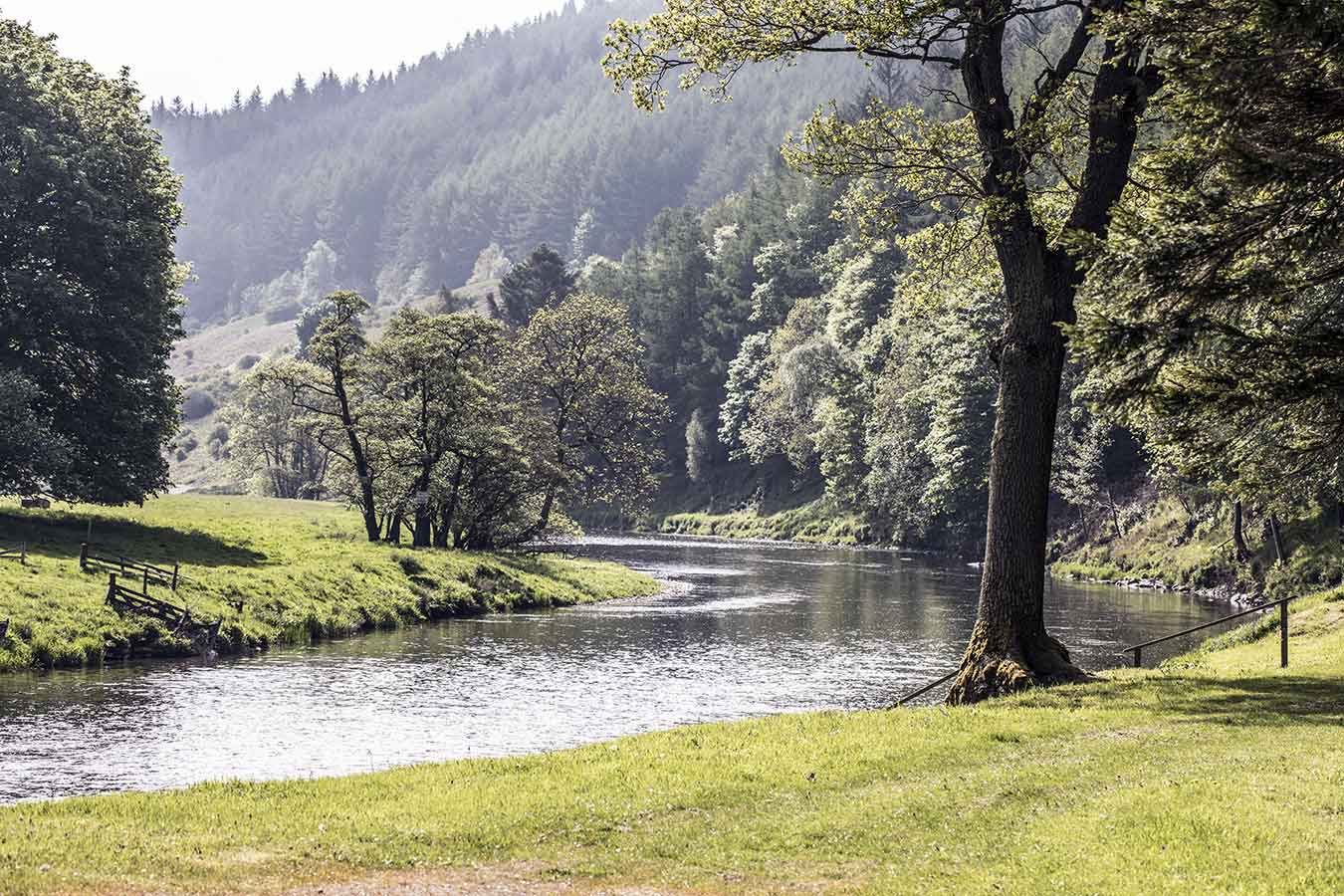 I stepped into the water at the Bridge Pool, where the trestle for the Peebles Railway once crossed—defunct since the early 1960s. I barely recognized anything, the water was so far below its banks than it had been the last time I was here.
When you see Scotland's rivers it becomes clear why Spey casting was invented. The banks are often high, making aerial back casts precarious at best. The bank now was above my head and less than 10 feet behind me, the river flowing left to right. The snake roll, an oval acceleration of the rod tip that simultaneously repositions the anchor and forms the D loop, was just what the situation called for. Spey casting with a single-handed rod is not only eminently practical—it will open up water for you that was previously unfishable—it's efficient, elegant, and beautiful to watch. But the main reason to learn to Spey cast is that it's good for your soul.
Fishing streamers, the simplest form of the game is to cast across and slightly downstream, letting the fly swing in an arc until it's directly below you—"on the dangle" as the locals say. With each subsequent cast you'll strip off a few more inches of line. Once you get the entire head section outside the rod tip, then you can shoot line to make your longest casts. The short, compact head of the Ambush (only 18 feet) allows you to form a D loop in a very tight space, and the thinner running line shoots effortlessly to 60 feet. Unless there's a special circumstance—for instance, you want to work the area in front of a boulder on the opposite bank and wading closer isn't an option—there's no need to deliver a streamer any farther than 50 or 60 feet. With a 50-foot cast you can cover a lot of water. Once you've reached your fixed distance, work through the pool by taking a step downstream every cast or two. This allows you to cover the water methodically, waving your fly past the nose of every fish in the pool. Keep your rod tip pointed at your line, following it across the river on the swing, giving it an occasional twitch for interest. Hold the rod tip a couple of feet above the water to give some cushion to the strike. Don't worry that you won't feel it; there are no subtle takes in streamer fishing: The trout means to kill.
At this point the picture was complete: Me standing in the River Tweed with a fly rod in my hand on a beautiful afternoon in late May. The pull on the line was simply a bonus. What made it even nicer was that as it happened, Lori appeared on the bank, back from her trip to the ruins of Elibank Castle. Ordinarily Lori pays little attention to my fishing, but she knew this fish was special: my first fish in Scotland and self-guided at that.
The fish, a wild brown trout, was small enough that I had to put it on the reel. I didn't want to risk losing it by fumbling with my phone for a photo. I grabbed the leader and followed it down, picked the fish up by the hook for Lori to see, then turned the bend upward to release it. Only then did I reach for my phone.
"Skunk is off," I texted Stewart.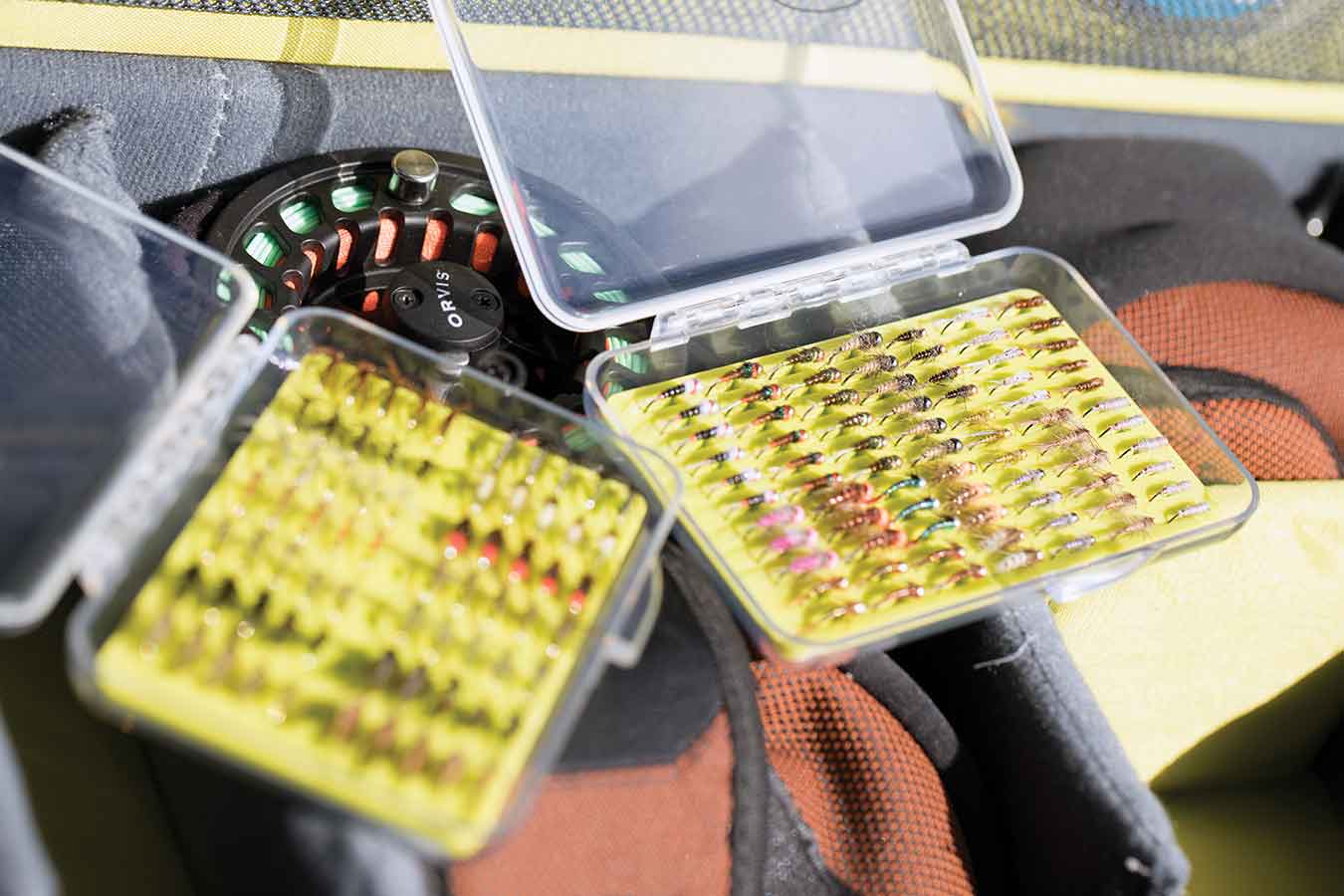 In the Elibank House dining room, Eleanor hands you a breakfast menu containing several selections, including the full Scottish "fry up," which includes sliced sausage, black (blood) pudding, back bacon, tatie scones, and baked beans. At the prospect of having to climb down and up the banks of the Tweed all day, I went with a lighter choice: smoked salmon and scrambled eggs.
Stewart met us for breakfast, along with photographer Colin Raich. Stewart was a far cry from the wool-clad gentleman in his 70s I had initially pictured. He was my age, mid 50s, and fit enough to chase around a two-year-old son. He drove a kickass Land Rover, his fishing equipment was the latest and the best from Orvis, and for our time on the water he had commissioned none other than Scottish fly tying phenom Davie McPhail to produce a boxful of his Olive CDC Duns in various shades (I didn't think anyone actually fished with Davie McPhail's flies). When we got to the fishing hut, where we set up our equipment and changed into waders, Stewart poured us each a dram of whisky, for luck. This was almost over the top: I'm much more accustomed to the dirtbag trips than the royal treatment.
Flooding was the problem in January, and now we were faced with the opposite: Stewart had never seen the water as low as it was today, he said; the fish would be particularly spooky. As we walked upstream along the grassy bank, Stewart pointed out the areas we had worked in January. If you're like me, you enjoy walking a river alone, on your own schedule, fishing as you please rather than as someone else dictates, learning where the fish hold in a particular stretch, figuring out problems on your own—or not figuring them out. Most of the fishing I've done in my life I've done alone. However, nothing compares to the experience of the local expert to get you up to speed quickly in a new fishery. With a guide of Stewart's caliber you can learn in a day what may take you several seasons to learn on your own, regardless of how good an angler you are.
Stewart knows where the fish are on Elibank's length of the Tweed as I imagine he knows where the fish are on whatever water he frequents. We stopped at a stretch he refers to as Jurassic Park (his clients have hooked fish in here approaching 6 pounds). Numerous mayflies were coming off—I still have trouble naming them by pattern—and we watched for several minutes as trout came up through the deeper shaded water on the opposite bank to take them.
Stewart acknowledged a rise he thought belonged to a good fish and suggested I take a cast from the bank.
"It's not going to happen," I told him. "I need to get closer."
He pointed out a river rock and cautioned me not to wade any farther out than that, lest I scatter them all. This is where having a good guide makes all the difference in a challenging fishery. On my own, not knowing the area, sloppy and lazy from years of casting to hatchery-reared browns, I would've tried to get much closer.
I had the tool for the job, Stewart's Helios 3 in 5-weight, but still the cast was no cakewalk—65 feet, conservatively—farther than I'd ever had to cast a dry fly to a trout, and with an upstream wind blowing into my rod arm.
Hooking a fish rarely happens the way it does in the magazines—with a single, inspired cast—and it didn't happen that way for me. It took more than one cast—I forget how many—three, maybe four or five—for the fly to land where it needed to be to ride down in the tiny bubbles of foam and pass over where the rise had occurred. But eventually the large snout broke the surface and went down, and by my raising the rod we were connected.
"Brilliant!" Stewart cried.
Fishing for photos, for articles, has always been the kiss of death for me—I'm just unlucky like that—so I usually shy away from it. But as long as I happened to be here, with a trophy fish at the other end, might as well see it through….
The fish dropped back in the current, and suddenly the weight I felt was solid, unmovable.
"He's got me hung on a rock," I told Stewart. As I said, unlucky.
"See if you can lift the line over it."
Slowly I raised the rod, and when I saw the side of the fish drop back farther I knew I had freed the line. We were still connected, but after that it was only a matter of time. Afterwards, I thought about what I should have done—gotten below him so he'd have to fight both me and the current. But I didn't. I was thinking about the photo, and I applied a bit more pressure to bring him to net.
The rod straightened and the line went slack.
I spat an expletive—but only one. To be a game, the fish has to be able to win. And this time it did. I reeled in the line. The tippet had broken just below the final leader knot. That's where it must've rubbed.
"That was a nice fish," Stewart said. "Maybe three-and-a-half pounds."
"Then that would be the largest trout I've ever hooked on a dry fly."
"Colin thinks he got a shot of him on the surface."
"Well, that's something."
"Are you alright?" Stewart asked.
"I'm fine. You'll apologize to Davie McPhail for me for losing his fly…?"
I poured myself a second glass of pinot noir while Stewart prepared a stream-side lunch and Colin was telling me, at length, about the research that had been conducted regarding why some Scottish brown trout migrated to sea while others didn't. Before we broke, I did manage to hook and land two trout on dry flies—but nothing comparable in size to that first fish. If you stick with this game for any length of time you'll learn that your most memorable fish, the ones you revisit most often in your thoughts, won't necessarily be the ones you landed.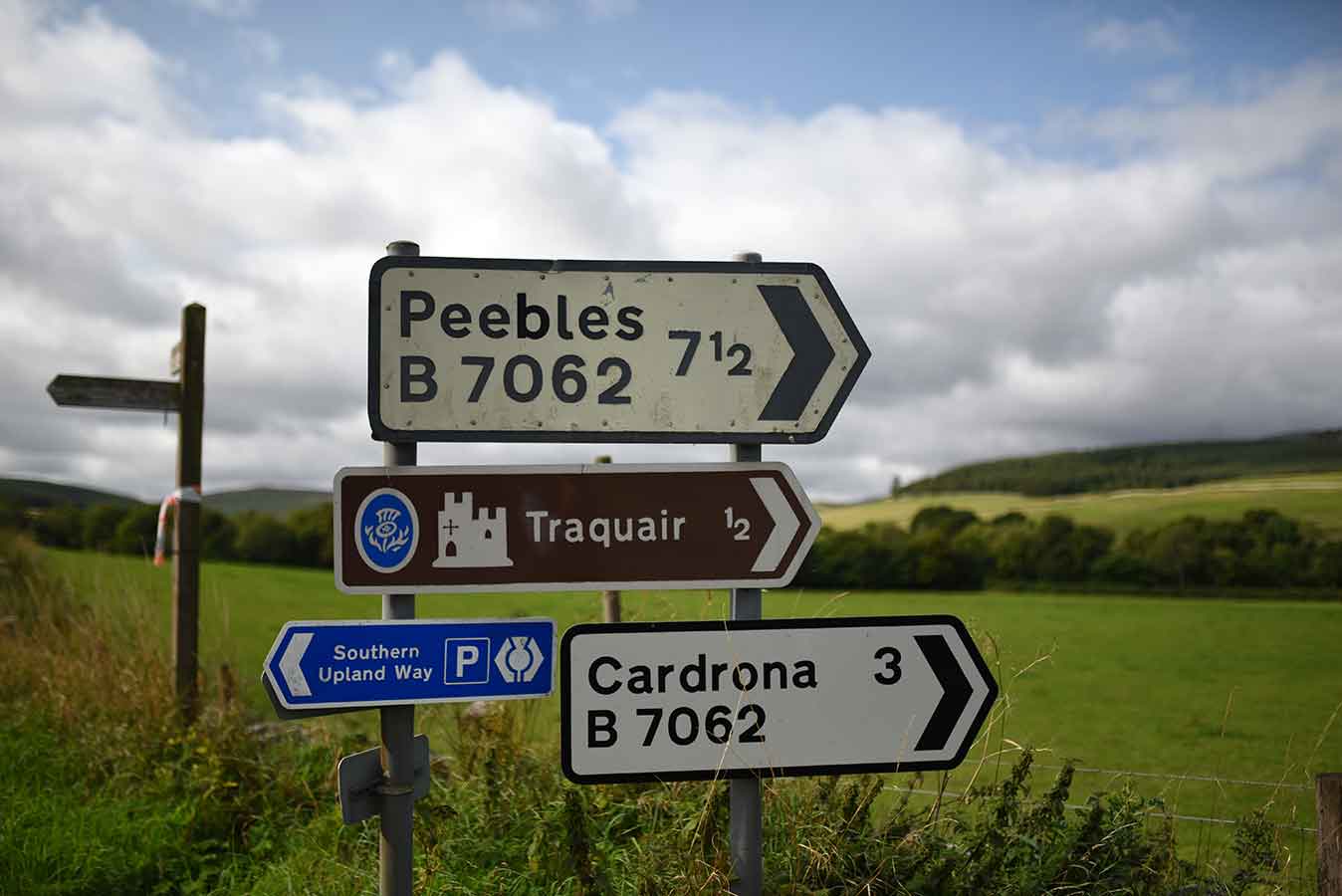 And if you're going to fish with guides to any extent, you'll learn that finding one you get along with is probably as important as the fishing itself. Stewart was a rarity among guides in that when I told him what I was interested in, he actually listened to me. Too often I've been put in the position of having to make the guide happy. Once, off Cape Cod, a guide handed me a tarpon rod whose reel was spooled with lead-core line. "Don't even try to cast this," he warned. "Just strip it back into the rip." What I wanted to do was … forget what I wanted to do. The guys I was fishing with had arranged the charter, and to avoid a scene I did as I was told. That I hooked and landed a 40-inch striped bass this way felt like an insult.
Casting dry flies to spooky wild trout on a challenging stretch of water with the prospect of hooking maybe one or two in a morning would not be everyone's cup of tea. If it's not yours—and if your casting skills are only marginal, I can tell you definitely that it wouldn't be yours—you might be happier on a private loch catching large stocked rainbows, where a bent rod is the order of the day. Or if you'd rather try for pike, Stewart is ready to accommodate with plans B through Z. Here's a guide whose website unapologetically offers trout and salmon holidays near Outlander film locations (you can't make this up). So, for example, if your wife wanted to visit Linlithgow Palace—Wentworth Prison in the book and TV series—where poor Jamie suffers torture at the hands of the loathsome Black Jack Randall, you could kill two birds by fishing the trout loch that the palace overlooks.
You might find this comical, as do I, but there's nothing comical about Stewart's skills. He is, without question, the finest caster of any guide I've fished with. He would be as comfortable guiding for Charles, Prince of Wales, as he would be guiding Charlie from Houston, Texas.
Stewart had been a professional photographer at one time, and also had run a software company, or something like that. In the mid 2000s he had walked off into the wilderness to do some soul-searching; he asked himself what his passions were, and what it was he wanted to do with the rest of his life. So began Alba Game Fishing.
Beyond that, I don't know a lot about him. We didn't talk a lot about ourselves, and much of what we understood about each other we understood tacitly. We each had begun fly fishing in childhood, before we knew what a lifestyle was. Before we knew that standing in a river casting a fly was mindful exercise. Back when the game was played primarily by older gentlemen who also hunted birds in the fall.
Somewhere along the way he'd gotten some mentoring: Nobody casts that well by chance; you don't learn it in a vacuum.
Nor do I know how Stewart came by his culinary skills. The shore lunch he prepared for us, Moroccan lamb over rice, was as fine a meal as you would get in most of the restaurants in Edinburgh.
By the time we got back to the water, the bug activity, along with the surface feeding, had subsided. Stewart rigged a leader with three wet flies: two North Country Spiders (Davie McPhail versions) and a point fly of my own dressing, Sawyer's Killer Bug tied on a Daiichi jig hook. Such a rig allows you to fish the entire water column.
The trout season extends from April first to September 30th. According to Stewart, fishing peaks mid April to mid May, when big browns, normally invisible, appear to gorge themselves on the prolific Olive and March Brown hatches. By mid June the fishing gets trickier, and the larger trout become focused on minnows: trout and salmon fry and parr as well as sticklebacks. Stewart showed me one of his stickleback patterns, the wing topped with peacock swords. The Alexandra, the classic Scottish wet fly first dressed in the 1860s, is a good general stickleback imitation, he noted. Good grayling can be caught year-round, with the fishing peaking in autumn and winter. Trout season closes when it does to make way for the fall salmon run.
For the remainder of the afternoon the fishing was better than the catching. I managed to get a couple of fish to pull at a Spider, but didn't manage to hook either. We wrapped up our day just before five—what normally passes for beer thirty in my world.
As the Scottish Highlands overshadow the Borders, Scotland's single malt whiskies overshadow its ales. But make no mistake, Scotland is in the midst of a craft beer revolution, with each region boasting a number of small breweries. The website visitscotland.com features a Craft Beer Map of the country, which, at this writing, lists 90 microbreweries. Not too shabby for an area the size of South Carolina.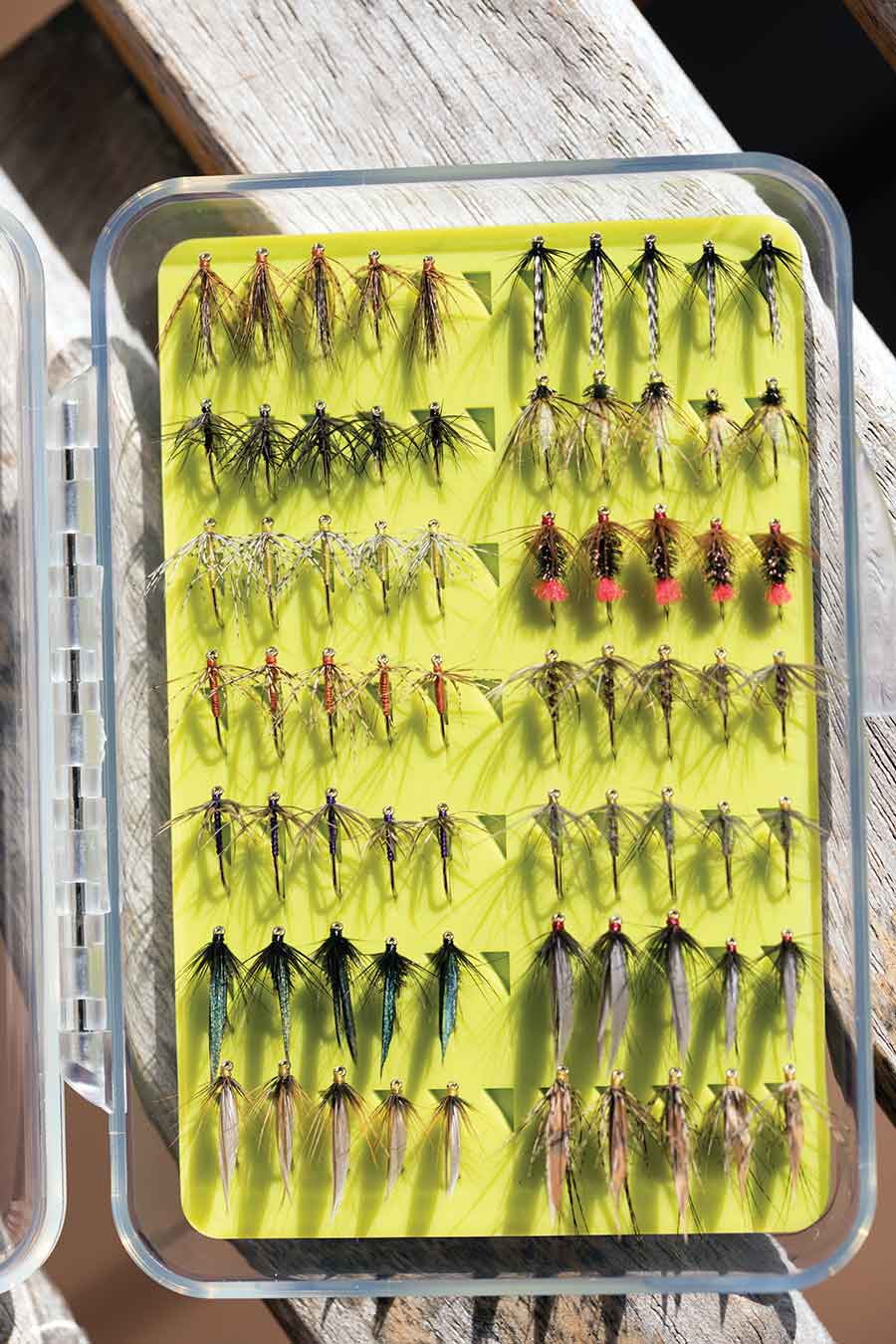 A short drive from Elibank House you can visit Campbell's Brewery in Peebles, as well as the Broughton Brewery in the small village of the same name (brewer of the locally popular Old Jock Scotch Ale). However, the hidden gem of Scotland's microbreweries is the Traquair House Brewery in Innerleithen, which spearheaded the country's craft beer movement two decades before there was a term for it.
Originally a hunting lodge for Scottish royalty, the Traquair House is Scotland's oldest inhabited home. The original tower was built in the early 1100s, with the remainder of the house being completed before 1700. The Traquair House has hosted 27 Scottish (and English) kings and queens. For over 500 years the house has been occupied by the Stuart family, descendants of the royal line of Stuarts, and today receives visitors from all over the world. Here you can see such pieces of antiquity as Mary Queen of Scots' bed as well as the silk coverlet she helped to embroider.
The cellar brewery, located beneath the chapel, dates from the 1700s and originally functioned as a domestic brewery to serve the family and guests of the estate. The brewery fell into disuse in the 1800s but was not dismantled. It was discovered by Peter Maxwell Stuart, 20th Laird of Traquair, in the mid 1960s when he was cleaning centuries-old family junk out of the cellar. Much of the equipment was in pristine condition. As an experiment, Mr. Maxwell Stuart restored the brewery to functional status and began producing ale. Even today, the wort is boiled in the original copper (purchased in 1738) and then fermented in unlined oak vessels (Traquair House is the only remaining UK brewer to use them).
Mr. Maxwell Stuart brewed his original offering, Traquair House Ale, from an 18th century recipe for strong ale. It was first served in the Traquair House tea room, but as accolades accumulated and its fame grew, he stepped up production to supply local pubs and shops. In the mid 1980s Traquair House began exporting very small quantities of its ale to the US. Mr. Maxwell Stuart died in 1990, and management of the brewery passed to his daughter, Catherine Maxwell Stuart, 21st Lady of Traquair. Since then, Traquair House Brewery has added several ales to its roster, including Traquair Jacobite Ale, a slightly stronger version of the original (8 percent alcohol by volume) brewed with coriander, which adds a spicy character to the caramel sweetness. Although Ms. Maxwell Stuart expanded the brewery in the mid 1990s, total production today falls short of 1,000 US barrels per year. (Compare this with the Boston Beer Company, brewer of all things Sam Adams, which in 2016 produced 4 million barrels of its proprietary products.)
Our favorite place to enjoy these malt-forward aristocrats was across the street at the Traquair Arms Hotel (main dishes from £9.95). The small pub has a friendly atmosphere. Dogs are welcome—Lori made fast friends with canine regulars Jack and Rory—there's a good selection of beers other than those produced by the Traquair House, and a small coal fireplace in the corner gets lighted during the colder months.
Scotland is not renowned for its five-star dining and frankly, much of that is lost on me anyway. Whenever Lori and I sat down to what purported to be a culinary experience—and throughout our three trips, we did this a number of times—we were frequently underwhelmed, not to mention much lighter in the purse. The kitchen of the Traquair Arms Hotel serves mainly Scottish pub fare—dishes such as steak and Traquair ale pie and fish and chips—hold the frou-frou. You get generous portions of good, hearty food at very reasonable prices. In our opinion, you'll find no better Scottish dining experience than in a pub such as this.
One of the things we particularly enjoyed about the Scottish Borders is that it has not yet been overrun with tourists. As an American you stand out, and the locals are quick to ask, in a friendly manner, what brought you here. Travel to the Isle of Skye, in the Highlands, on the other hand, and you'll think it's undergone some sort of American occupation. Also, genuine Scots can be in short supply: In one lodge where we stayed on Skye we met not a single Scottish employee. As far as we could tell, the entire staff was from outside the country, most filling temporary positions for the season. The manager was from Australia, the chef was from Brazil, our waitress was from Texas, and so on. Not that it wasn't nice—it just wasn't what we were looking for. One western resort town where we spent the night seemed to be staffed entirely by Polish emigrants. From what we've seen of the Borders, it's run entirely by Scottish locals.
Other places where we enjoyed eating outside Walkerburn include the Crown Hotel—best nachos we had anywhere in the country—and also the County Hotel (main dishes from £6.49; 35 High Street, Peebles), which is one of the Belhaven Pubs.
Although it doesn't have a proper kitchen, we recommend you stop at the Bridge Inn (Port Brae, Peebles) for a pint before or after dinner. Also known as the Trust, this traditional pub, which welcomes dogs but prohibits children—that alone is reason enough to visit—won the Campaign for Real Ale (CAMRA) Scotland and Northern Ireland Pub of the Year competition for 2017. I had a pint—or maybe two—of the Pale Armadillo Session IPA (3.8 percent alcohol by volume), brewed by the Tempest Brewing Company, whose recipes are heavily influenced by the North American brewing scene.
Should you wish to return to the Tweed after dinner to catch the evening rise, it's very doable, as at this time of year in Scotland it stays light until nearly 11:30 pm. If the amount of mayflies flitting about the parking lot were any indication, the river was sure to be worth a try. However, after a full day on the water with Stewart, I just didn't have it in me.
Fishing may be what brought us to Elibank House, but it's not the only reason to stay there. In fact, of all the guests booked there during our stay, I was the only one fishing and had the river to myself. Beyond fishing, Elibank House makes the ideal base of operations for a visit to the Borders or southern Scotland in general.
Whatever your interest in the outdoors, you'll find it in the Borders. If you're a mountain biker, Peebles and the surrounding area is considered a mecca, boasting the Glentress and Innerleithen Trails. You can rent a mountain bike at Alpine Bikes Glentress. If you're a road biker, National Route 1, which spans 1,700 miles along the East Coast of England and Scotland, from Dover to the Shetland Islands, passes right by Elibank House. Quality road and hybrid bikes can be rented at Bspoke Cycles. If you're a hiker or walker, the Tweed Valley is lined with seven forests, hosting dozens of routes of varying levels of difficulty. (The sister sites walkscottishborders.com and cyclescottishborders.com provide downloadable maps.) The Elibank House property gives you access to the Elibank and Traquair Forest, which is the largest of the valley's woodlands.
Lori and I didn't have to be on Skye for a couple of days, and we tried to extend our stay at Elibank. Unfortunately, Eleanor told us she was booked solid for the next three days. Stewart gave us some suggestions about other areas we might visit, and we set off.
If you ever fish the Tweed in May, the stretch that runs through the Elibank Estate, and you happen to see a guy standing in the river, swinging flies with a snake roll, even when he doesn't have to, come over and say hello. It might be me, after all. I have some unfinished business there.
---