Bahamas Winter Bonefish: Prime Time for Monster Bones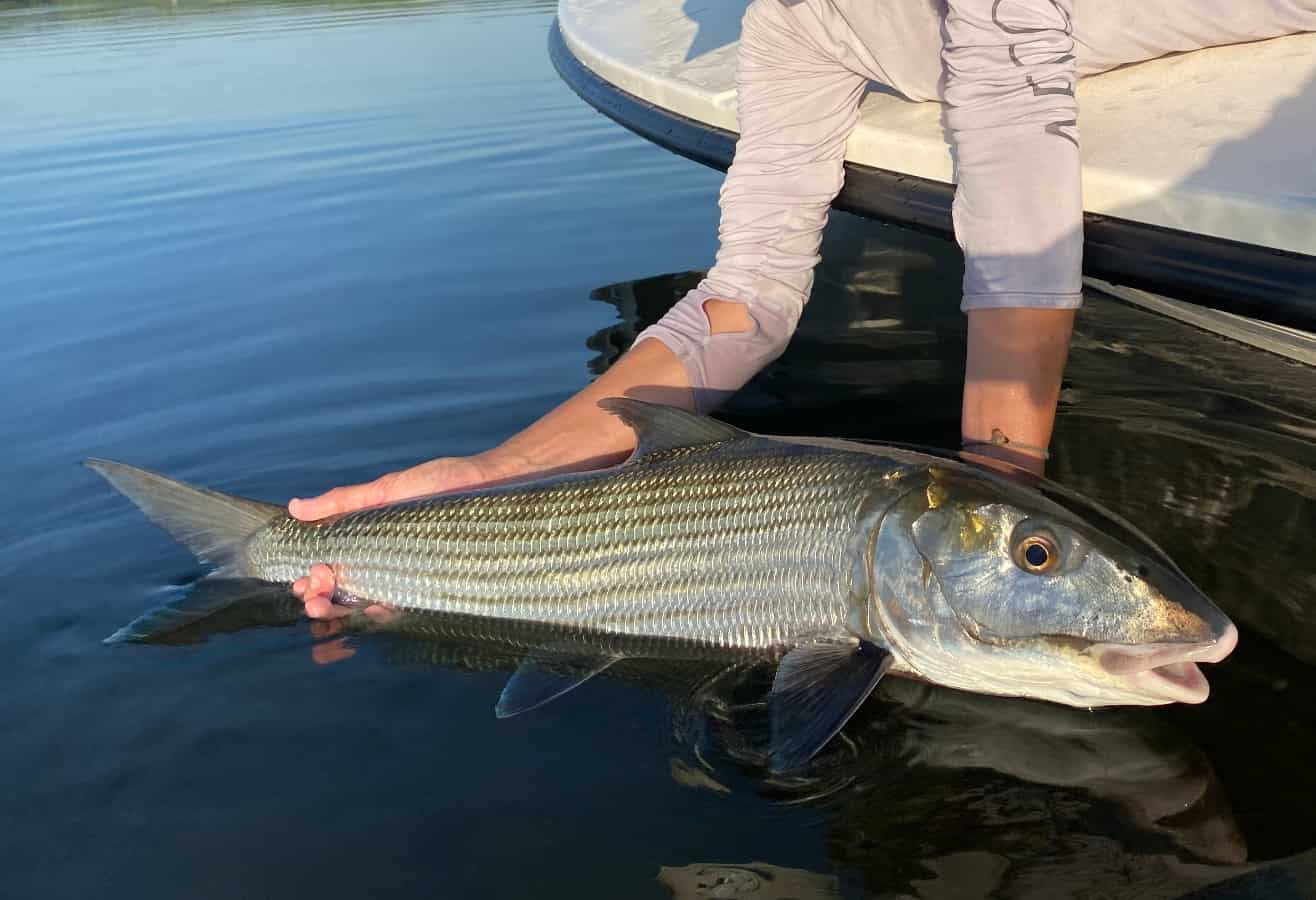 Have you experienced bonefishing at its finest? No, not plucking two- to four-pounders nonstop from massive schools you can spot from a mile away. I mean stalking hogs—cruise missiles of eight, 10 pounds or better, the sort that usually travels alone or accompanied by an equally gargantuan sidekick. If your answer is "no,"then you probably haven't yet felt the sustained vibration buzzing down to your arm when your rod bends into a deep arch and your reel gives up the entire fly line plus 75 to 100 yards of backing in two blinks of an eye. Your reel handle becomes a blur. Reaching for it might mean losing a digit, or worse, losing the fish.
Sure, catching smaller members of the species is fun, but whopper bonefish are special. Targeting them specifically is a completely different ballgame. The thrill of the hunt, the exhilaration that follows each hookup, and the pride that comes with bringing a trophy to hand combine to elevate this bonefishing to superlative heights.
Realm of the Titans
While the flats of Miami's Biscayne Bay and the upper Florida Keys are historic top producers of monster bones, a number of places in the Bahamas host an abundance of big fish in more secluded settings. Boat traffic is practically nonexistent here, and the fish face a tiny fraction of the pressure accosting their Florida counterparts. There's something to be said for taking the trophy hunt to more secluded parts of the Bahamas, like the Berry Isles, Crooked Island or the Acklins, but easier-to-reach destinations like Grand Bahama, Great Abaco, and Andros offer plenty of shots at grey ghosts—some longer than 25 inches and around the 10-pound mark.
But no matter where in the Bahamas you decide to pursue bones of above-average size, your best chances will come during winter. More sunny days compared to other seasons boost sight-fishing prospects and cooling water temperatures force the hordes of smaller specimens into milder, deeper water. From December through early March, those pesky youngsters that frequently escort the elders of their tribe are suddenly out of the equation. That leaves the big fish, which are more tolerant of temperature drops, to cruise the shallows without competition from dinks. This, in turn, enables guides to stalk large singles, duos and trios, giving anglers more opportunities to present their flies to those supersized individuals with no need to dodge a bunch of undiscerning, little guys eager to slurp the first morsel that comes near.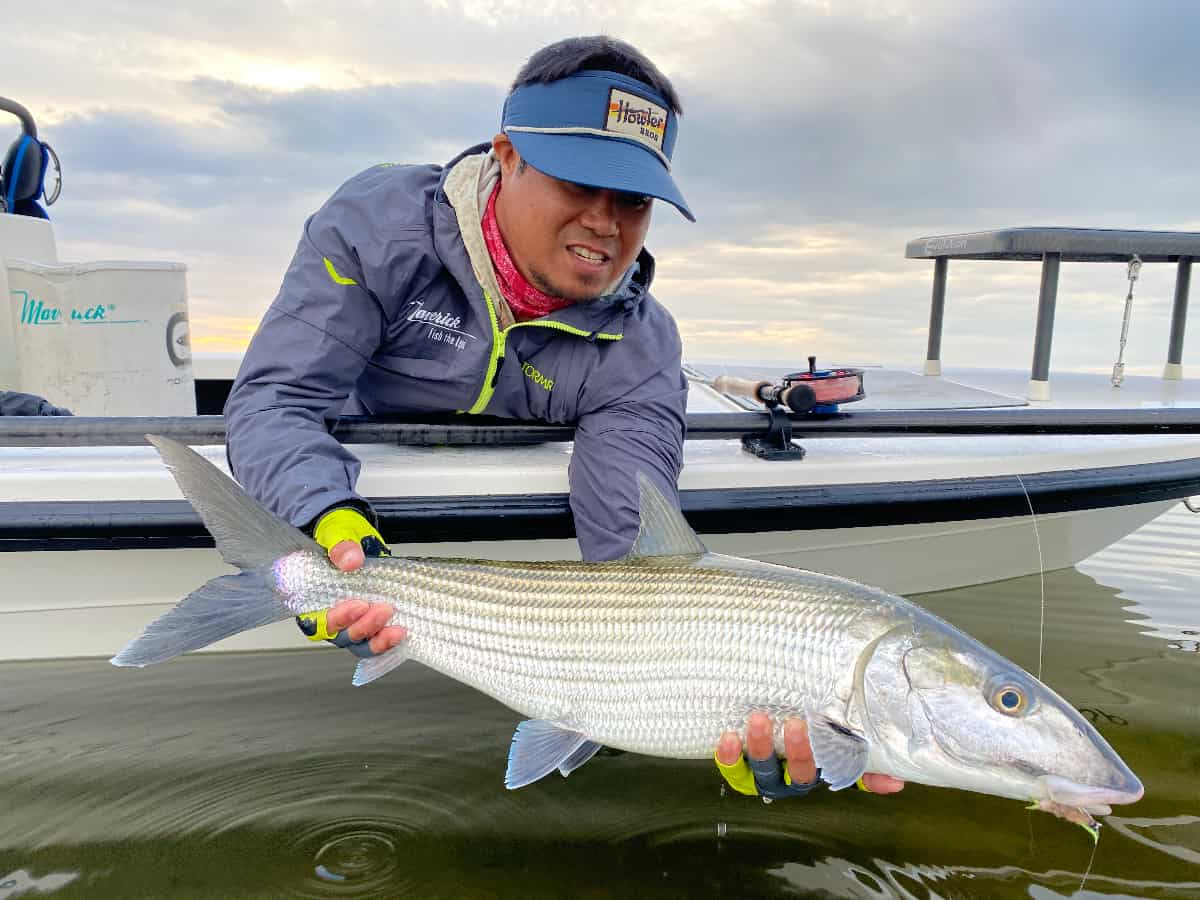 Tall Task
Though not quite the search for the proverbial needle in a haystack, the hunt for trophy bones does require dedicating a greater portion of one's fishing time to finding the target. Anglers must be willing to trade quantity for quality and, in order to achieve the goal of tangling with the fish of a lifetime, they ought to forgo the easier shots at small ones schooling and mudding in four to eight feet of water (common in winter) and any pack of four- to six-pounders that happens by.
Patience is important in the trophy-hunting game, and in the immortal words of "Dirty Harry" Callahan: "a man's got to know his limitations." In this case, that means don't expect to hook many of those wise, older bones until mastering quick, accurate casting and proper fly presentation. You'll need to consistently hit a target 50 feet away even when the wind blows 15 mph. Proper presentation requires paying close attention to every fish's reactions and maneuvering the fly accordingly. Good guides will provide the necessary instructions, but it's essential that you be honest about your ability and experience, that you listen intently to their directions, and that you feel comfortable asking questions.
Joint Effort
Your rapport with your guide plays a key role in your success. This holds especially true when you intend to focus on trophy fish, which you should convey to your guide clearly and early on. It pays to keep a casual conversation going to help you both feel at ease and make asking and answering questions more natural. When you arrive at your first stop, the guide starts poling the boat and you get set up at the bow, go over all the basics, covering everything from the moment an incoming bone is spotted to the hook set. Once you understand what to expect, it's time to limit your chit chat and concentrate on the search.
Two sets of eyes scanning the water are always better than one, so do your part and stay alert. Trust your instincts and don't be bashful. Should you detect a possible sign of fish, point it out to your guide for confirmation. Glare on the water can limit your visibility, particularly early and late in the day, so let your guide know the extent of your field of vision using the clock system (from nine to two, for instance) so he'll know to adjust the direction as he poles his skiff and provide extra guidance to help you zero in on fish he calls out.
Hunting Down Trophies
When you set your sights on large, winter bonefish, you aren't looking for the wide swath of nervous water that a big school of fish creates. Instead, spy for moving shadows or the faint, arrow-shaped wake cast by one to four fish as they advance slowly across a flat. When gauging the placement of your cast, take that into account that cruising bonefish disturb the surface with their tall tails. This puts them in front of their wake instead of behind it, as is the case with other species like redfish, which push more water with their broad heads and shoulders.
Although bones rarely tail when it's windy and with chop on the water (conditions often encountered in winter) they will do so where a mangrove shoreline or tall creek bank blocks the wind. That means the sight of a massive tail flagging you down is not out of the question, particularly in places like Grand Bahama's north shore, Abaco's outer Marls, and Andros' Bights along with its many coastal creeks.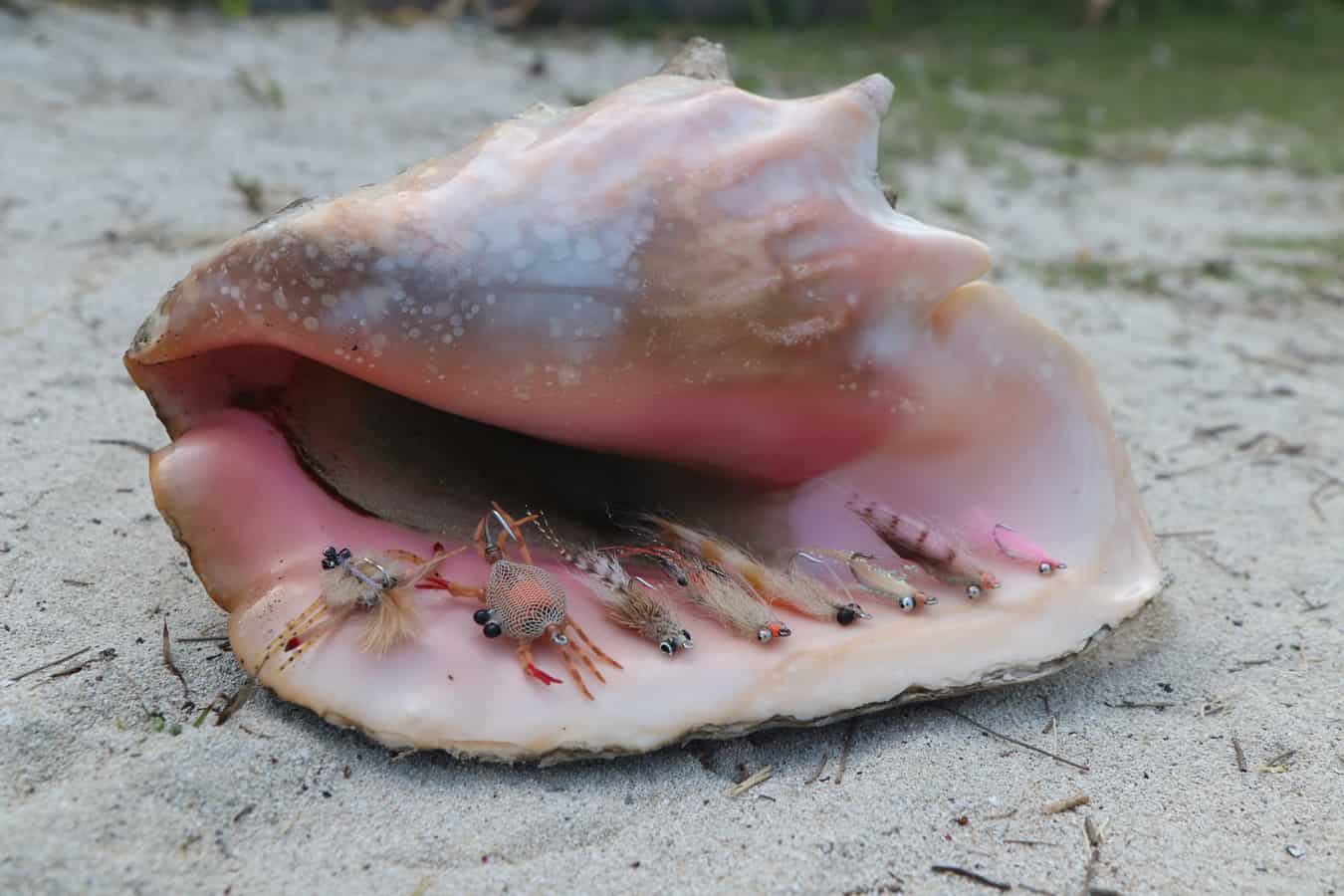 Gearing Up
For those Bahamian bonefish of extraordinary heft, some larger flies should join the usual arsenal. Carry a selection of popular standards, like Gotchas (in both the original and silly-legs varieties), Dorsey Kwan, Borski Swimming Shrimp, EP Spawning Shrimp, Cowen Bonefish Scampi, Veverka Mantis Shrimp, Craven Bonefish Junk and Clouser Minnows, tied on #2 hooks as well as the more common #4s. And be sure to also include a few crab patterns, like the Strong Arm Merkin, Alphlexo Crab, Ragin' Craven and Belly Flop crab for good measure.
The slight increase in the bulk and weight of the flies won't require upsizing your tackle, so an 8-weight outfit remains the weapon of choice. But for winter fishing, when windy weather is a definite possibility, having a 9-weight as backup is a good idea.
If the prospect of landing the bonefish of a lifetime isn't enough to lure you to the Bahamas in winter, you might also consider that it is still shorts and sandals weather in the islands with mostly sunny skies, temps in the mid to high 70s, and rarely dipping below 66 degrees. And I can't think of a better way to celebrate an unforgettable catch than toasting with a chilled Kalik beer while munching on freshly-made cracked conch.

For more information about bonefish in the Bahamas, contact Alex via email at [email protected]
---