Yellowstone Cutts, 18 Years Later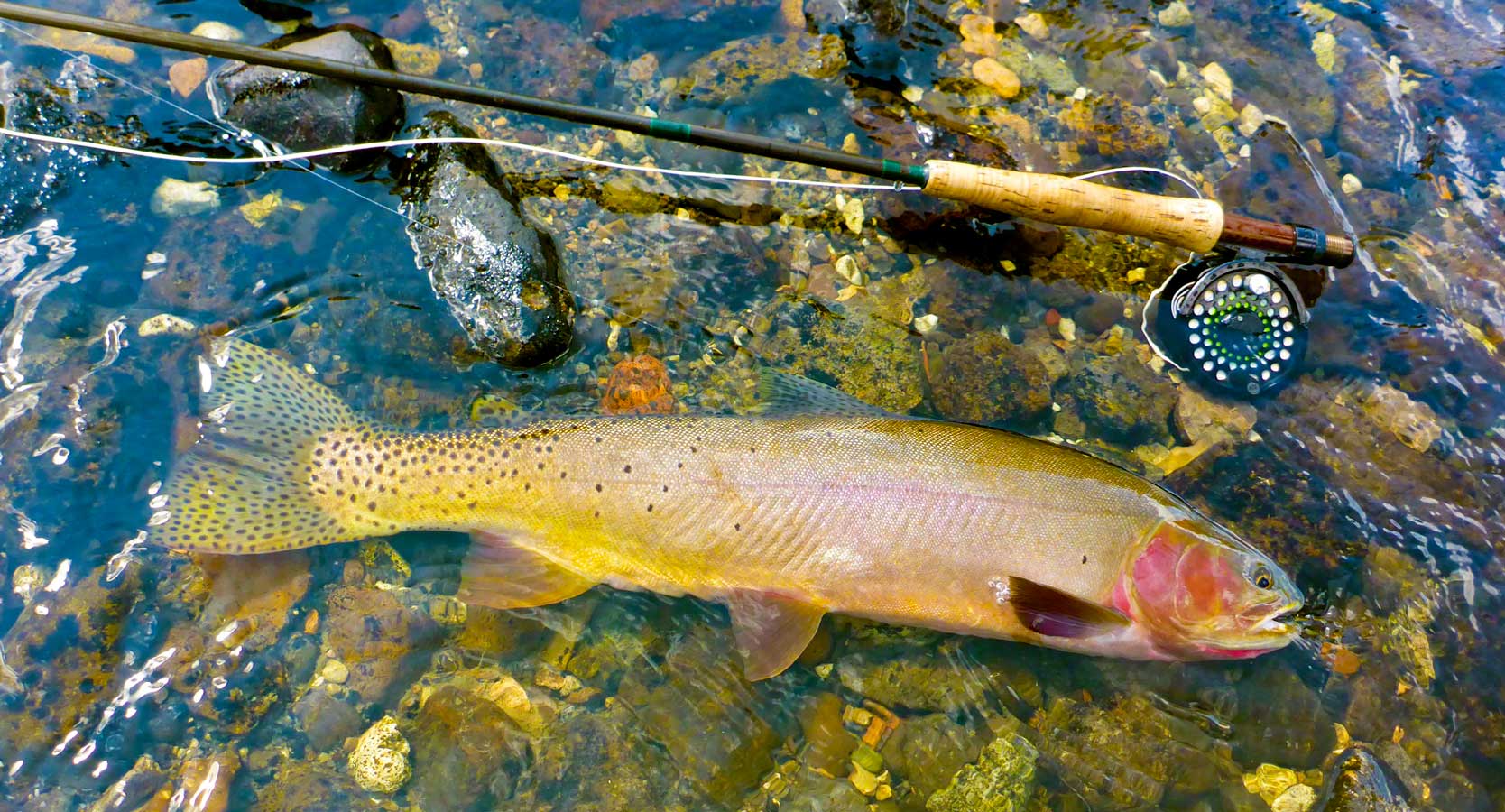 In 2002, I waded into a bubble line near the Sulphur Cauldron section of the Yellowstone River in Yellowstone National Park.
Lots of nice Yellowstone cutthroat trout porpoised on a steady stream of Green Drake mayfly spinners.
The big bugs — size 10 — fluttered in the air upstream and plopped to the surface to lay eggs.
I had upright, perfect Green Drake Sparkle Duns, but I didn't have any sprawling, flat-floating spinners. The fish, some of them 18 inches long, wanted a fly that sprawled on the surface film and looked like a cross. They ignored my flies.
I waded out of the water, ran the quarter-mile back to the truck and found my Green Drake fly box. I ran back to the river — now soaked in sweat — and waded back out.
A nice Yellowstone cutt ate the fly on the first cast and shook his head down 100 feet of river before he came to the net.
Later that day, after wolfing down a sandwich, I tied a dozen Green Drake spinners while parked at the New Perce Ford pullout. I had no idea these flies would bounce around in my tackle bag for the next 18 years.
World-Class Fishing
Way back in the early 1990s, the Yellowstone River in Yellowstone National Park was an amazing fishery.
The river seethed with good-sized native Yellowstone Cutthroat trout from the July 15 season opener through August and the first part of September.
The fish averaged 15 inches or so, and decent anglers — along with lots of beginners — caught and released a lot of them. Every so often, a 18-incher ate your fly.
These cutts were downright silly in July, but mandatory catch and release educated these fish, and they were picky, picky, picky by the middle of August. You could find a pod of rising fish, and they'd refuse every fly you tried — until you found the right one. There were lots of different flies to sift through, as the Yellowstone in Yellowstone Park is a massive, churning bug factory.
It was a world-class fishery, and I always spent a day or two on the river every summer or autumn.
Paradise Lost
We humans have a long track record of messing natural things up, and that held true with the cutts in the Yellowstone River and Yellowstone Lake. These beautiful, amazing fish evolved in the river and Yellowstone Lake. They never had to deal with another predatory fish.
Then, some knucklehead — or series of knuckleheads — enabled lake trout to enter Yellowstone Lake, on purpose or by accident. Lake trout are ferocious predators — and their favorite prey are other trout. The Yellowstone cutts never had a chance. The lake trout population boomed — and the lakers gobbled down Yellowstone cuts like my Lab scarfs beef jerky.
Lakers were found in Yellowstone Lake in 1994. At that time, biologists estimated the population of native Yellowstone cuts in the lake and river was 4 million fish. By 2008, only 200,000 to 300,000 cutts remained in Yellowstone Lake and the upper Yellowstone River in the Park. The fish swim downstream out of Yellowstone Lake in the spring to spawn. Many of the fish spend the summer in the river — chowing down on bug hatches — before swimming back upstream to Yellowstone Lake for the winter.
I remember walking along the Yellowstone River near Nez Perce Ford, Sulphur Caldron and Le Hardy Rapids during the summer of 2008, and it was hard to find even one Yellowstone cutt — in places where they swam by the thousands a few years earlier. I wiped away tears of frustration and loss.
I made two promises that day — to do whatever I could to help these fish come back — and to not fish this river until recovery was well underway.
Since then, I've donated as much as I can to the National Park Service's programs to eliminate Lake trout from Yellowstone Lake. And, like many other anglers, I've gone to the Lamar River, Slough Creek, Soda Butte Creek and some really cool small streams to catch a few Yellowstone cutts each year.
Still, not having the Yellowstone River fishery was a hole in my heart. I wasn't alone. Thousands of anglers have worked and donated money to help this fishery recover.
A big part of the recovery program is the gillnetting of lake trout. Humans excel at netting fish into oblivion, and the National Park Service crews, with the help of contract netters from the Great Lakes, are well on their way to crashing the lake trout population.
Lake trout are wonderful fish, but they don't belong in Yellowstone Lake. Biologists say they'll never completely eliminate lakers from Yellowstone Lake, but they can crash the population and, with continued netting and other programs, they can bring back Yellowstone cutts.
This is happening right now.
The Fish Are Back — And Some Are Huge
Yellowstone Lake cutthroat populations are on the rebound, and I've never been so happy to see swarms of 10-inch cutts rising to calliibaetis hatches in my life.
That said, low populations of Yellowstone cutts meant a lot of food for the cutts that did survive, so we're seeing rare chances to hook and release really big cutts — fish well over 20 inches.
Last fall, I fished the Yellowstone River in the park for the first time since 2005. I took a close friend to the river, and we found huge Yellowstone cutts — mixed in with younger, smaller fish. There were no hatches, so we used tiny nymphs to hook and release a couple monsters. One measured 24 very beefy inches.
I thought about those fish all winter.
So, I went back to Sulphur Cauldron in late August of this year. I hoped for find some of those big cutts tipping and sipping on dry flies.
They were there, and they were eating.
In fact, they were gobbling up Green Drake spinners. I couldn't believe it. I stood on the bank and listened hard for the swelling violins of sentimental movie music, but all I heard was big, slurping trout.
It was surreal to put that scarred, murky plastic box of Green Drake spinners in my vest and wade into that same special spot after so many years. This part of the river, like much of Yellowstone, has many springs, and some of them burble away underwater in clouds of bubbles. It's like walking in a giant glass of club soda.
On this day, it felt like wading back into the past. But it was really wading back to how things should always be. Right now, the Yellowstone has lots of cutthroat trout, and some of the older fish are just massive.
The next few years will probably offer us our only shot at two-foot-long cutts in the Yellowstone River, as the size of the fish will probably shrink as the population increases.
I found a pod of five or six fish wallowing in the current and sucking down the big spinners. I told myself I would limit myself to two hooked fish. I tied one of those old flies — created on this stretch of river when my 30-year-old daughter was just a kid — onto my 4X tippet and made a downstream reach cast to a fish.
A big nose came up, and I tightened into my first dry-fly Yellowstone River cutthroat in 18 years.
More than 20 inches of olive and yellow cutthroat glowed in the clear current and surged downstream toward a short, deep slot of fast water.
Wow. Just wow.
---