"Unsalted"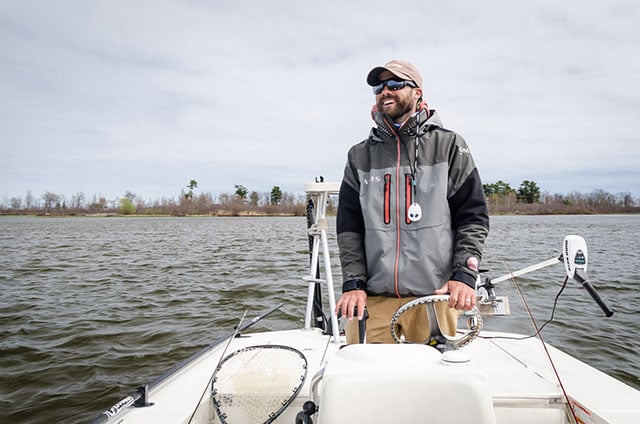 "You guys lost?" I hear from the guy behind me on the dock. "Florida's that way."
He is grinning and has to shout a bit above a freshening breeze that already threatens to blow the tops off the two-foot seas at 7:30 in the morning. He's stepping into his aluminum deep-vee and holding a fistful of spinning rods rigged with soft plastics—both more appropriate, I suppose he thinks, for a choppy day on Lake Superior's Chequamegon Bay than a flats skiff and fly rods.
I smile back but am focused on fending Luke's boat off the dock.  I get the guy's joke. The Ranger 191 Cayman looks like it's fresh from the salt, complete with flush decks, walkaround gunwales, and a poling platform. It's a blinding white fiberglass warhorse, big and powerful and wide on top. The kind of steed you can trust with your life, which is a nice trait when Lake Superior is in the battle plan.  I'm more used to canoes, technical skiffs, and driftboats, but when Luke puts the spurs to the 200-horse Yamaha, I instantly understand the concept of two-stroke torque.
It's not an inappropriate Chequamegon Bay boat, even if it does look out of place parked in the coin-op carwash of Ashland, Wisconsin. What it is is specialized. Chequamegon Bay is vast, choppy, and shallow, and requires a boat with certain capabilities.  So too does the angler who wants to sight-cast flies at the giant piscivorous smallmouth bass that cruise the bay's backwaters. And this boat does those two things very well.  It covers distance fast but rides easy in rough water, and it poles silently into the skinny places where the bass bust bait on the surface.
It is a specialized and confident tool for a specific job.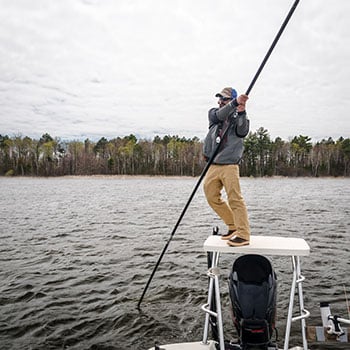 And, fittingly, so is Luke Kavajecz. He greeted me that morning at Angler's All (local everything-sport-shop with a respectable fly section) in Ashland with a bearded smile and a tanned handshake. The beard was no surprise but the tanned hands are the giveaway: in early May, there are very few tanned people in northern Wisconsin. Here is an angler. Like many of his Upper Great Lakes countrymen, Luke is softspoken and friendly. From within the shade between his beard and the brim of his sunfaded cap, his eyes gleam especially bright when those softly-spoken words are about Chequamegon Bay and smallmouth bass.
Luke grew up in Washburn, across the Bay from Ashland, and learned to fly fish on the Bay and also the Brule and other lesser-known and unknown waters along the South Shore of Lake Superior. He still fishes and sometimes guides for trout and steelhead, and like so many flyover-country fishing guides he has spent time Out West and in The Salt. But his home water today is Chequamegon Bay.
"I like rivers," he tells me later, perched naturally atop his poling platform, in the understated North Woods dialect that I, luckily, speak natively. "I'm just really into this open water stuff."
Which is to say that he is focused sharply onto it, mind and body. As we fish he talks of where the bass live, and of the prey structure and what flies the bass will eat and when, and of the weather and the currents and what the bass think of them, and of the saltwater tactics that he can apply to this freshwater flats environment, and how it is different from the salt and how it is the same. Meanwhile he is poling the burly skiff through shifting currents and stiff wind without seeming to think about it. All this is, of course, what makes a good fishing guide: specialization, confidence, and innovation.
But what soon becomes clear fishing with Luke is that it's not just the bass that gleam in his eyes. He loves the Bay itself. He marks the start of his season not by the calendar but by the return of the common terns, which chase the same bait as the bass, and which we spend many minutes watching that morning, their twisting depthcharge fishing being more exciting than my casting. There are also the dozen eagles and the sandhill cranes and innumerable waterfowl and the white pine ridges and the grassy dunes and the ephemeral sandbars in which are partially entombed ancient logs. It is very unlike the deep granite-bound Lake Superior North Shore I am used to.
For eight hours Luke and his boat and I tour the Bay, hitting spots on spots—"that log, right there; no, the one just to the right"—that he knows by landmark and feel rather than GPS coordinate, and fishing. Me, casting from the bow, positioned to my advantage in the wind, and Luke, from atop the platform, casting regardless of wind. We both catch fish. The first bass of the day is spotted rolling on the surface, sending a glittering shower of one-inch minnows fleeing airborne, and eats a Clouser dropped closeby. Midday we are both laughing as another fish simply won't give up, as smallmouth bass often won't, and my forearm is cramping. Surely this is why God put fighting butts on eight weights.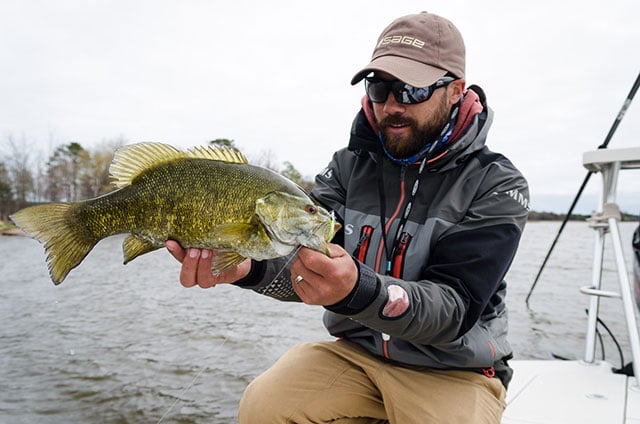 As evening approaches, as I often do after days like this, I find myself not fishing or talking much, and hoping that Luke doesn't think I'm bored or frustrated or something else. It's part fatigue, I suppose, and part saturation; sometimes I just have to stand there and soak it in. I can't fish and process all the day's raw data at the same time.
I'm awestruck at this part of Lake Superior, so close to home and yet totally different; at the red-eyed coldwater smallmouth bass, maybe more than twenty years old, who eats no crayfish in his world of sand and might be bright Great Lakes green or dark woody brown, depending on the color of the bottom where you hook him; at the relentless wind and the Langmuir foam streaks, parallel to the wind and a foot apart, that seem to measure the vastness of the place; and at the shifting seiche, bowing the fly line first one direction, then the other, like a hyper-frequency tide.
Later back at Angler's All we shake hands again, mine now sunburned and windburned, our trucks warming up against the spring chill. I notice another gleam in Luke's eye.
"You'll have to come back up in the fall," he says. "I know some spots where big brown trout will chase flies out here."