The Best Rod Storage Options for Your Air Travel
Not long ago, the idea of flying anywhere to go fishing seemed ludicrous to me. It's not that I have anything against flying—far from it, actually—or think it's some sort of rich-person indulgence. I just didn't see the point in traveling that far when I still haven't fully explored all the fisheries within a day's drive of my home in Wyoming.
Then I went to Alaska for the first time, and the travel bug bit me hard. I've always loved exploring new places. Doing it with a fly rod in hand, thousands of miles from home, makes me feel a bit like the mountain men I grew up reading about.
One of the logistical problems of traveling to fly fish, though, is getting your gear to the water. We've seen a few travel-oriented rods that are six or eight pieces in recent years, but they usually lack the finesse of our standard four-piece rods. I'd love to haul my two-piece rods back and forth from Wyoming to Fairbanks, but I have an unreasonable fear of bringing my fly rods on a flight as checked baggage. I guess I know I can make do with a loaner reel or flies if I lose those, but lost fly rods? That puts a damper on a trip, and I've never enjoyed fishing with borrowed gear.
Which is what led me to thoroughly research different luggage options for taking my fly rods on airplanes before my first Alaska trip. I've flown with fly rods on Delta, Southwest, Alaska, and a handful of regional carriers I can't recall. I've not yet had to surrender my fly rods as checked baggage; in fact, I've always been able to get them on the plane with me as a carry-on.
The key is finding something with the right length and width that will fit easily in an overhead compartment on an airplane. For years I've used a Simms Rod Cannon, which they unfortunately don't make anymore. That rod carrier holds ten fly rods and one reel, which might be why it's no longer in production. Current fly rod storage options tend to offer more room for reels and terminal tackle.
Most rod cases have the following features in common:
Length of less than 35 inches
Width of less than 9 inches
Tons of inside compartments for all sorts of gear
I reckon any rectangular case that falls within those length and width guidelines will work to both safely store your rods and as a carry-on item for most airlines.
Before we dive into the list of recommended gear, I'd like to make a final point. Over the years, I've never carried anything other than rods and a reel onto a plane. Waders, boots, jackets, flies, nippers—I stuff those in checked baggage. While I'm sure some of our terminal tackle is allowed on an airplane, I've never wanted to find out for myself. I hope I'm not jinxing myself when I say this, but I haven't yet lost the gear I put into checked baggage. So while some of the rod storage options on this list have the room for all your gear, I wouldn't recommend putting it all in there if you plan on keeping your rods by your side while you fly. Err on the side of caution.
With that out of the way, let's take a look at some of the best rod storage options for your air travel. As usual, this list isn't presented in a specific order. All of the products listed here meet the standards I outlined above.
Tons of storage space
Excellent security
Extremely protective
The folks at Sea Run Cases have consistently built some of the best hard cases on the market. The Norfork is a newer model that's best described as a bare-bones version of Sea Run's more expensive options. That said, the Norfork is still a fantastic option. It has enough storage room for six 9'6″ four-piece fly rods and plenty of square compartments for holding reels, leader, tippet, and other terminal tackle. Oh, and it has TSA-compliant combination locks, which means it's an extremely secure case. The shell is rigid and won't dent, so you don't have to worry about potential damage to your fly rods.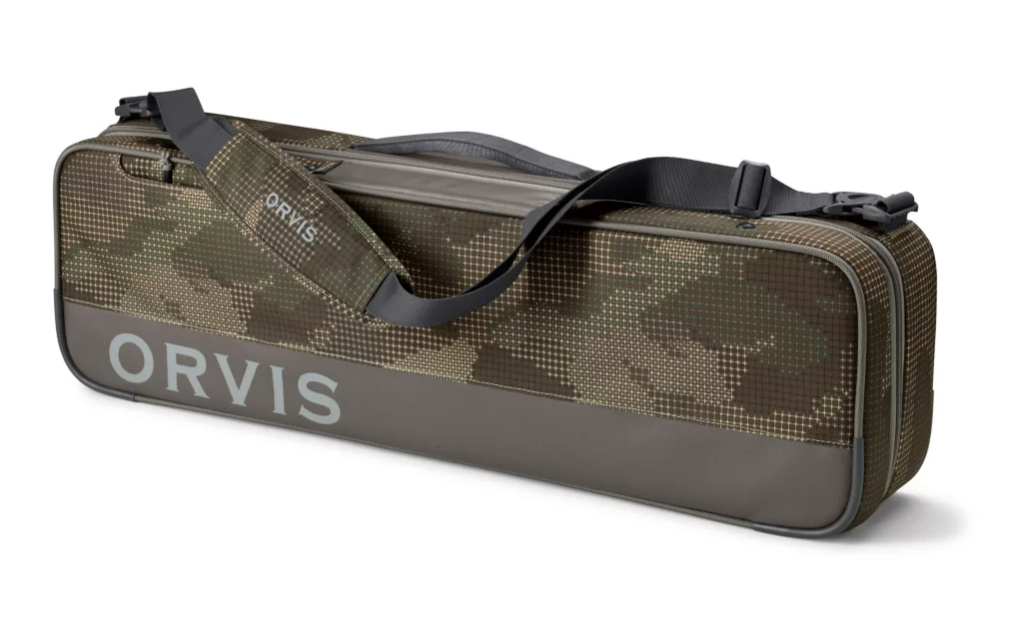 Light and thin
Protective
Simple organization
The Orvis Carry-It-All is one of the company's most successful pieces of fly fishing luggage. It's built from 100% recycled Cordura fabric, and it's noticeably light in hand. Your fly rods are kept in a separate zippered internal storage pocket, meaning they have less room to bounce around and potentially break. Most of the other compartments are completely customizable in size and shape, so you can make this a rod storage option that's perfect for your needs. Orvis does offer this one in two sizes, although I prefer the medium to the large.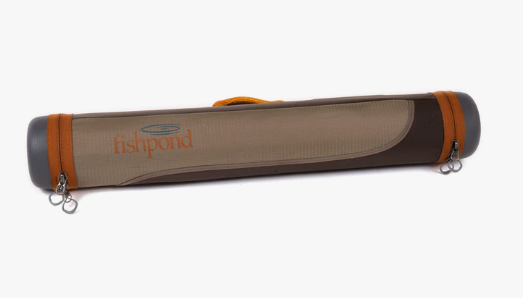 Fits up to six rods
Light
Designed for carry-on
While the rod tube I use these days isn't made anymore, the Jackalope Rod Tube from Fishpond could be its twin. This holds up to six 9′ four-piece rods, and has lockable zippers on both ends, so you can access your fly rods from either side. Fishpond also built it with lightweight hexagon interior walls, which gives the whole rod tube more strength. That means your fly rods are safer in this than they would be otherwise. I love how simple the Jackalope is, and if all you need is space to store a few rods, I'd highly suggest looking into this offering from Fishpond.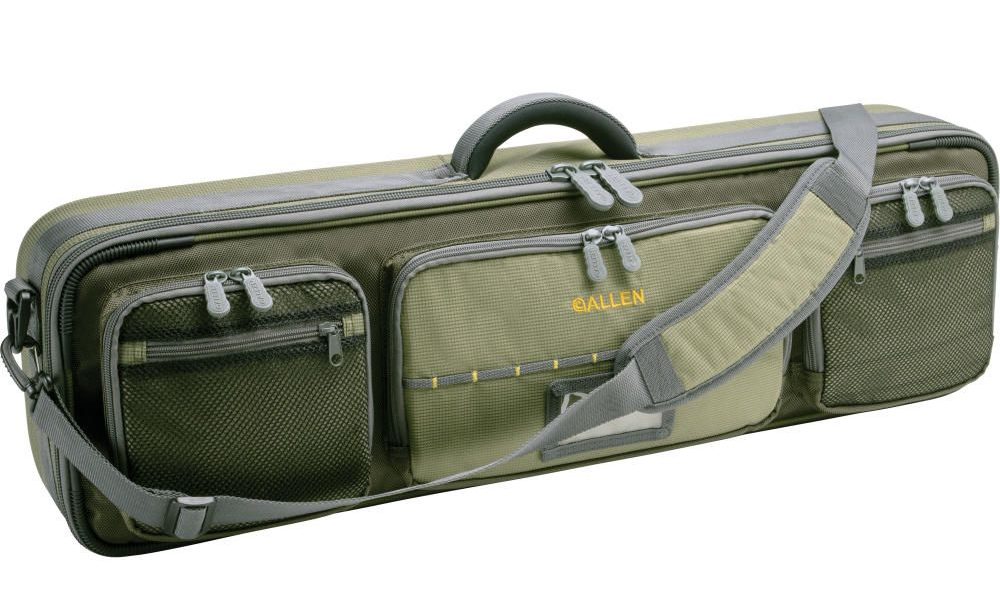 Reliable Allen quality
Outside zippered pockets
Customizable internal dividers
Allen has long been known for high-quality fly fishing packs, and their Cottonwood Fishing Rod and Gear Bag is no different. Where most of the other rod storage options on this list focus on internal storage only, Allen included a few zippered outside pockets as well. This fits four 9′ four-piece fly rods, and has customizable internal storage. While it doesn't have an outer shell that's as rigid as others, it still offers enough protection when slinging it in an overhead bin. This case doubles well as an all-around rod storage option.

Stores up to six rods
Ballistic nylon outer shell
Integrate with other Simms luggage
The Simms GTS Rod and Reel Vault is a classic piece of Simms gear. It's built exceptionally well, it'll last, and it does its job exceptionally well. The rod tube I use for all my air travel—a discontinued Simms Rod Cannon—is made from the same ballistic nylon outer shell. I've had zero issues with ever thinking my rods would get harmed when they're stored behind that material (although one curious TSA agent nearly snapped a rod… that's a story for another day). It holds up to six 9'6″ four-piece rods, and has all the room inside for the rest of your terminal tackle.
If none of the luggage options in this list seem like the right fit for you, then consider these options, too:
---