Review: TroutRoutes Mapping App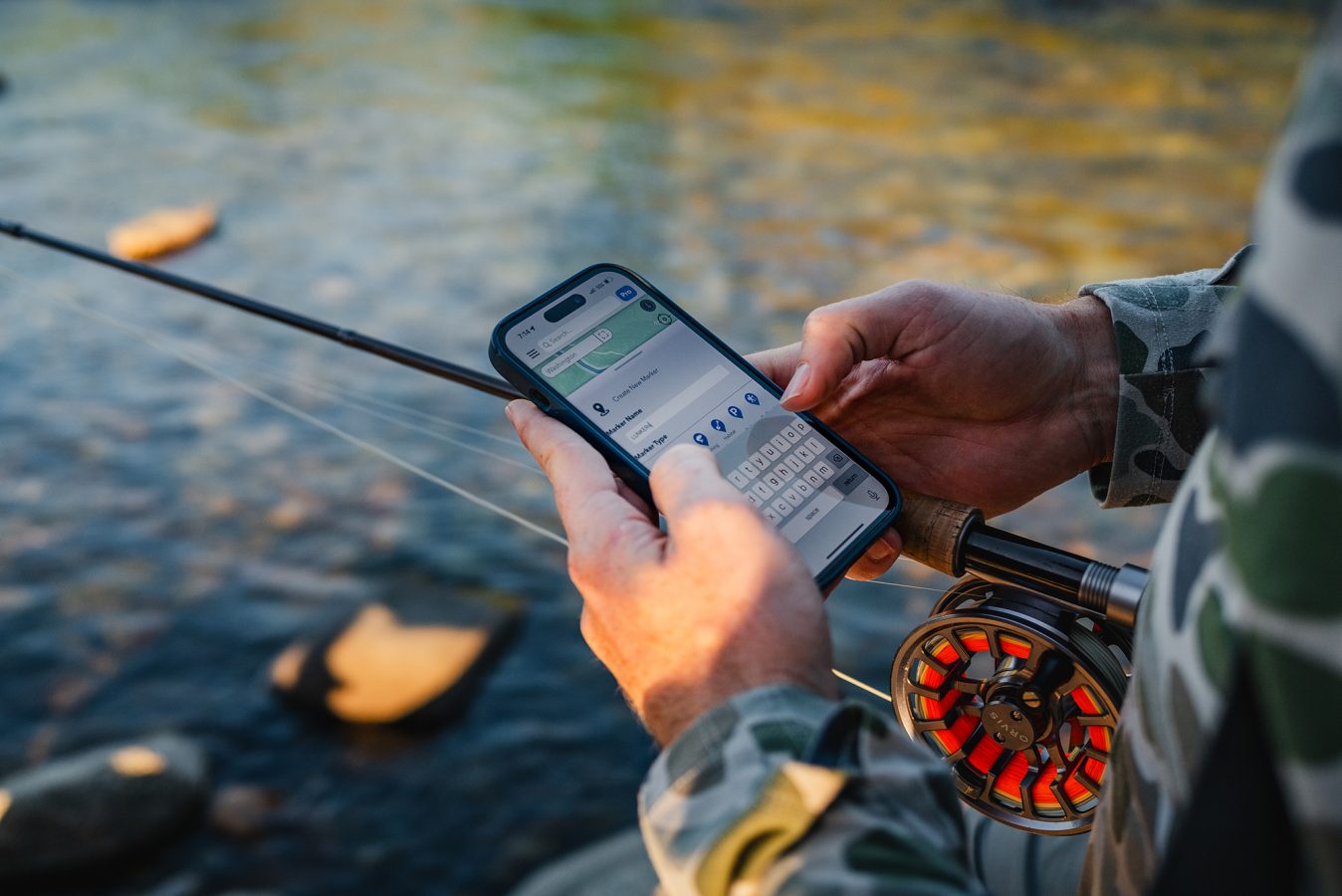 TroutRoutes is an iPhone and Android smartphone mapping application specifically tailored for fly fishing purposes. Including more than 50,000 streams across the Lower 48, the program provides valuable information on public access, flow rates, and the location of nearly every fly shop in the country.
The app got its start in 2018 when founder Zachary Pope set out to map the streams and access to them within the famously fishy Driftless Region of Minnesota, Wisconsin, and Iowa. That endeavor was initially intended for personal use and enjoyment before receiving positive reception at a fly fishing expo in St. Paul. Many anglers also expressed the value they saw in the same platform covering Montana, Wyoming, Colorado, and other states they frequented. Pope, a veteran of the medical technology field, spent the next few years developing the software before attracting investors to build out the current team of five and bring the app to market. In January of 2023, they completed and released map coverage of the entire Lower 48.
Erik Johnsen, outreach and partnerships manager for TroutRoutes, said their team is still constantly adapting and evolving the product to implement for datasets and features to benefit anglers nationwide.
"We've got a lot of really exciting updates coming up later this year, but this year has been, for the most part, about connecting with anglers around the country, getting to know different fly fishing communities, and then showing them what we can do for folks in their own backyard," Johnsen said.
The app functions in a similar manner to onXmaps and GoHunt GIS programs oriented to hunters, which have certainly seen much crossover to the fishing world. While this resource does show the same land ownership and access overlays, the angling emphasis clearly delineates specifically where you can reach moving water and how. Rivers are rated by the developers based on available data from state game departments and other resources. The TroutRoutes team has also included the location, website, and contact information for most of the fly shops in the country—nearly 1,000 now—so that app users can quickly locate the best source of on-the-water information.
The free version provides great utility, but the pro subscription includes advanced features users may appreciate in the 24-hour risk-free trial the developers provide. Those include specific fishing easement overlays, interactive river elevation charts, and the ability to download custom regional maps for offline use. You can also share spots to fishing buddies and check flows from more than 50,000 USGS water gauges nationwide. That subscription runs $58.99 annually. Turn on the 3D map tilt and rotate features and you can fly your way up a river valley with a bird's eye view to identify juicy corner holes, runs, and rapids.
A common misstep of angling apps and other digital resources in the eyes of diehard anglers is crowdsourcing data, which often generates a sense of spot-burning. This app seeks primarily to coalesce publicly available information into a useful format to keep anglers informed, orientated, and on the right side of the law—not show you which boulder the big brown sits behind. There are no features to geotag photos to a great swing run or hype up a lake-run rainbow migration. The feeling is similar to that of a modern-day version of the DeLorme Atlas & Gazetteer maps many of us still have stuffed behind the seats of our trucks. Basic information is there, but you still have to choose your fly and fish it well.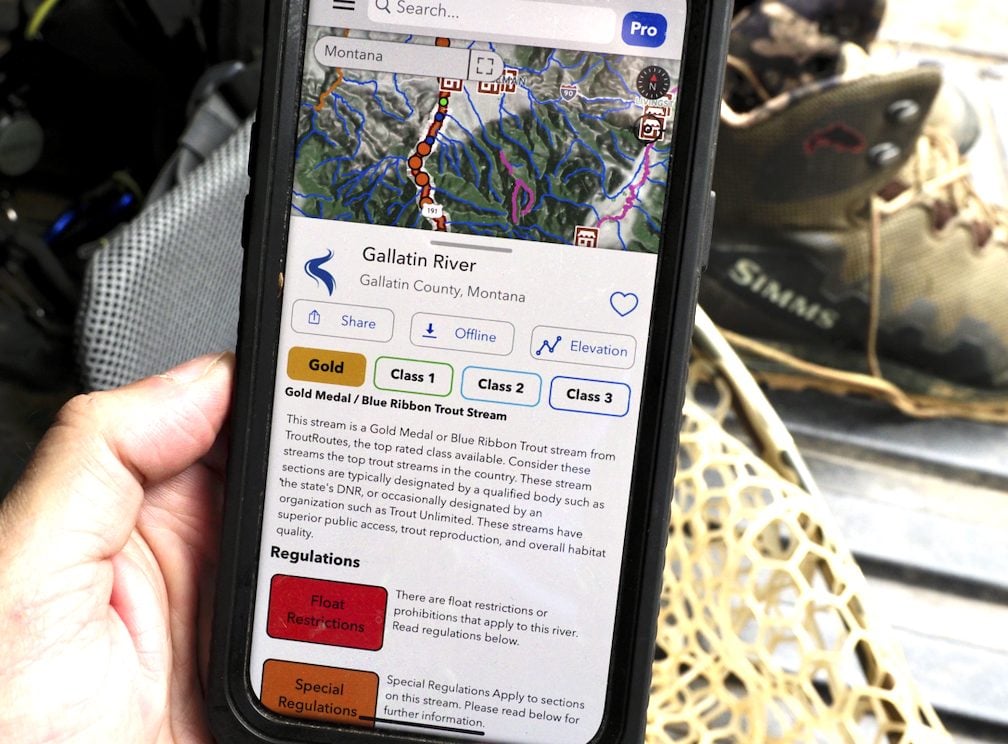 "I think there's an awful lot of kind of ethical or technological concerns that people have, especially in the trout and coldwater fly fishing spaces," Johnsen said. "We're hoping to be the most responsible big technology player in the fly fishing space."
To that end, TroutRoutes has partnered with Trout Unlimited, Backcountry Hunters & Anglers, and United Women On The Fly to elevate their shared values of conservation, inclusivity, and accessibility. They've traveled to most major fly fishing expos around the country this year and are frequently communicating with fly shops to build community around the technology, using that to become more valuable to everyday anglers at home or abroad. Efforts are in the works to allow shops to curate maps of their local rivers to better serve their customers. The team prides itself on accepting and implementing user feedback on its product.
Johnsen said that Trout Lakes companion software will soon be released, but there are no current plans to cover all the lakes and reservoirs in the country due to market saturation in the stillwater bathymetry sphere. However, being a Minneapolis-based team, TroutRoutes isn't about to ignore the warmwater opportunities at their doorsteps. They are developing a separate product in the near term to provide the same information in connection to other great sportfishes of America.
"A lot of people get into trout or get into fly fishing via trout, and then they realize, well, wait a minute. I can catch smallmouth on the fly," Johnsen said. "I can catch panfish. I can go after pike and muskie. And once you get to that point, the sky's kind of the limit. Then you're going down to Mexico and you're fishing the salt. You're getting into high alpine streams. You're doing everything."
While Johnsen realizes the implied limitations of a product called TroutRoutes, he believes anglers recognize the app as a tool for understanding waterways in general. That said, trout are the primary target for most fly anglers so helping anglers find trout is the primary objective for TroutRoutes. "I think we've done really well to let people know that because we are so hyper-focused on trout water we have been able to develop the best product for it. So that's something that we're really leaning into—wanting to be the best in this space."
I started testing their app by calling the cursor to my location on my couch, a short drive or long walk from two bridges over the Gallatin River here in Montana. The orange button at some bridges offered to take me the Google Street View, no doubt a visual boon to travelling anglers doing their research on potential waters. The satellite imagery is crisp and the road layers useful for navigation to and from the river. Information on access points, boundaries, easements, and access laws reflected my understanding of them from the ground. Restrictions on fishing from a floating device were accurate, though the regulations layer told me I would need a Yellowstone National Park fishing permit in lieu of a state license and directed me to the Wyoming Game and Fish Department for more information. Few anglers would be likely to expect Park Service or Wyoming regs to apply outside Bozeman, Montana, some 50 miles from the park boundary, but it speaks to the complexity of combining hundreds of datasets into a comprehensive resource. Johnsen said that their developers are constantly working to add more granular data on streams nationwide, especially those that cross borders. He said they are pushing out updates about every two weeks as the product improves.
The next thing I wanted to know was what the river was flowing to decide whether to go swing streamers the following afternoon. I couldn't locate the discharge data until panning south to the actual station itself 10 miles upstream. But once I did, I found it highly interactive and helpful. Users can easily toggle between monthly, weekly, and daily data on cubic feet per second, gauge height, and water temperature. As a lifelong steelheader, the ability to review real-time and contextualized flow data in a simple but adjustable layout it critical for any good fishing apps. I've seen many weak ones come and go over the years. TroutRoutes could make that resource more accessible in later editions, but it serves its purpose well for the current moment.
I'm a critic not a software engineer. The app is clearly new and improving fast. It isn't quite as polished as the onXmaps or GoHunt apps hunters like myself have become used to, but the functionality and information critical to anglers is all there. I'm excited to follow along as the TroutRoutes team continues to grow and refine their platform. That button on my phone screen is sure to get a workout on fishing trips this fall and beyond.
---