Gear Review: Rock Treads Cleat System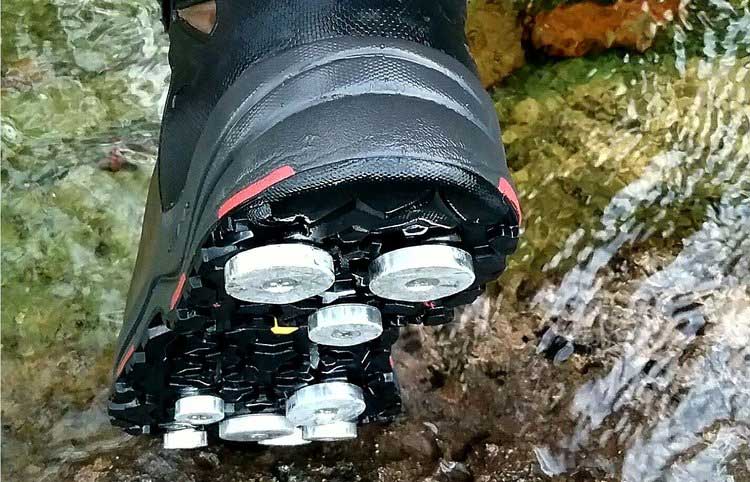 I tested the Rock Tread cleat system on some of the slickest, algae-covered boulders and bedrock in a section of river I fish for smallmouth bass. Studded boots or cleats are a must to wade safely. The Rock Treads performed perfectly. There was no slipping or sliding and I had solid foothold the entire time. I was also comfortable and confident wading in areas with faster water.
Rock Treads are made out of aircraft grade aluminum. Compared to the carbide tungsten screws which are a hard metal, the Rock Tread's aluminum disks are a softer metal which will mold and grip to the rocky bottom you're wading.
Three different Rock Treads kits are available, covering felt sole, rubber sole, and removable sole models.
Installation is easy and will take about 20 minutes per boot. The Rock Treads lock-down system utilizes a lockdown nut placed on the inside sole of the boot that locks the aluminium disks to the bottom sole with a bolt that prevents disks from falling out.
Each kit contains aluminum disks in 3 different diameters to lay out in a multitude of patterns. It also has (more than you'd ever need) different length screws for the different thickness of the rubber soles from heel to toe. They easily screw into the lockdown nuts. A drop of thread locker glue (provided in the kit) will prevent the screws from twisting further.
Instructions provided are clear and there's a link to a "how to" video on the Rock Tread site, rocktreads.com.
The kit also contains the drill bit to make the holes needed to install the cleats. All that's required is a cordless drill.
This is a well thought-out system that will keep cleats in place and will not fall out or wear down like many other stud or cleat systems available. The added weight is not noticeable and, oddly enough, you don't really feel the cleats underfoot: probably due to their very low profile.
The aluminum discs will last as long as you own your boot. No more losing and replacing expensive studs over a season.
Highly recommended for those who want a long lasting, comfortable, anti-slip cleat system.
---