Cooler Packing: For Multi-Day Trips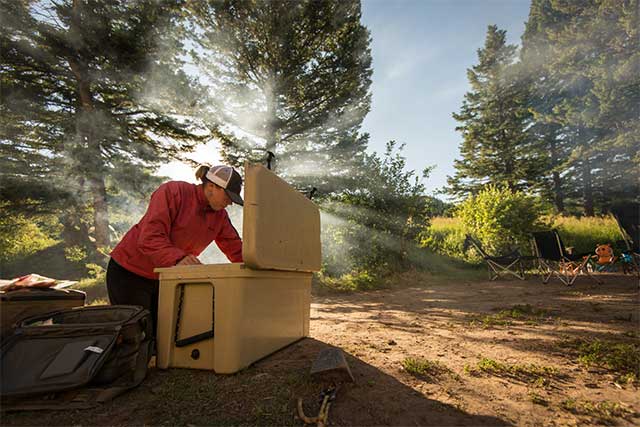 My wife is smarter and more meticulous than I am. She is in charge when it comes to packing our cooler. Through trial, error and advice from others, she has developed a good system for maximizing the potential of our cooler and keeping  ice for as long as possible.
Here's her method:
Freeze any food ahead of time that can be frozen and doesn't need to be eaten on the first day. For example chili can be packaged in ziplock bags and frozen at home. When packed this adds more ice to the cooler and saves time by having to simply reheat a meal in the field instead of preparing it from scratch. If still frozen on the day you want to eat the meal, just take it out ahead of time and let it thaw.
Then freeze a few (number will vary depending on size of cooler) one gallon milk or juice jugs full of water (orange juice jugs tend to be the most durable). Put one on either end of the cooler, put pre frozen food in-between with another jug on top. My wife hates having standing water in the cooler which has a tendency to get into bags of cheese, salad greens and other items and ruin them, so we use no loose ice in our main food cooler. Fill in the rest of the cooler with food putting delicate items on top. Note that we do have a separate beer cooler, which I am in charge of, that contains lots of cubed ice.
If you have any space left over on top, cut squares of ensolite (closed cell foam) to lay across the top of your food. This will provide additional insulation and while it may seem odd, it pays dividends later. Once you close the cooler lid open it as little as possible. If you are on a trip with a large group pack coolers marked to be reopened on specific days with a separate cooler containing items, such as lunch foods, that need to be accessed daily. Once packed work hard to keep your cooler out of the sun whenever possible and strap a foam pad or Paco pad to the top of the cooler if it is going to be exposed to direct sunlight, such as when you are traveling in a boat.
Today there are also an impressive array of coolers to choose from. High end coolers such as those made by Yeti are impressive and when combined with using the tips above can easily keep ice for 4-5 days and maybe a couple more depending on conditions. I have also found the Coleman Extreme to be a great cooler and it costs about a quarter of what a Yeti does with only a small drop off in performance. So whatever you have, enjoy getting outside this summer and get the most out of your cooler to make your adventures that much more comfortable.