Tying Classical Flies from Illustrations

Fly Tying the Classics: Resurrecting Painted Flies
The art of the fly has been presented in literature through oil paintings for many hundreds of years. They leap off the pages adorned in bright silk,  shiny tinsel, and feathers in all the colors of the rainbow.
The photographed fly would not appear in low resolution until well after World War  II, which leaves the classical angler's fly to be interpreted through the eyes of artists.  The endless volumes written in the British Isles as well as American works over the centuries documented and explained fly dressings throughout the ages. A glance into the fly wallets of our angling forefathers would reveal hackles and wet flies imitating the natural insect world and the irresistible attractor wet fly tied on large hooks of ageless bends to be cast on the swing.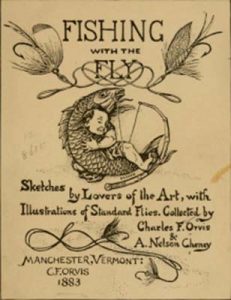 Charles Orvis and his daughter Mary  Orvis Marbury wrote the first major works of literature on the American fly and hired a book illustrator out of a New  York City for the arduous task, painting plates with over 420 popular flies popular in the late 1800s, many of which remain popular patterns to this day. While tying flies from the pages of classic literature one quickly realizes that they were presented as fishing flies, not as show flies as we see them displayed today.
The plates from Mary Orvis Marbury's Favorite Flies were presented practically for anglers to cast into the rivers and streams.  Replicating the flies directly from the original pages retains the originality of the intended dressing and averts centuries of fly tiers interpretations and variations to retain the original presentation.
Favorite Flies and Their Histories: Salmon Flies Plate B 1892
An example of the first plate of salmon flies from Mary Orvis Marbury's monumental work, taken from the oil paintings.
The charms of fly-fishing have been sung in song and story from time  immemorial by the poetically gifted devotees of the gentle art. The fly-fisher is a lover of Nature, pure and simple, and has a true and just  appreciation of her poetic side, though he may lack the artist's skill to  limn her beauties, or the poet's genius to describe them. Fly-fishing is, indeed, the poetry of angling.

~ Dr. James Henshall 1880
---