Back to the Future: The Flies of Greg Senyo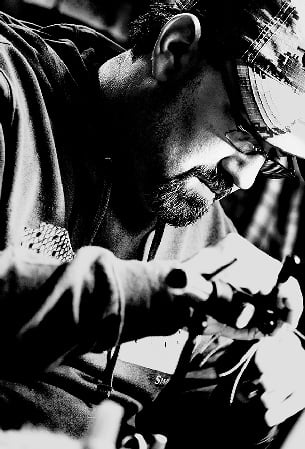 If you tie streamers—heck if you tie anything—then you probably know the name Greg Senyo, which appears on a variety of products with a number of companies: Lazer Dub, Shaggy Dub, Predator Wrap, Articulated Shanks. And that's just a short list.  Steelheaders know him for his swing patterns, which are spectacular in the true sense of the word: they are a spectacle, a visual trick-and-treat for the eyes, be they of the human or fish varieties.
In Greg's patterns there's color, flash and vision.  Moreover, there's a completeness, a unity that comes from an attentiveness to detail that, in my opinion, transcends their role as fish catching tools. They also look damn good in the maw of a fresh-run fish.
With the longer nights now upon us, we here at MIDCURRENT will be talking with a fair  share of fly-tying magicians. And so we kick off the season of tacky fingers and messy floors with a two part feature of one of today's most innovative and influential tiers.  In this week's installment, we'll look at the guy behind the flies and the materials that bear his name.
In Part Two, we'll go under the hood of two of Senyo's signature creations, including the world premiere of his latest, the Tropic Thunder. I met up with Greg at Mike Schultz's Fly Shop in Ypsilanti, Michigan, a hard-working operation that anchors a community of serious Michigan and Ohio troutsmen, steelheaders, carp fanatics, musky junkies and smallmouth afficionados.
Greg's a pretty big dude and works as a sergeant in a local police department, but it was the excited kid that came through as he laid his tools out on the table: miniature dye torches in dozens of colors; assorted epoxies in every conceivable viscosity; metallic blue UV light sabers; Finn Raccoon, jungle cock, ostrich herl. A client coming into the shop took one look at the table, folded his arms and furrowed his brows.  I could imagine what he was thinking: "Is this dude a graffiti artist, Jedi knight, or a Lapland small game trapper?"
The coolest thing about Greg's flies is that, when tying them, you can be all three. Before the interview started, Greg commented on his traveling bin of tying materials—he'd been lugging it around, same cheap plastic bin, for 11 years.  It was held together by stickers on the sides, by duct tape on the bottom.  It might seem like an odd thing to do, but after hearing Greg's story, I saw how that bin fitted his personality, which is very interested in paying tribute and homage to the past.  Past tiers.  Past materials.  Past traditions.  Not exactly what I was expecting from a guy who's name is synonymous—even eponymous—with a variety of synthetic tying materials.
It's easy to think about synthetic materials as industrial and antiseptic, as something existing outside of a rigorous aesthetic tradition, even as a threat to that tradition. But after talking to Greg, I started to understand that these new materials—and the flies that grow out of them—are really just a modern commentary on and continuation of the some of the oldest and richest tying traditions that inform our fine sport.
There's a French term, terroir, used to talk about how the characteristics of a geographic region become manifest in the wines that regions produces.  In learning about the evolution of some of these materials, like Lazer Dub, I came to understand that the way that geography and regionality express themselves is not limited to natural materials.  In the industrial belt of the Midwest, in and around the long fishy coast that's come to be known as Steelhead Alley, these man-made materials have as compelling a history as any other.
MC: Talk to us about how you got started.  What were some of the early forces and influences on your fly tying and fly fishing?
GS: I was lucky.  I grew up in Girard, Pennsylvania, which is right on Elk Creek.  It's really hard not to want to go fishing if you've got that type of fishery.  At that time we had kings, we had cohos, we had brown trout, we had steelhead.  Rick Kustich's phrase "Steelhead Alley" hadn't been coined yet.  There were a lot of old timers on the rivers.  Every day after school I'd ride my back down to Folly's End fly shop to spend some time listening to them talk.  One of the legends of that place, Clyde Murray, took me under his wing and taught me to tie flies.  I was lucky to have that opportunity at the age of 8 years old.
A lot of guys were running Flatfish and floating egg sacs back then, and I went through the stage of mushroom and maggots like anybody else.  But because of that tight community, because of that shop, I found fly fishing sooner. My dad was a big bear and deer hunter—we spent a lot of time together doing that.  But he wasn't a fly fishing guy.  So when I wanted a fly rod he didn't know what to do.  My first fly rod was actually from Buyer's Fair.  It was a Martin rod and reel combo, a big huge lumberstick.  I didn't even know I needed backing.  But I went down to the river and, lucky enough, hooked up with a steelhead my first time out.  And he proceeded to take my entire fly line down river.
The old timers finally got tired of me screwing up their fishing so they took my under their wing, taught me to tie flies, even bought me a new rod and reel.
Things took off from there.  After high school I started doing a bit of guiding, and did even more guiding in college.  Now years later, the company I built up from the ground, Steelhead Alley Outfitters, has 8 full time guides. 7 part time.  We run 200+ trips a year.  We do fly tying, Spey casting, local and hosted trips.  Everything, really.  So I've come a long way from Girard, figuratively speaking.
But my roots come from an old man in a fly shop the size of a 12 x 12 room.  That's what got me hooked.  That's what got me focused.
MC: What are some of the perspectives that inform your current fly tying and fly fishing?
GS: I really, really enjoy catching fish on the fly.  I think it's a thrill for everyone, of course, but I've really taken it overboard.  My ratio of fly tying to actual fly fishing time is now 80/20. That's different from ten years ago.  I do still fish a fair amount, and my fishing time is quality fishing time, but the bulk of it, the lions share, is dedicated to drinking Mountain Dew and tying flies.
I even tie at my office at work when I get a chance. When I look at the culture of fly tying today, I think the biggest influence is the Internet.  Now we can see what the world is doing. We can see the creativity almost as its happening.  But in another way, not a whole lot has changed. By which I mean we're still building patterns based on other, foundational patterns that were developed before the Internet era.
Take Russ Blessing's Woolly Bugger. No fly pattern has changed fly fishing like the woolly bugger has. It has become the foundation for fly tying worldwide.  The body, the tail, the hackle has spawned everything from Kelly Galloup's patterns to those of Mike Schmidt.
There are other foundational patterns that changed the sport, too. I feel like my tying is unique, but it was Ed Ward's Intruder that really opened my eyes. It showed me that I don't have to tie a woolly bugger. I don't have to tie an egg pattern.  It showed me that if I was willing to gamble, if I tied flies with more action and functionality, I could do something special.  So, yeah, the Intruder was like an invitation to free-style. There are very few flies in the industry that have become foundations.  There's the Adams.  The woolly bugger, as I've mentioned. The egg fly.  The Intruder is on that list.  I don't thing Ed Ward looks at himself that way, but he's increased the fishing prowess of a lot of people.
MC: What makes your swing patterns unique from other great tiers like Tom Larimer, Scott Howell, and others?
GS: I am big on the blend of synthetics and naturals.  More and more natural materials are becoming harder to find.  Suitable substitutes are becoming harder and harder to find in the natural world.  My various opportunities to develop new materials came from that reality.
A lot of people gave me development opportunities.  Marcos Vergara at Hairline, Sean Berlin from Orvis.  They both opened doorways for me that weren't there before.
The story of Lazer Dub is a good one.  It was the first material I designed; it sold really well and was impressively done from start to finish. Everybody loved it. What they don't know is that Lazer Dub developed from a material called Lazer Yarn by Ed Bordus, a local guy who made a tremendous impact on the community.  It was a natural material, some type of goat wool.  Ed had his own machine; he made everything himself.  When he died, all that incredible material that everyone had come to love and rely on just disappeared.  Fly shops ran out of it.  Or they took it off the shelves and kept it for themselves.  I wanted to produce a tribute material, and I intended Lazer Dub to be a kind of homage to this guy who captivated our local fishing community. All I did was go to a synthetic material, add some flash, increase the range of colors offers.  So Lazer Dub really came from our wanting to keep the history of this material going.  We wanted to pay tribute to a guy who was no longer with us, a guy that really made a difference on our fishery.
MC: What about Shaggy Dub?  How did that come about?
GS: The joke I tell people is that the spandex era had come to an end and we had to find a use for it. Because that's what Shaggy Dub is: chewed-up spandex. For me and my style of tying, it worked really well, but a lot of people didn't know what to do with it.  "What's this for?  Little nymph legs?"  They were thinking inside the box.  I was using it for sculpin heads, under bodies, you name it. There's a good story behind the name.  I was watching Scooby-Doo while I was on the phone with Hareline trying to come up with a name.  My nickname for the material, "fish pubes", just wasn't cutting it. Then shaggy came on the TV, and I said, "How about Shaggy Dub?"  They loved it.
MC: When did you get involved in the development of foundations—the hooks, shanks, wires, etc.?
GS: Yeah, well around that same time I was cutting of a lot of hooks. Making shanks out of pins. Breaking the bank on Waddingtons.  Then I had a really good conversation with Martin Bawden over at the Flymen Fishing company.  He asked if I was willing to design a steelhead shank with him, and I did.  It's become popular in Alaska and out west, but my true intent with it was to create a Great Lakes product that would last.  So we turned the loop, made it so it could fit straight in a vise, made it easy to attach a hook.
And then there was the colors: they come in the full spectrum.  That's because I want tiers to be able to blend their flies. I want tiers to make their flies special. I think this is an important, even essential part of the sport.
Not everyone feels this way. I hear it all the time, especially from guides: we need to tie out of necessity, not because we want something nice.  I'm totally the opposite.  I want people, when they're bringing that beautiful chrome fish in on a swung fly, to have that full aesthetic sensation that older generations of fly fishing have been enjoying for centuries.  Take the Atlantic salmon anglers, for instance: they fish beautiful, beautiful things.
So these products I've designed—the colored shank, wires and hooks—these products were not designed to be commercial gimmicks.  They were designed to invite tiers to get more involved with their patterns, with their tying.  Tied right and with intent, deliberateness and care, a fly can be more than a fly: it can be a character in a story, something that informs your ability to keep our energy and focus up during a long day on the water.
It's like this: my kids used to have a hard time paying attention to their indicators.  They'd get bored.  They needed to be entertained.  So I took their indicators and drew smiley faces on them.  "This is Bob," I'd say.  "Watch him close.  If you see Bob go underwater, set the hook."  My kids were so in tuned to making sure Bob stayed afloat that they'd check him constantly, make sure he's okay.  Their mends and drifts were perfect, and when Bob went underwater they'd yell "Bob's under!" and set the hook.  Fish on. My flies kind of embody that idea, but for adults.  I want people to play and to use their imaginations.  It's not just about tying something that looks good in the vise.  It's about tying something that gives you a different experience of your time on the water.  That's at the heart of my fly tying and fly design. That's what it's really all about.