Future of Chicago's Historic Lincoln Park Casting Pier in Question
Chicagoans zipping along Lake Shore Drive may not realize that they're just a few double hauls away from an important piece of American angling history:  the casting pier at Lincoln Park's North Pond.  With roots dating back to 1893 and the Chicago World's Fair, the current pier – which was constructed in 1946 – now sees over 11,000 annual users (birders and nature lovers as well as fly casters).  But thanks to a redevelopment plan proposed by an organization called the Lincoln Park Conservancy and backed by some neighborhood residents – a yet unfunded plan that has advanced largely beneath the radar of public review – the pier's future is uncertain.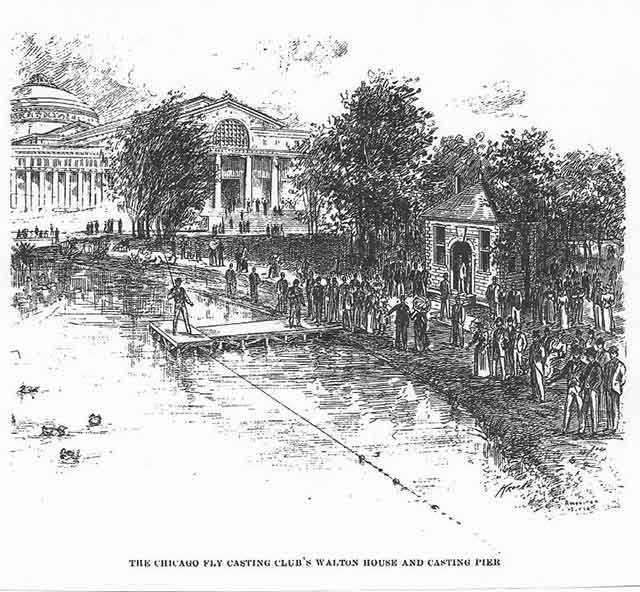 The casting pier traces its lineage directly to the Chicago World's Fair of 1893. There, following the casting tournament craze that originated in England, the world's first "Open to the World Scientific Angling (Casting [sic]) Tournament" was held. It was hosted by the Chicago Fly Casting Club, founded in 1891 as the first casting club in America, and held near the Palace of Fine Arts (now the Museum of Science and Industry) – on a specially designed, wooden pier built specifically for this event. In keeping with the times, the casting grounds at the World's Fair even featured an exact replica of the stone temple built by Charles Cotton in 1674 on the River Dove to honor his friend, Izaak Walton, the inventor of fly fishing.  
An explosion of interest in sport casting around the country, both expert and amateur, followed the Chicago World's Fair.  Casting clubs, both formal and informal, sprang up all across the country in cities big (New York City, San Francisco) and small (Racine, Kalamazoo); but Chicago remained preeminent in formal casting competitions.  By 1910, additional casting clubs had been formed throughout the Chicago area.  Casters practiced after a day of work much as one might go to a driving range today.  On any given weekend in the summer, casting events were held at Garfield Park, Washington Park, Douglas Park, and, of course, Lincoln Park. These events became a focus for social gatherings on weekend afternoons while participants practiced, played and visited.  Tournaments and other events were regularly highlighted in the newspapers of the day, like Larry St. John's popular "Woods & Waters" column in the Chicago Daily Tribune. And the public was engaged. During their height of popularity, more than 20,000 people would gather over a weekend to watch contests of note.
Chicagoans from the Lincoln Park Casting Club (among others) played significant roles in early conservation efforts.  In 1922, 54 Chicago anglers, over 40 of whom belonged to one of the four major Chicago casting clubs, founded the Isaac Walton League of America, the first grassroots conservation organization, in order to advocate for ethical angling, better fishing regulations, clean water and other measures to protect and preserve our outdoor resources.  The League continues to this day as an advocate for the principles articulated by its 54 Chicago founders more than 90 years ago.
In 1946, the Lincoln Park Casting Club erected a new concrete pier in the park's North Pond (with concrete donated by the Crown family) to replace the old wooden pier that had fallen into disrepair.  Since its construction seven decades ago, the pier has been the site of multiple national, state and local competitions.
In more recent years, the North Pond casting pier has also been a point of entry for countless new fly fishers.  Angling author and educator Robert Tomes and his friends from the Chicagoland angling community including the Chicago Angling and Casting Club, the Anglers Club of Chicago, and the Elliott Donnelley Chapter of Trout Unlimited, have provided gratis casting lessons for kids and adults for the past five years as part of a program Tomes developed in conjunction with the Peggy Notebaert Nature Museum.  To date, they've introduced over 2,500 new casters of all ages and all walks of life to fly fishing, in hopes of fostering a greater appreciation of the sport and nature.  (Outdoor retailer L.L. Bean has supported the effort, donating a number of fly fishing outfits for student use.)  The angling and casting groups have also become the de facto stewards of the casting pier, maintaining casting rings in the pond for target and accuracy practice, keeping the area clean, improving the benches and restoring the metal rod rack that had fallen into disrepair.
"Living in a big city like Chicago, they're simply not as many opportunities to get close to nature," Tomes, who is leading efforts to save the pier, said. "Thankfully, the North Pond casting pier is a little oasis where kids and adults from the city and beyond can come to connect with the outdoors.  The look on our students' faces when they finally make a good cast is what's it's all about. You can see a light bulb go off and you just know they're going to love fishing for a life time to come."
Peggy Notebaert Nature Museum President and CEO Deborah Lahey echoes Tomes' sentiments about the importance of the casting pier. "As the oldest museum in Chicago, The Chicago Academy of Sciences/Peggy Notebaert Nature Museum is truly fortunate to be situated on land which connects to the historic North Pond casting pier. The pier is an asset to our visitors, of all ages, as they enjoy the unique opportunities the pier provides, not only in learning about casting from Robert and his friends in the angling community, but also connecting with nature in a beautiful urban setting."
Historic conservation is a fundamental tenet of the Lincoln Park Conservancy.  At a time when electronic devices of all shapes and forms distract young and old from an appreciation of the outdoors, Tomes, his angling peers and numerous other community supporters are crossing their fingers that the Conservancy – as its name suggests – will recognize the casting pier's status as an icon of Chicago angling history and work to see it protected and preserved…so future generations can benefit from the simple act of casting a fly rod.
To learn more about the North Pond casting pier and how you can help visit: www.northpondcastingpier.com