The Fable of La Fontaine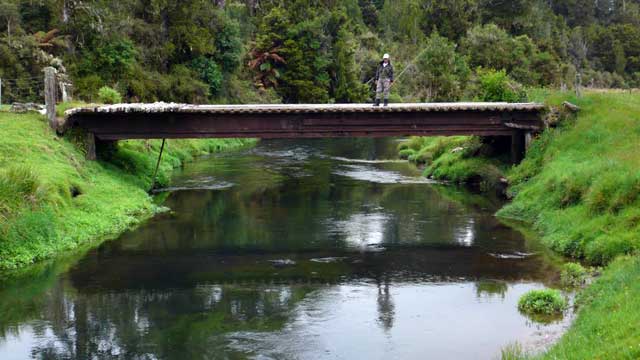 Do you have a river of your dreams, a place that comes first to your mind whenever you think "flyfishing?" It may be a memory snapshot of somewhere you've already been or a mental compilation of everything that is the best in our pursuit. Picture it for a moment, what's it like?
What size, with what backdrop, in what country? Does it have long smooth glides where rise-rings take forever to dissipate, or is it fast and boisterous, with plenty of big rocks for rainbows to sit against? Is it an easy ego-pampering water à la Timaru Creek or a fair dinkum test like the lower Tongariro where massive browns regard you with contempt? Whenever I closed my eyes I always saw my river clearly but only this spring I realised that it actually exist, and that it has a name. I also got to fish it for all of three days. Talk about vision becoming a reality!
The river is called La Fontaine and it seeps out of the swampy paddocks on the New Zealand's West Coast, two hours north of the glaciers, near the farming settlement of Hari Hari. It'd be tempting to think that it was named after the writer Gary LaFontaine who, as one journalist noted in Gary's 2002 obituary, "was a flyfisherman—in much the same way Albert Einstein was a mathematician." You may have come across his books – Trout Flies: Proven Patterns, Caddisflies, and The Dry Fly: New Angles – they are classics in their field. But it's more likely, certain in fact, that the river carries the name of another scribe, the Frenchman Jean de La Fontaine, a conjurer of magic and fables. For a dream river such association seems particularly fitting.
I'd been meaning to explore it for years and never had but this time we'd finally set a date and made it happen. My fishing compadre David Lloyd flew in from Hong Kong and one sunny November day we set off in my camper, from Wanaka and up the coast. By that time we'd already had a week's fishing on our favourite River X, hard but rewarding, and it was the most memorable trip ever (sorry mates, no GPS coordinates here.) Sight-fishing to eager browns, the solitude and the luxury of having the river to ourselves had raised our standards, honed the expectations. Thus we arrived in Hari Hari a little too cocky perhaps, two self-professed experts ready to kick butt. The La Fontaine browns would see to it that we did not delude ourselves for long.
La Fontaine is a river-size spring creek, with fat weed beds waving in the current over clear patches of light gravel and sand, all of which makes for rather good spotting. David and I delight in sight fishing, now almost to an exclusion of any other style, and the "See no fish, cast not" adage has become something of our modus operandi. We are happy to walk for miles just looking for the moments of magic this particular kind of voyeurism affords, knowing that to see even one fish react to a fly – to see it  take, inspect or refuse – is an experience far more intense and memorable than catching half a dozen fish blind.
Maybe it's because we'd both done our river mileage, flogging the water without seeing the fish first, or perhaps it is a residue of my years as a fishing guide. For a guide, watching his clients fishing blind can be intolerably boring which is why we so insist on finding the fish. Spotting makes a guide feel useful and engaged, a part of the adventure. All other alternatives are grim by comparison. Consider the renown Scottish gillie who was asked what was the single most important skill for a career fishing guide. After scratching his beard in deep thought he replied: "I'd have to say it'll be the ability to yawn with your mouth shut."
There wasn't going to be much yawning on the La Fontaine, though it was difficult to keep our own mouths shut, first out of wonder at the numbers of fish, then for other reasons too.
A friendly farmer directed us to a "good spot" and true enough, we saw several fish rising even before we got out of the truck. We rigged up in haste – long leaders, fine tippets, #16 Parachute Adams as the first choice flies. I took another look at the river. It seemed almost too good to be true: a dream stream found, no wind and mayflies coming off the water like some phantasmagoric upward rain. The fish were rising as far as I could see, and I had a good mate to share it all with. What more could you want? The answer became clear as soon as we began to cast.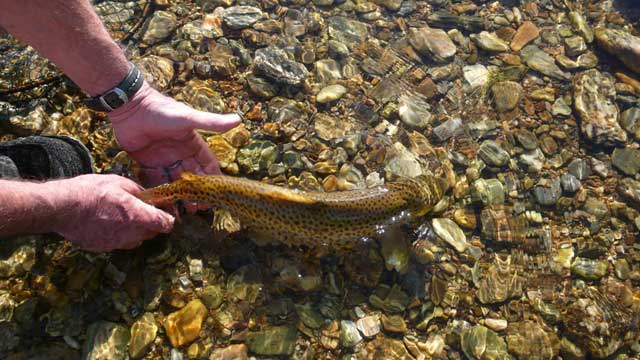 I spooked my first fish, and David did his, and we blamed it on our over-excitement and the lack of warm-up. We giggled a bit at these goof ups, heckling each other about our casting skills. Weren't Mel Krieger's instructional videos our favourite TV soaps? Did I not, at one time, run a successful flyfishing school in Wanaka? Wasn't David its best magna cum laude graduate? No question there, if past performances were anything to go by, we were two champions in top form, capable of accurate first-cast presentations, with not a hint of drag to be seen. Only the trout, it seemed, did not appreciate such finesse.
By the time we spooked the next few fish we were fully warmed up, too warm perhaps. With first casts landing bang on the money now, yet still putting the rises out, we went down in tippet and fly size, then up in flies again, ending up with seemingly monstrous #12 Dad's Favs, the closest match to the prevailing Coloburiscus mayflies. Still, no fish, even though we covered more than a dozen.
The champions' egos were getting slightly bruised by now, their mouths harder and harder to keep shut, not due to yawning but the jaw-dropping surprise and frustration. It was still early in the season but these fish were already impossible.
Sure, we could see plenty of them but even a most delicate cast was enough to extinguish a rise. One cast. It was all it took to send a fish off at a blurring speed. Worse still, and horror of horrors, the rises would often recommence behind us as soon as we moved further upstream.
"We have to find fish in faster water," David finally stated the obvious. "We'll never get them in this slow-moving stuff." But therein lay another challenge: in fast water we could not see our fish. Though there was a big High over the entire South Island, the pockets of the West Coast like Hari Hari, were socked in with thick inversion-layer clouds, pressing down on the landscape like a solid grey slab. It made for a beautifully moody scene but also for tough polaroiding.
We stalked as if walking on egg shells, using every bush for cover. We wore camo gear and even – totally unreasonably – began to communicate in hushed voices. Yet invariably we saw the fish too late, or perhaps the flat dim light magnified trout's senses. Though we worked as a good team – a spotter and a caster – the fish would often vanish almost miraculously in the time it took to get into position. At which point the spotter, peeking from behind the clump of flax, would utter something like: "Eh, I'm having trouble seeing 'im," which translated directly into "he's already gone."
We walked upstream for ten hours or so and all we had to show for were a few panicked refusals. Another farmer, riding an all-weather quad bike, stopped by to enquire if we had any "luck" and I had neither the heart nor a good reason to start explaining that, when it came to flyfishing, I favoured skills over luck. Clearly, on this particular day, we were lacking both.
"Lot of them jokers get skunked here," the cocky went on unperturbed. "That's the expression you use, isn't it?" Ouch! As if we needed a reminder. I was acutely aware of that white stripe of a skunk creeping up my spine. At this late hour in the day it was reaching the last of my thoracic vertebras. We desperately needed some sun to improve the odds but it seemed that a sunny day on the Coast was like rain in Alice – not impossible but unlikely.
At our turn-around point I sat down on the bank and out of my vest I fished out a flask of Clynelish. Usually I use it to celebrate though now I needed something to uplift the spirit. I never thought the fishing could be so tough. It looked like the dream river would have to remain just that – a dream.  Then I glanced downstream and saw David bracing against his rod as if he was trying to pull the bottom out of the river. Not a snag either, a blurring flash of whisky-gold as a solid fish leaped out of the water was a positive proof of that.
It transpired that, never one to brood or despair, David abandoned our "See no fish, cast not" motto and began blind casting into the first likely riffle. The fish took the big Dad's Fav on the first cast. He landed, released it, and cleaned the fly. By the time I joined him he was a couple of metres further upstream, hooked up again with even a larger fish, which was pulling hard for the safety of the sunken willows but never made it there.
Two fish with two casts, after a day of nothing, it was something of a shock. A couple of blind casts into the feedline I had a fish too, and David was on to his third one.
"Too easy," he said, watching the released fish dart for the deep water. Exactly. But how good it felt to wash off that skunk.
It was as if David's breakthrough undid some weather hex that was gripping the valley for as we woke up early the next morning, the coast was clear, with not a cloud in sight. What a difference this made! Now we could see the fish in fast broken water, and, most of the time, they could not see us. Moreover, they were nymphing voraciously and we could finally put to the test the secret weapons we'd only recently procured. They were the new-season bionic "rubber legs" nymphs tied by the guide and fly-tier extraordinaire Stu Tripney (www.bionicflies.com).
As an aside, if you want to dramatically increase your fishing success, study the flies the guides themselves make and use. They are often different from what you can buy in any tackle shop – slimmer, more durable and more refined. There is an elegant practicality to these flies, honed by hundreds of days on the river and hours at the vise. There are parachutes with orange foam posts for extra buoyancy and visibility, pheasant tail nymphs without any pheasant in them, generic CDC dries which you can cut down to size on the river to match the hatch.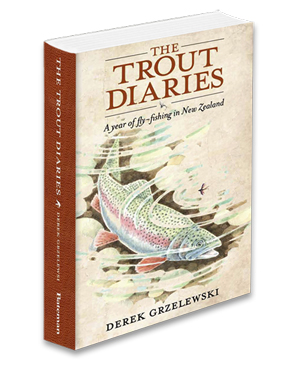 True enough, Stu's #16 brown "rubber legs" nymph and the ubiquitous Dad's Fav would prove the only flies we needed that and all of the next day. We stalked the banks of the La Fontaine, and its tributary the Berry Creek, finding feeding fish, catching some, missing others, helping each other to net those we'd managed to fool. With strong overhead sunlight the balance of odds was more even, and our "See no fish, cast not" rule was in force once again. By lunchtime of the day two we stopped counting the fish. The dream river was finally delivering on its promise.
On the fourth day the slab of clouds returned and we knew our time was up. There was still plenty more water but we'd have to fish it blind and we would not dilute the experience of the past two days. After all, flyfishing has nothing to do with numbers, and everything to do with magic, and in this the La Fontaine certainly lived up to its name. As hard as it gets, and just as fabulous.
If you dare to test yourself against it, I wish you Godspeed. Just be kind on yourself. Pick a sunny day.