Book Review: "The Orvis Guide to Small Stream Fly Fishing"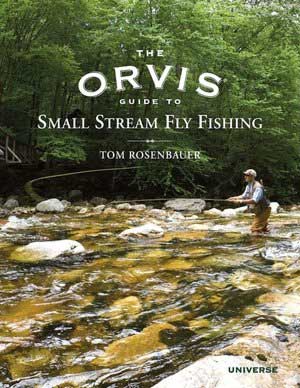 The Orvis "library" of fly fishing books and guides is pretty big at this point, due mostly to the writing efforts of resident guru Tom Rosenbauer.
Rosenbauer avoided aiming his Guide to Small Stream Fly Fishing at the fishing novice or small stream expert, and the result is a good one: there is useful information on every page, for every level of angler. The book goes beyond being a small stream manual that's packed with technical information.  Its real value lies in the fact that it will really encourage you to get out there, seek out a small stream—and fish it.
It's clear that Rosenbauer has spent countless hours fishing small streams. The photography alone (Rosenbauer handles 99% of photographic duties), goes a long way in clearly demonstrating fly fishing strategies and the corresponding pinpoint locations on each stream. There are several well-rounded techniques sections, and in them Rosenbauer offers first-hand accounts that define the heart of the book: "this is the streamside situation," "these are your options." Readers get highly specific, tried-and-true solutions for every occasion.
There's a brief section on flies, which thankfully dispenses with most of the complexities found in other fly fishing books: Rosenbauer lists a basic collection of solid performers that will cover nearly every conceivable fishing situation and leaves it to readers to flesh out that basic collection. A little surprisingly, casting is covered in-depth; but it turns out that this section offers tips that might be obvious only to an accomplished small-stream angler.
The Orvis Guide to Small Stream Fly Fishing concludes with two important chapters on stream ethics and caring for small streams.  Rosenbauer rightly suggests that they not be taken for granted. These are small, often fragile systems that can easily be damaged or even completely destroyed in the blink of an eye. The book is a richly researched and authentic work that made me realize I don't use my small stream gear anywhere near as often as I should.
Buy The Orvis Guide to Small Stream Fly Fishing in the MidCurrent Store