Book Review: "Fly Fishing West Yellowstone: A History and Guide"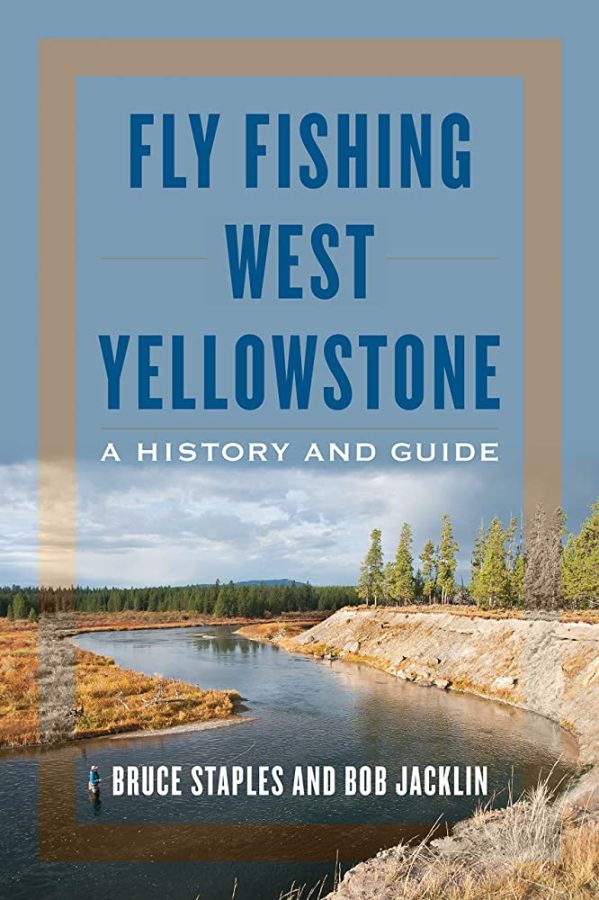 "West Yellowstone is as friendly a little hamlet as you will find anywhere. Fishing is its very life and livelihood; it is the language which everyone understands, the foremost topic of conversation." ~ Howard  Back, The Waters of Yellowstone with Rod and Fly (1938)
The cultural, environmental, and tactical landscape of Western American fly fishing has modified a great deal in the decades since Howard Back published his charming Baedecker to the West Yellowstone region's fisheries. Climate change, global warming, invasive species, pernicious viruses, increased angling pressure—the list of alarming reversals, mishaps, and tragedies goes on. Frequenters of Vail, Jackson, Missoula, and Ennis might disagree, but the town of West Yellowstone (as it became officially known on 7 January 1920) is  arguably still the epicenter of Rocky Mountain troutdom. I'd wager that there is more fishable public trout water within a hundred miles of its main streets than any similar place in the United States. Co-authors Bruce Staples and Bob Jacklin (since 2004, a Fly Fishing Hall of Famer) certainly think so. They claim the town "is sited in the midst of our country's most extensive and best remaining inland salmonid habitat."
There is so much great water, in fact, that it can never be fully sampled, much less mastered, in a lifetime. I speak from experience, having plied those waters every summer for the past three-plus decades during which time I have never  done more than make a feeble scratch on the area's extensive slate of possibilities.  The funky, quasi-frontier town of West Yellowstone, located at the western gate of Yellowstone National Park, with its half dozen or so active full service fly shops (Jacklin's, founded in 1974, among them), is a convenient landing spot for anglers who arrive there from every corner of the globe to try the region's fabled, watery riches. Fly fishing impresarios Staples and Jacklin, acclaimed anglers, authors, and decorated fly tiers (both have won the Fly Fishers International's prestigious Buzz Buszeck Memorial Fly Tying Award), claim at the outset of their book, "What other town can boast such an array of superb fly-fishing waters combined with nationally recognized and renowned homegrown fly-fishing personalities?" Their book answers that question in a readable and lively way.
Years ago, after reading Howard Back's book, Charles Brooks' Fishing Yellowstone Waters (1984), Paul Schullery's Yellowstone memoir, Mountain Time (1984), Craig Mathews' and John Juracek's Fly Patterns of Yellowstone (1987), I was drawn by the allure of West Yellowstone eventually started an annual trek to the area in 1989. That summer, when I was making my first educational angling studies of the area by walking and wading, I was able to splurge on one guided float trip on the Madison River arranged through Jacklin's fly shop. As an introduction to the vast fishing possibilities of the area, that excursion was a game changer and worth every cent beyond what I paid for a decent a day of fishing. Plus, I was hooked by the locale, the bird life, and the scenery and knew I would be returning again and again but with an eye toward something deeper than just catching fish.
In Mountain Time noted historian Paul Schullery claimed, "The average visitor driving through Yellowstone sees no farther than the surface of the water. At best the lakes and streams are mirrors reflecting the surrounding scenery. For the alert… fly fisherman, the surface is not a mirror but a window." A look into the window is something Staples and Jacklin offer in Fly Fishing West Yellowstone. Their book is amply illustrated with more than 150 archival and contemporary photographs (many from the authors' own collections), which makes it visually attractive and provides an added level of documentary proof and texture to this combination history of ––and guide to––some West Yellowstone area fisheries.
The book is composed of three major sections: Chapters 1-11 treat the history of the region's modern sportfishing culture; Chapter 12 highlights 20 of the region's "Famed Waters"; and Chapter 13 is a brightly illustrated, annotated anthology of  198 "Renowned Fly Patterns," many of them originated in or related to the West Yellowstone area fishery by legendary fly dressers Don Martinez, Pat Barnes, Charlie Brooks, Jack Gartside, Ross Merigold, Rowan Nyman, Nick Nicklas, Craig Mathews, and a host of equally talented others.
Some of the featured flies are throwback artifacts that "no longer enjoy broadscale popularity," but provide a view of the way things were in the early days of  the region's burgeoning angling popularity. No Euro-nymph or sleek perdigon patterns appear in the gallery, which perhaps says something about the authors' view of the future. But among the featured patterns, X-Caddis, Sparkle Dun, Shop Vac, Serendipity, Woolly Worm, and Sofa Pillow have won deserved and lasting distinction among contemporary fly fishers across the globe, a sure indication of the strength of West Yellowstone's impact on planetary angling culture. The gallery of patterns covers sixty-eight double-column pages.  Many flies have undergone considerable tweaking and updating in recent years, but in a conservatorial move, Staples and Jacklin present them "as much as possible, with original dressings and materials," to provide a glimpse into  the region's tying past.
While there is plenty of  information on the legendary riverine headliners and celebrated angling destinations throughout the region (the Madison, Gallatin, Gibbon, Firehole, Henry's Fork, etc), the second major section of the book, "Famed Waters,"  is not as comprehensive and panoramic regarding the numerous offerings of Yellowstone National Park as is Nate Schweber's Fly Fishing Yellowstone National Park (2012), or the revised edition of Craig Mathews' and Clayton Molinero's  The Yellowstone Fly Fishing Guide (2019). Staples and Jacklin take a wider view of the region and dive deeper into a number of the area's vaunted  destinations in and out of the park, for which the authors provide extended narrative accounts, not without some biting commentary. Discussing the over-crowded craziness of the salmon fly emergence on the Madison, the authors note "chaos reigns supreme."
As an antidote to overly pressured and beleaguered area "quality water" rivers and streams, Staples and Jacklin provide information on some less well traveled and offbeat spots such as Culver Pond in Idaho's nearby Centennial Valley. They  give ample coverage to other still water sites that, while not exactly unknown, and perhaps less glamorous than the Blue Ribbon rivers, are first rate fisheries in their own right. These include Idaho's Henry's Lake, Montana's Earthquake and Hebgen Lakes, and the Graben Lakes (Cliff, Wade, Hidden, and Elk). The authors' treatment of Quake Lake, formed by a catastrophic, deadly landslide in August of 1959 that blocked the Madison River, is indicative of their approach:
"In some ways, Quake Lake suffers the fate of lesser-famed waters situated between waters of greater literary renown. When the Madison River is discussed, Quake Lake is usually skipped or barely mentioned. On each side of the lake are reaches of the Madison River that are frequently featured in the fly-fishing media. Upstream is Hebgen Lake, and on the other side of the mountains sits Henry's Lake. These waters have been heralded in fly fishing literature from before the middle of the twentieth century, whereas Quake Lake was not born until nearly a decade later….

But to those in the know, Quake Lake in the proper season is a destination… high-quality coldwater fishery."
In addition, there are lively accounts of Duck Creek and Nez Perce Creek (both of which require hiking to access, but I can attest, are worth the trek). Though they are the waters less traveled, they "would be considered destination waters if located in other parts of the country."
Beyond the practical "guide" portion devoted to local waters and fly patterns,  the major contribution (and longest section) of Fly Fishing West Yellowstone is its lively account of the town's angling history. "While West Yellowstone has a rich fly-fishing history," the authors claim, "no one before has set down how it became perhaps the most hallowed fly-fishing destination of today." They tell their captivating story in the first 114 pages of their book. In doing so, they draw on economic and cultural background information (impact of the automobile on the region's accessibility, and increased exposure by nationally known outdoor writers); environmental occurrences (native grayling being supplanted by non-native salmonid species, and the pernicious onslaught of Whirling Disease);  and scientific findings (Dick Vincent's early 1970s Montana Fish and Game Commission research that lead to cessation of stocking hatchery-raised trout in the Madison).
Ten years in process, Fly Fishing West Yellowstone is the result of energetic research in print sources, photograph archives, and especially numerous personal interviews with principal movers and shakers. (The book's opening Acknowledgements section details the many sources Staples and Jacklin relied on for information and accuracy.) All of that material provides a wealth of factual background and context to support the authors' main strategy of telling West Yellowstone's angling history through the individuals most intricately involved in its making from the 1920s to the present. This representative approach focuses primarily on a list of influential fly shop owners/retailers, outfitters, and guides, all innovators and ardent conservationists in their own way, who established the town's reputation. The book "preserves the evolution of this fly-fishing heritage, the progression of its advocates, and the gifts that West Yellowstone has given to enrich fly fishing like few other communities."
Some prominent owners, including Bud Lilly, Craig and Jackie Mathews, Arrick Swanson, and Jacklin himself are well known to contemporary anglers. But the lesser well-known, vintage-aged pioneers, including members of the Eagle family, Vint and Verna Johnson, Don Martinez, Charles Borberg, Cal Dunbar, Rae Servatius, Jim Danskin, and Pat  and Sig Barnes, for example, whose influence ramped up in the 1940s and beyond, come in for a good share of attention and shows how intricately related all their efforts were in creating a focused, sustained angling culture in West Yellowstone. When Staples and Jacklin first began their research Bud Lilly warned them they had better hurry before too many reliable sources were lost. The roll call of deceased angling luminaries in Chapter 10 adds a somber note and prompts the authors to wonder whether there will be a "continuum of recognizable personalities in town" to carry on the tradition in the same way. My hunch is that there will be.
Some readers might be familiar with portions of this angling history if they have read Bud Lilly's and Paul Schullery's A Trout's Best Friend: The Angling Autobiography  of Bud Lilly  (1988) and/or or its later expanded iteration, Bud Lilly's Guide to Fly Fishing in the New West (2000), but they would not get the fuller story that Staples and Jacklin provide. It is a story of knowledgeable, dedicated, inspired men and women highlighting a world-renowned fishery in one of the most breathtaking places on earth. And though we cannot return to the relative simplicity and spirit of Howard Back's version of the town, even now West Yellowstone is a place where we fly fishers still measure ourselves, even as we must keep vigilant to avoid loving its area waters to death or underestimating their many severe and potentially devastating challenges.
Editor's note: This review appeared originally in the Anglers' Club of New York Bulletin in its Fall, 2022, issue.
---