Artist Andrea Larko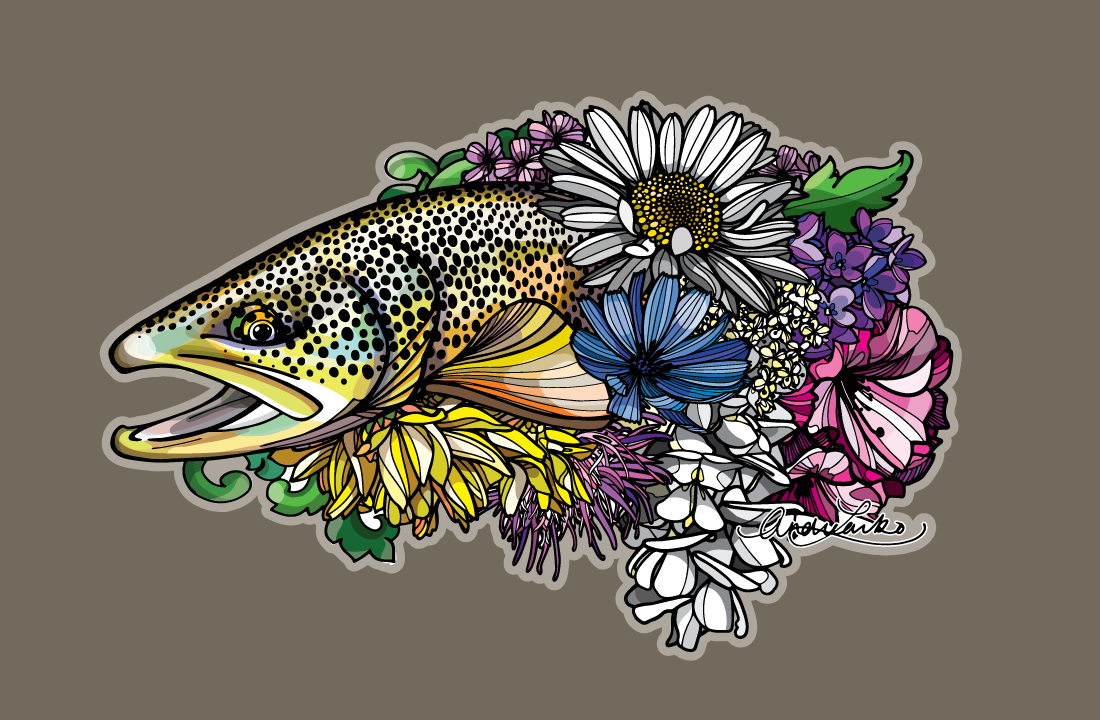 "Growing up with 3 sisters, my father shared his love for fishing with us. When we were too young to start fishing my mother would take us with her to watch my father catch fish larger than we were. I was always amazed by the beauty of what came out of the water.
As my sisters and I grew older fishing took a back seat to our education and us all moving away for college, but my father still recognized the importance of being on the water, and decided to start a family trip. We now go salmon fishing every year together and camp for a weekend reconnecting and telling the best fish stories from the day and years past.
I graduated with a Bachelors of Fine Arts in Illustration from the Rochester Institute of Technology and through college, drawing incorporated itself into so many aspects of my life. I always found myself doodling in margins, drawing on my clothing or even myself if I didn't have paper. When I saw something that inspired me I'd start to see things the way I'd draw or paint them. Those visual images would stick in my mind almost as if they were burned into the back of my eyelids until I could get them onto paper or a canvas.
After I graduated from college I moved back to my hometown of Indiana, PA and started fishing again when I could find the time. I met the love of my life and he purchased me my first fly rod 5 years ago. Needless to say I feel in love with fishing all over again. I felt closer to the water and found a sense of peace and tranquility from being on a stream that I much needed. My boyfriend and I started spending our free time tying flies and scouting the streams for trout. I ended up with beautiful photographs of so many fish and thought it was a shame they just sat in iPhoto, so I decided to make a few oil paintings for our fly tying and art studio to brighten up the bare walls. After they were posted on Facebook and Instagram I was asked to make prints, so I did, and that's how it started.
I enjoyed what I was doing but it seemed more like tedious college assignments to me than art I like to do to relax. So I started sketching one night with a fish outline and as I always have done while I was thinking, I started to doodle. I ended up with a Zentangle doodle fish and I thought it looked interesting. I tried to play off the surfaces of the fish, what would be flat I put straight lines and where I wanted dimension I added more detail and curves. They're so much fun to create, and on the days I can't fish or am too tired from working my day job, I draw. I'm so thankful that people have enjoyed these whimsical illustrations as much as I enjoy creating them. You can find my art at andrealarko.etsy.com or follow my works in progress on Instagram @andrealarko and Facebook at Go Fish – Art by andrealarko."