New Products from Clear Cure Goo
With the promise of an exciting line-up to be released at the start of 2013 and recent announcement of new products which include a new color "Steel," Expando Tube for baitfish patterns, curing light, and eyes with highly reflective backing, Clear Cure Goo is set for an impressive year.
Read the press release below.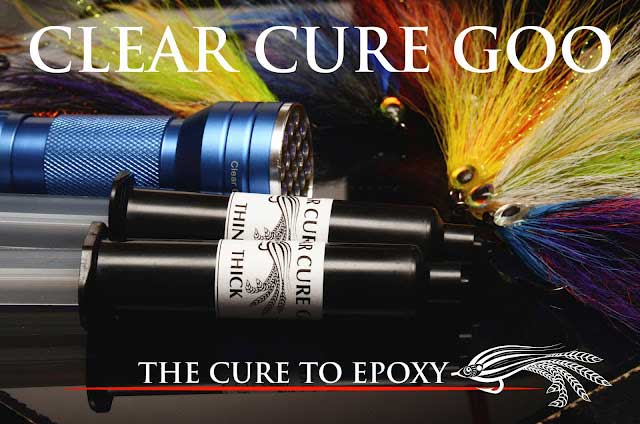 Introducing Steel.
It has long been rumored that Clear Cure Goo had a color that they had been working on since they started making eyes. Truth be told we were and its name was Steel. While we had planned to launch it as a Dumbell Eye, and to have it ready along with all the other colors, there were some problems with the foils we were using. So like all our products we want to make sure it's right before we release it. A year later and some late nights, we got it right. We hit it out of the park! So much so, we decided to not only put it in the Dumbbell Eye line up, but also add it to our Adhesive Eye as well. We can say hands down that this is our favorite eye.
Expando Tube
Yeah, we know we aren't the best at naming products. But we sure know how to make them, don't we. The idea for Expando Tube came to us while we were wishing we could make some truly large three dimensional bait fish patters. You know the saying big fly, big fish. Well this material fits the bill. Think EZ Body on Steroids. It expands to over twice its size. For example, the half-inch Expando Tube expands to a full inch and a quarter. Perfect for making three dimensional bait fish patters, crab bodies, spoons or covering poppers. Expando Tube gives you perceived bulk without any weight at all. To put the icing on the cake – Expando Tube readily accepts permanent marker and paint for you to customize the color any way you see fit. Sold in 3 foot sections, available in 2 sizes: ¼ inch and ½ inch and made in 3 colors – silver, gold, and pearl.
New Pattern Tool
We have added two new patterns as well. These eyes feature a highly reflective opaque backing that really show off the eye, not to mention that little bit of extra flash just might be the one thing that gets a fish's attention. Available in two colors: Silver and Gold. Take your pick of sizes: 5mm, 6mm, 8mm, 10mm, 12.7mm and the monstrous 15mm eye. Unlike anything else on the market, we think you and the fish will enjoy these. Stay tuned for a special edition eye. We don't want to give too much away, but remember: The Goo is the Poo. (Hint) Since we have mentioned limited editions please be sure to check out our website often for "market test" products such as flat tape eyes, or new colors.
New Clear Cure Goo Pro Plus Curing Light
Taking your fly tying to a tactical level. The new Clear Cure Goo Pro Plus Light features a strong and reliable Cree LED bulb. Powered by CR123A Batteries (not included) this light will cure our materials faster, harder and with less tack even with the standard materials such as Thick or Thin. It fits nicely in the hand and features a clip that prevents the light from rolling on your table and you have the nice Clear Cure Goo emblem laser engraved on the barrel.
New Kit Bundle
We will now be offering two additional choices when it comes to kits. 2013 brings you a new Premium Starter Kit. It includes the upgraded Clear Cure Goo Pro Plus Curing Light as well as our best selling Hydro 15 ml bottle, bundle that with a 10ml syringe of Thick and a 10 ml syringe of Thin and you now have a Premium Started Kit. We have also heard you, you wanted a Clear Cure Goo Brushable Kit, and we have done that as well. The Brushable Kit features the Standard Clear Cure Goo Curing Light as well as a 15 ml bottle of Tack Free, a 15 ml bottle of Tack Free Flex and a bottle of our Brushable formula. Proof positive we listen to our customers.
Well you have waited long enough – here is the good news. Coupon Code: please enter the coupon code: Facebook10 into your shopping cart and receive 10% off your entire order. The coupon is good until 9/30/12.
Now for the bad news. Remember that Old Clear Cure Goo Logo? Well we have not raised our prices since we started with that logo from the beginning of Clear Cure Goo. We have had multiple price increases in our raw materials but have yet to pass any of that along. We will be raising the price of some Clear Cure Goo products January 1, 2013. Not a substantial amount, we are looking right now at about a .50 cent price hike. So please beat the price increase as well as the Christmas rush and take advantage of this limited time offer to use our coupon code.
A little more bad news: we will be discontinuing our Clear Cure Eyes in the 4mm sizes and replace them with the 5mm sizes. We have a limited quantity of 4mm dumbbell eyes and suggest if you are a fan of the 4mm dumbbells that you order sooner than later and order additional packs. Yeah, we are encouraging hoarding.
Can't end on a bad note. So, be on the lookout for newer products coming out around January 1, 2013. We are synonymous for having quality products and mussed some of our deadlines. We plan on launching a few new awesome products around the beginning of the year. Please stay in touch and see what is coming down the pipe here at Clear Cure Goo.
We are always trying to build up our Facebook page and our Newsletter Database. If you would please be sure to "like" our page by clicking the link at the top of the Newsletter as well as Email To a Friend. The more people who know that the Goo is the Poo the more sales we get. The more sales, the more product we are able to make or try. You see, it's an endless cycle.
Thank you again for your support – and know that all Clear Cure Goo materials are made in the USA from USA raw products.
---