Made for Hollywood: The Ultra-Realistic Flies of Graham Owen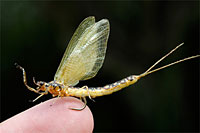 There are few fly tiers who haven't wondered whether they could turn their craft into a money-making business. But what if your dedication led to something even larger? That's what happened to Graham Owen, whose ultra-realistic flies are in such demand among Hollywood studios that he rents them out rather than selling them — there's no other way to keep pace.
Alex Cerveniak interviews Owen for MidCurrent.
---