Interview with Brian Grossenbacher: Guide and Fly Fishing Photographer Extraordinaire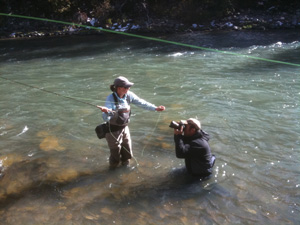 TR: Tell us a little about yourself. Do you have a wife? Kids? Dogs? Boat? Where do you live?
Grossenbacher: I live in Bozeman, Montana with my wife Jenny, two daughters – Mackenzie and Sable, two horses, 3 labs, two cats, and a bearded dragon (no that's not a sex toy) and a pretty snazzy RO drift boat.
TR: How long have you been in the fly fishing business/industry?
Grossenbacher: I started guiding in 1992 and continue to this day (unfortunately it was 31 below zero this morning–so no guiding today).
TR: You started out as a guide right?
Grossenbacher: That is correct. I started as a flyfishing guide when I was in graduate school at Montana State. I had an office job at MSU to help pay for grad school, and one day a co-worker took me aside and said that I would never make it in a 40 hour work week. As she was talking she dialed a friend of hers who managed the fly fishing operations for a guest ranch in Big Sky and she handed me the phone. He and I went fishing later in the week and he offered me a job. That was a long time ago…
TR: Are you still guiding?
Grossenbacher: I still guide about 50 days a year.
TR: When did you get into photography? What brought you to it?

Grossenbacher: Jenny and I bought our first decent camera (Nikon D70) in the winter of 2005. We were asked to write a fishing guide book on Montana and we just assumed that we would buy photos from some of the photographers we had worked with over the years–that is until we received the photo budget, and realized that it was a fraction of what we would need to buy professional photos. The budget was just enough however to buy a camera body and two lenses. We ended up taking all but two photos for the book, and by the time it was published I already had a few images appear in magazines.
TR: Do you remember the first time you thought to yourself I can guide, fish, AND take pictures?
Grossenbacher: Absolutely. At the end of the 2005 guide season I took off for a week and drove around Montana to get some out of the way river photos that we still needed for the book. It was the greatest feeling to drive around and fish and photograph the different rivers. I can remember sitting in a cafe in Hamilton, MT after shooting all morning, and I ordered a beer and looked at the shots I had taken, and thought, "I need to figure out how to do this for a living."
TR: Where have you been published?
Grossenbacher: In no particular order…
The Fly Fish Journal, The Drake, American Angler, Gray's Sporting Journal, Field and Stream, Fly Fisherman, Fly Rod and Reel, Outside's Go Magazine, Canoe and Kayak, Big Sky Journal, Montana Living, Outdoor Life, Trout Magazine, Saltwater Sportsman, Saltwater Fly Fishing, Fusion, Fly Fish America….
TR: Correct me if I'm wrong, but last fall you had like four covers of different fishing magazines at one time, right?
Grossenbacher: As a guide I never counted fish, and I try not to get carried away with the publications either, but last fall was pretty good for fishing.
TR: You've done a couple books too, correct?
Grossenbacher: This is pretty funny…I wrote my first book, The Tying Flies Workstation, in 1996. Although the book sold 60,000 copies it is now out of print. I was so naive and enthusiastic that I agreed to a ridiculous contract and never made more than the miniscule advance. In addition, it was horribly reviewed in the fishing mags. The publisher was in LA and the packager was in England and communication was horrific. I was told it was a fishing book, but it was marketed as a children's book. All of this came out in the reviews…. Regardless someone made some money…I didn't. I walked away from that project stinging, and took almost 10 years off from writing. The second book, Fly Fishing Montana, was a much more enjoyable experience. I know the last thing Montana needs is another guide book, but this one is different on many levels. First, it has full color photos, and easy to use maps, but most importantly, it allows for self discovery on the part of the reader. We provide a great foundation for each major river (hatches, maps, nearby lodging, great food and bars), but it is not so specific as to describe which rock to stand on.
TR: What's been your most memorable fishing trip in regards to photography? Why?
Grossenbacher: All of them. I am very lucky to be surrounded by a great wife and terrific friends within the fishing industry. First, my wife believed I could do this from the first minute we walked out of the camera store with the D70. She has never questioned a single trip that I have taken (since 2005 I have been out of the country for about 3 months each year). Even though she is a gifted angler and would love to travel with me, she is an even better mother and choses to stay with the girls most of the time. Additionally, she has supported every camera upgrade, and lens purchase even when funds were not there to support them. Because she is such a great team player on her end, I feel a tremendous amount of pressure to produce great photos on each one of these trips. Pressure is probably not the right word, but I really want to make sure I come home with great stuff.
As for the friends I have been equally fortunate to be surrounded by guys who have believed in me and have helped me immensely every step of the way. I have a core group of guys that I travel with, and most of them started as fishing clients, but now are the best friends I have. These are guys that I can call on a Thursday and they will be on a plane by Saturday. We all drink too much, laugh a lot, catch a few fish, and get some photos in the process. Although not a client, Carter Andrews is a part of this group. Carter could catch a trout in a piping hot cup of coffee. He has always been willing to make time for me–even early on when I didn't know which end of the camera to hold. There are certainly too many people to thank that have allowed me to tag along on fishing trips, and I am really humbled by their support.
TR: On a typical shoot what do you bring along? I'm not talking about everything you own, but what's in the bag?
Grossenbacher: My main camera is a Nikon D700 and my back up is a D300. Lenses: 14-24mm f 2.8, 24-70mm f 2.8, 70-200mm f 2.8 and a 105mm macro. I also have an Ikelite underwater housing with a Nikon D200 and 12-24mm wide angle lens. Although this sounds sexy, the underwater housing is a pain in the ass and always bites me on extra baggage, and gets the stink eye from security every step of the way.
TR: What single tip would you give a person looking to hone their skills as a photographer? Specifically in regards to fishing?
Grossenbacher: F8 and be there.
To see Brian's work visit, www.grossenbacherphoto.com
---