Reel Bags: The Perfect Lens Protectors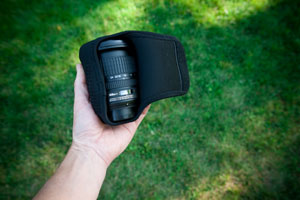 If you're like me you probably have a handful of little neoprene sacks that either have fly reels sitting in them or are stacked in a dusty corner of your garage just begging to be used for something. You know the ones… Almost every fly reel you buy today comes with one of these things.  I've found that people either use them or they don't. I use them, but not always for protecting my reels. 
They are the single best thing I've found for protecting my photography equipment. Specifically lenses. I've looked long and hard for a product in the photography world that even comes close for the price, and there are none.  Of course there are some solid products out there, but none that are as inexpensive or even free.
When out shooting fishing I typically stuff everything in my Stormfront Patagonia backpack. The backpack is great, but equipment always shifts. It bangs together, and ultimately what was on top ends up at the bottom. Whether I'm taking my point and shoot, one extra lens or five those little bags seems to protect it all. They are are soft, but dense enough to shield against blows, rubbing, and and abuse from within the bag. They come in a wide range of sizes. Swallowing everything from a 12 wt reel to a wide angle zoom like the Nikon 10-24mm above. So next time you buy a reel, keep the bag and use it to protect your lenses or any other piece of fragile photography equipment. Heck, I bet if you rolled on down to your local fly shop today they'd have a bunch in the back that they'd gladly sell you for a couple of bucks.
If there's anything else out there I'd love to hear about it, but up until now I've not found anything that compares.
---