In the Valley of the Rainbows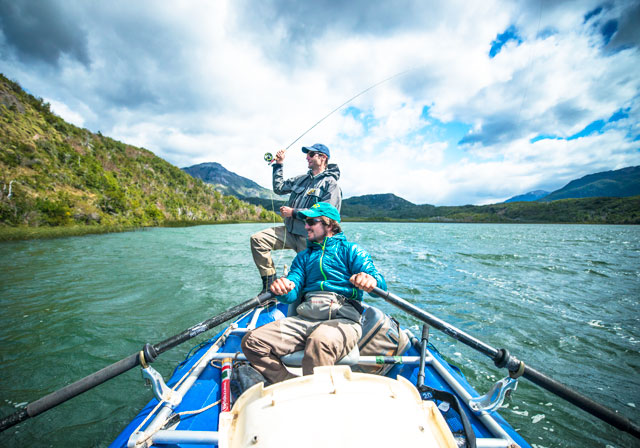 Patagonia is a land of soaring mountains, wide gravel roads, cold blue rivers, and legion trout.  The fact that it's smack full of sun while the Northern Hemisphere is chock full of snow only adds to the allure.  Throw in nightly feasts of local lamb, beef, wine, wine and more wine, and you've got a veritable paradise for any red-blooded angler.  I recently had the chance to live—and fish—it up with Justin Witt and the crew at Lago Rosario Lodge. Here's a typical day in the life of an angler in Argentina.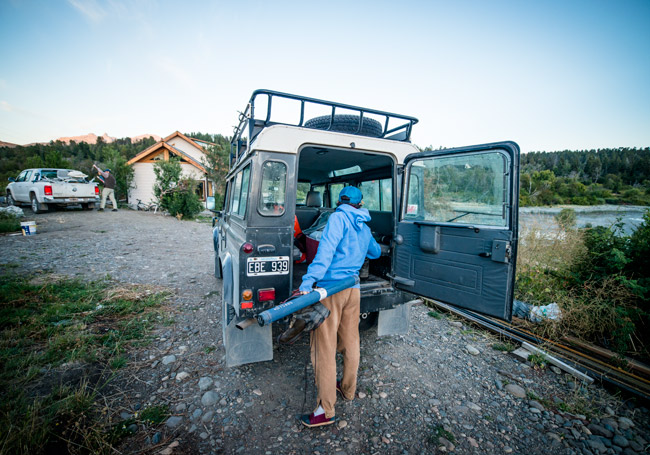 Days start early with a hearty breakfast followed by the ritualistic loading of the Land Rovers and Hiluxs (a great vehicle which is allegedly coming to U.S. markets in 2019).  Since the mood of the trout on the local lakes varies daily according to weather and wind. Fly boxes carry everything from 6-inch streamers to size 16 mayflies. If you tie your own flies, you'll want to go big on the rivers and downsize your streamers slightly on the lakes.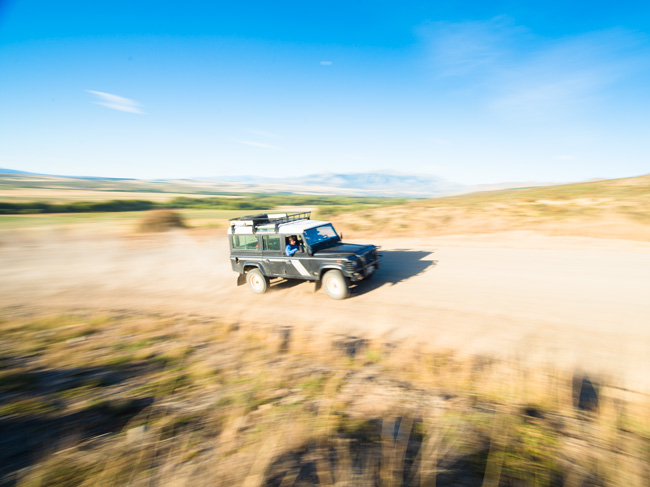 The morning commute is so wide open you can almost drive blindfolded.  Not that you'd want to. Argentine Patagonia's deep plains and sprawling mountains are a balm for the modern human condition. The only appropriate position for the window is down.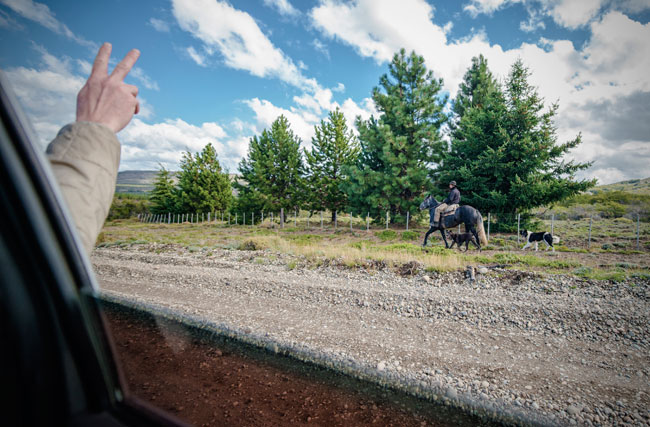 Everyone gets to where their going at their own pace–and in their own way. Patagonia still has a strong gaucho presence.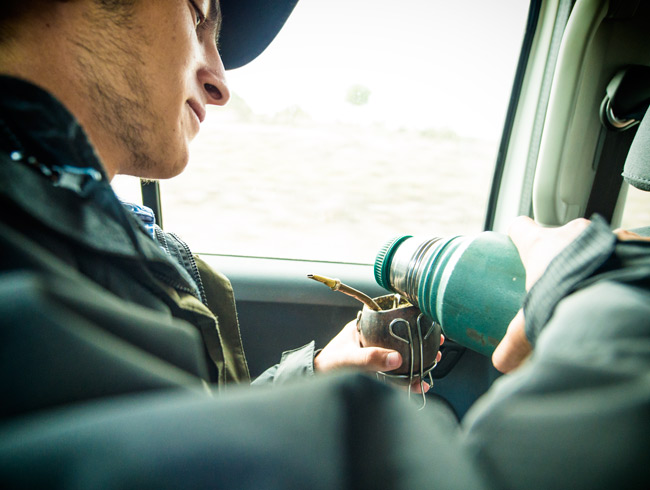 Matè flows early and often. Guides rely on it to keep them alert through the long summer days. Lifelong coffee drinkers will find it an acquired taste.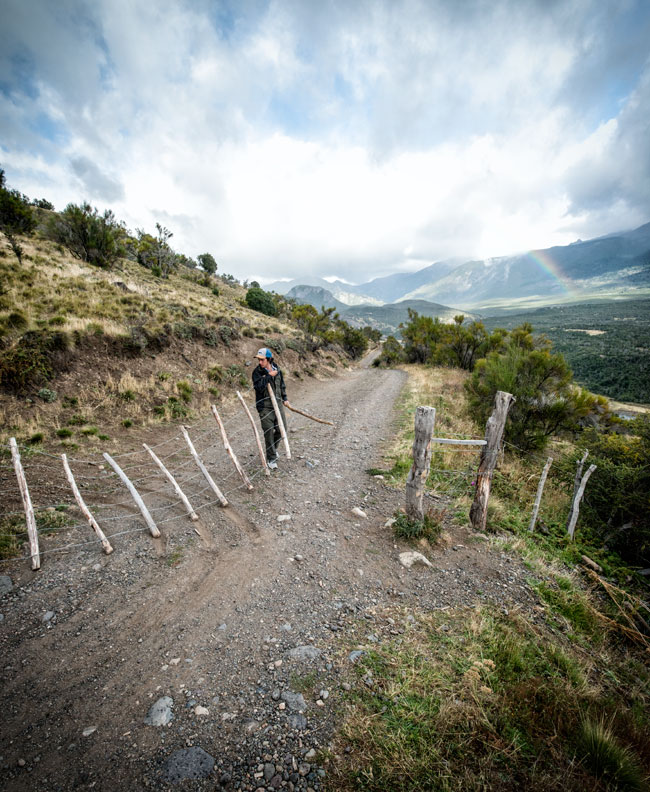 Every day is a different different road, a different valley, a different river or lake.  Permission and a little gatework are required to pass through the sprawling estancias en route to the water de jour, in this case a deep glacial lake full of rainbow trout.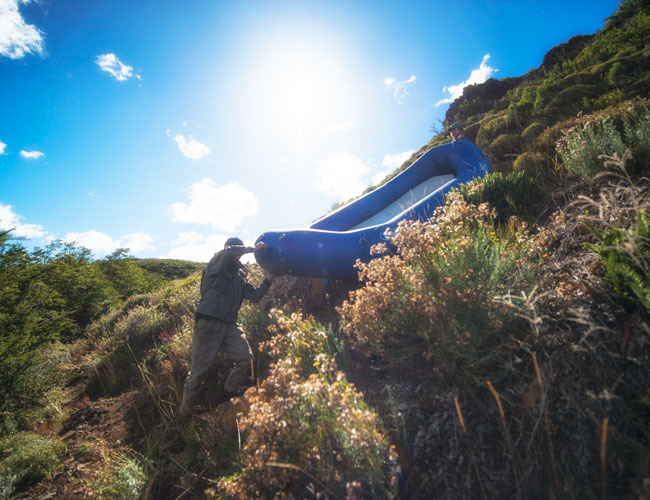 No boat ramp?  No problem. Inflatable rafts are dependable workhorses that keep all options open, all the time.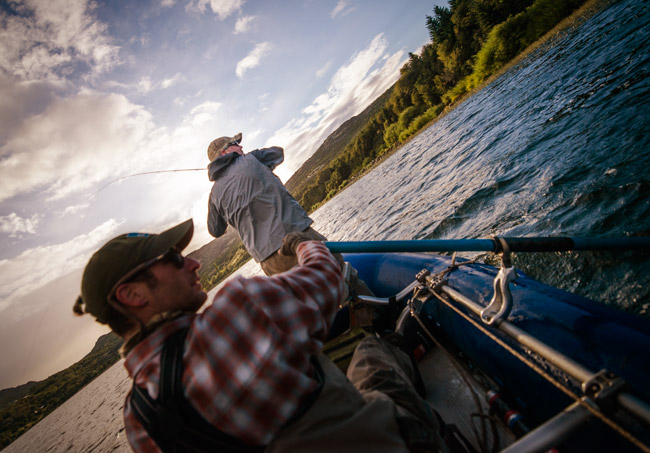 Here Chris Young of Alexandria, Virginia, pounds the reeds with a streamer while guide Justin Witt reads the wind—a constant companion that requires the rower to work just as hard, if not harder, as they would on moving water.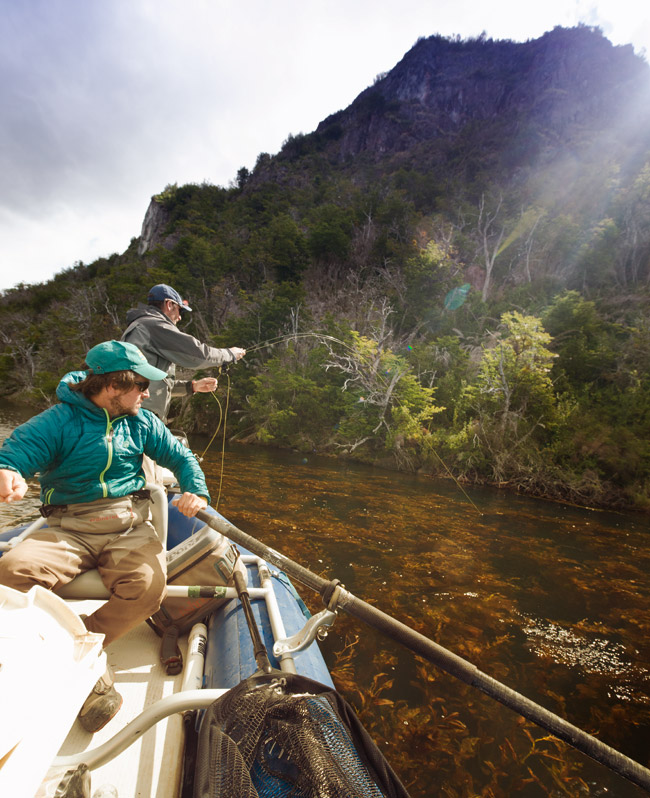 Matching the hatch is not only for river anglers.  The trout on this mountain lake spend afternoons sipping mayflies in channels in the weeds.  Hooking up with one of these cruisers requires a quick cast, patience, and a steady hand.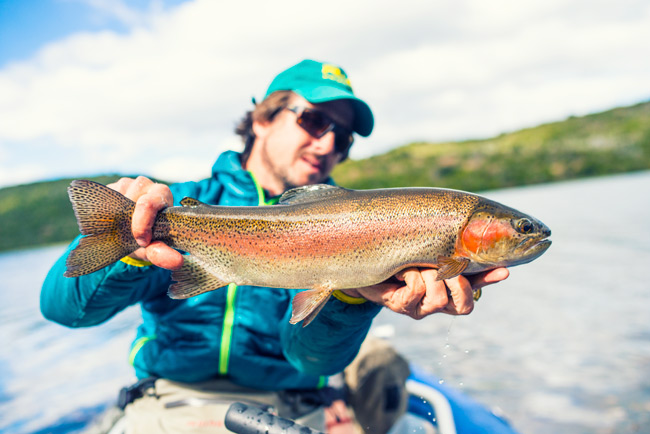 Afternoons see clockwork mayfly emergences on the lakes.  The bugs collect along frothy seams whipped up by the wind, with the fish following the foam line, gulping as they go.  Success depends on tracking the direction and pace of an active feeder, then laying a fly down directly in its path.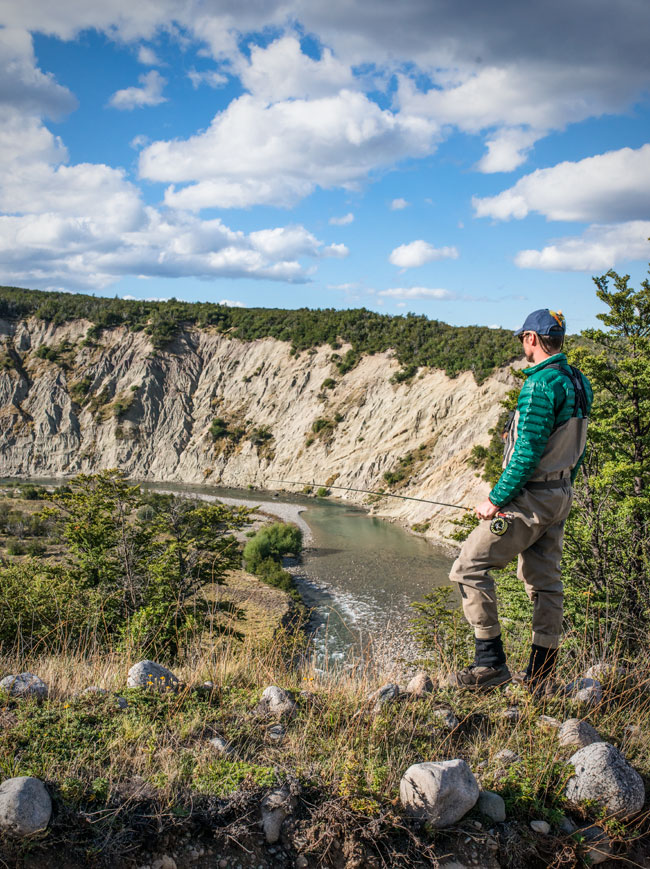 The melancholy of Patagonia comes from wanting to fish everything in sight, which would take an untold number of lifetimes. The above image is a case in point. After fishing hard all day, Witt stops on a ridge to ogle a riffle-pool-run sequence in the soft light of evening.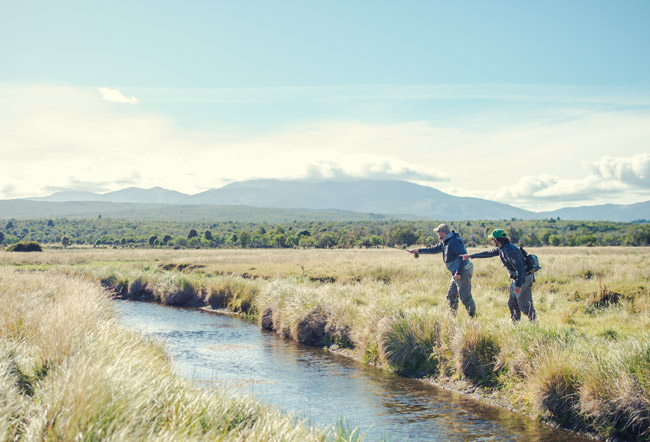 Elsewhere, technical spring creeks slowly wend there way through sunny valleys.  Long leaders, soft steps and even softer presentations will get your grasshopper crunched by one of the resident rainbows.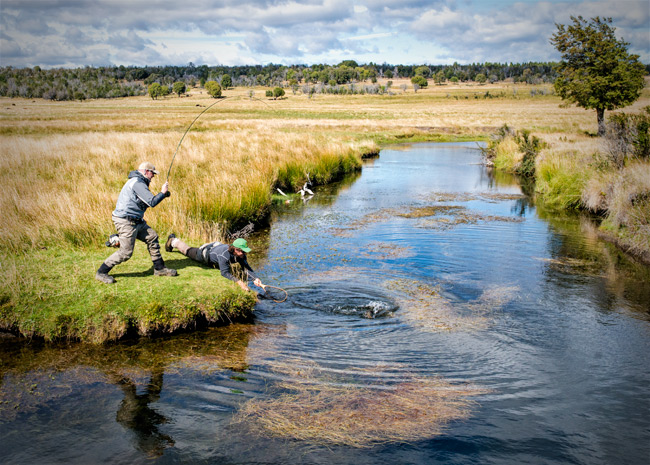 Big trout in close quarters requires teamwork and a fast net-hand.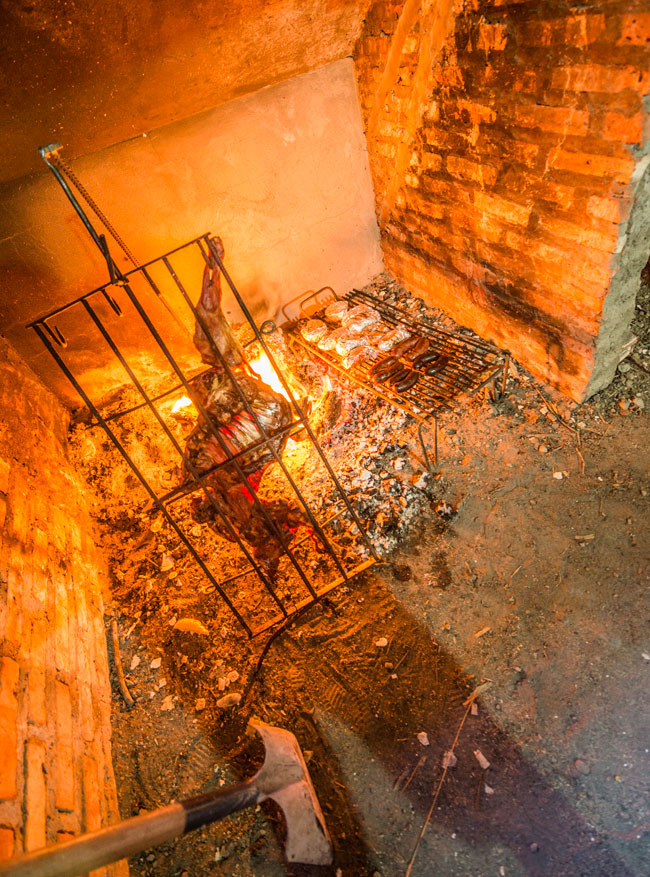 No trip to Patagonia is complete without a traditional asado. Odds are good you'll find at least one thing on your plate that you can't quite identify. In my case, it was a flaky puff pastry stuffed with marinated beef tendons. Delicious. While the side dishes may vary from region to region and lodge to lodge, two things are constant: lamb and blood sausage in heaping quantities.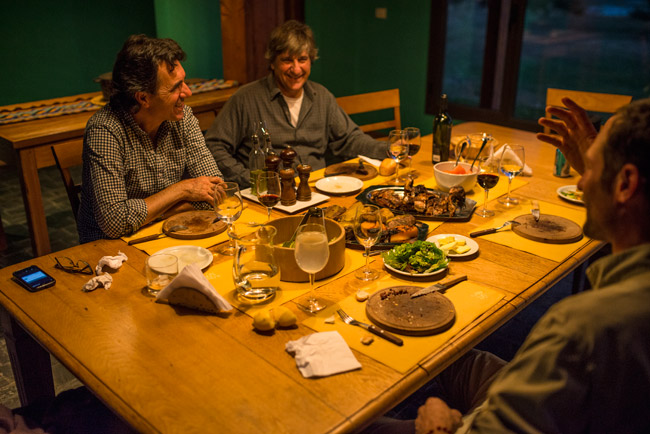 Fish stories last long into the night, aided and abetted by good Malbec from the vineyards in the north of the country. In addition to beef and lamb, Patagonian gustations include wild game and plenty of fresh vegetables.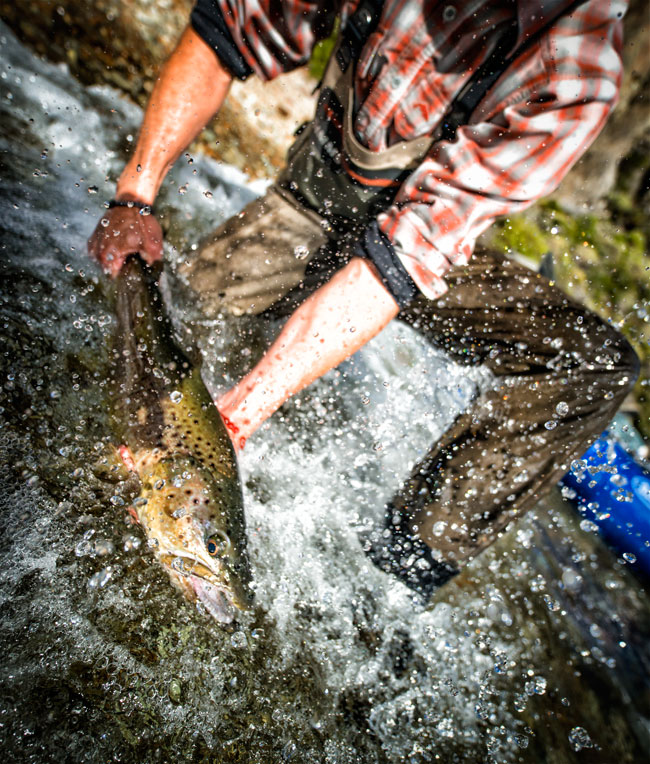 Returning to an Upper Midwest winter in full swing always takes some getting used to after spending a long week sunburnt, wet and happy. I've found the buzz you get from a trip to Patagonia has a half life of two weeks.
You can find out more about this and other fishing opportunities with Hemispheres Unlimited right here.
---