Bitterroot River: Mahogany Mayhem and Other Hatches
When asked which was the must-fish hatch on the Bitterroot, Jeff Gray, the owner at The Freestone Fly Shops in Hamilton & Darby, surprised me. I expected Jeff would say the Skwala hatch. Instead he replied, "The Mahogany hatch without a doubt, from mid-September through October." When asked why, Jeff noted, "There's less pressure, it's more technical fishing, more of a challenge. It's the last big bug hatch and the fish are stocking up for winter." His go-to pattern is a Mahogany Sparkle Dun in size 14 or 16. Jeff's choice is not surprising; it is a chance to fish dries in near solitude, to motivated fish, on a river known for great hatches. Mahogany Dun is the common name for the mayfly genus Paraleptoplebia.
When asked why not the Skwala hatch that has a reputation for being great on the Bitterrroot, Jeff said, "It's inconsistent from year to year and there's a lot of fishing pressure." Those planning a trip to Skwala Fest in March or April take note; it can be great fun, but there is also the risk of cold, slow fishing days.
For water levels, Jeff watches the Darby gauge. He states, "Generally, the better fishing coming out of run-off is on the upper river, both because the water clears quicker and the insect hatches are already in full swing. Therefore, the actual flow mid-river is less important. Because the middle section of the river is so braided, with many side channels, there can often be good fishing found, except during the highest flows."
Wading is possible on the Bitterroot with flows up to 1500 cfs at Darby. If floating, fishing is good up to 3500 cfs. Jeff doesn't float the river below 250 cfs.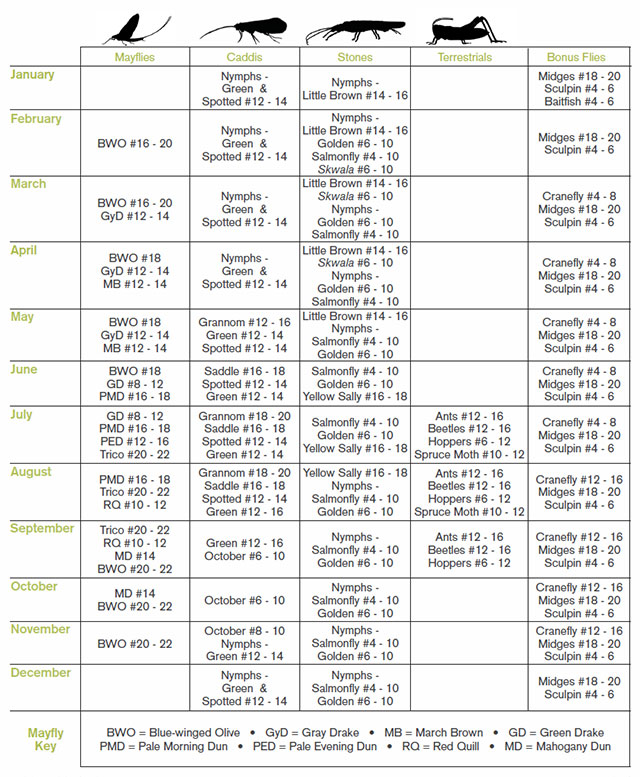 Excerpted with permission from Fishing Montana's Westslope Waters by Juan Calvillo. Copyright © 2017. All rights reserved.