The Best Trout Reel for You
P.T. Barnum said there's a sucker born every minute; what he didn't account for was that rate doubling among the fly fishing population. Put something shiny and sleek in a slick Instagram ad and even those of us who fish decades-old tackle in defiance of the never-ending deluge of new gear start wondering if we're missing out on something. 
That's particularly true regarding trout fly reels. All the talk of aircraft-grade aluminum, carbon-fiber disc drags, and anodization makes whatever reel you currently have seem inferior. 
Reality is, thankfully, much more affordable. While the high-end trout reels are absolutely gorgeous pieces of gear, often you'll find them packed with features that are overkill for the vast majority of trout fishing. Today, we'll take a look at how you can determine what features you need in a trout reel and what the best trout reel for you looks like. 
The Best Trout Reel for You
The "best" anything is subjective, but if you know what you're looking for it's easy to find the best fly reel for you. The key, I've found, is being honest with yourself about three things—where you fish, what you fish, and what you most often catch.
Before diving in, I do want to remark that you won't find me discussing arbor size or line retrieval rate here. While a large-arbor reel does make line retrieval quicker, it has little to no bearing on how your reel performs under pressure. Unless you're fishing for large anadromous fish or only fish in saltwater, arbor size and retrieval rate shouldn't enter the equation.
Where You Fish
This is, perhaps, more important than any other factor in picking the right trout reel. Say you're a guide on the Gray Reef section of the North Platte River in Wyoming. You spend most days fishing from a drift boat, often targeting larger-than-average trout. The North Platte is big water, and that means you'll consistently throw big flies, and cast them fairly longer-than-normal distances. 
If that's the water where you spend most of your angling hours, then you absolutely need a heavier-duty reel than the angler who fishes high-mountain spring creeks. 
I've often heard the argument that it's better to be over-gunned than underprepared for a surprise big fish, even in small water. While that's true, there are few instances where you can't land that once-in-a-decade bruiser trout from a tiny creek with lighter-duty reels if you know what you're doing. Reels with drag that stop a train in its tracks don't make up for lack of fish-landing skill. 
Case in point: while guiding this past summer, I watched a client hook into a rainbow that looked fairly decent when it first jumped. The reel whined and whirred, but the client landed the fish by putting pressure on the fish at the right moments, reeling in line and using his fingers as a makeshift brake. If he'd simply relied on cranking the drag down until the fish could barely swim, the 4x tippet likely would've snapped. 
When fly fishing for trout, the reel is rarely meant to be the sole mechanism by which a fish is retrieved. It's a combination of a good drag and fish-fighting knowledge that put trout in the net, not just brawny reels. 
What You Fish
Another factor that should impact your decision when buying a reel is what rod you typically fish with for trout. 
If you fish a new (say, made in the past decade) top-tier fly rod, then you're using a significantly lighter stick than the angler still using fiberglass or bamboo (yes, those anglers still exist—I build and fish bamboo). 
Rod weight matters because you want a reel that, when loaded with backing and line, properly balances your whole outfit. A reel that's too light on a heavier rod makes the whole thing tip-heavy, making it harder to achieve soft casts. A reel that's too heavy throws off the balance of your rod, making the casting process a bit clunky. 
Generally, for a trout rod, you want a reel that clocks in at less than five ounces. By the time you add backing and line, that's the perfect weight for most trout rods. 
If you do happen to fish bamboo or fiberglass, then I'd recommend sticking with classic click-and-pawl reels. These reels generally weigh a few ounces more, better matching the heavier weights of bamboo and fiberglass. 
What You Catch
Finally, the last thing you need to consider when buying a trout reel is what you most often catch. Here in the Rockies, I most often catch fish between 12 – 15 inches, though, I have a few places where I know I'll regularly hook into trout 18 inches or longer. I spend more time than most anglers I know on high-country creeks and streams where a 12-inch trout is a bruiser.
I don't need an ultralight, bomb-proof reel with a drag that can stop a freight train. I need a reasonably priced, light-enough reel that has the drag to handle the occasional fish around 20 inches. 
What I need, though, is likely different from what you need. If you're that angler on the North Platte, for example, you'll want a heavier-duty reel that can pull bigger fish through heavier water. The key here is being honest with yourself and only buying enough reel for what you truly need. 
In a way, it's much like the difference between hunting whitetail deer in Kansas and mule deer in Wyoming. A .30-30 at a hundred yards from your tree stand is often more than plenty for a whitetail. That same round on a 300-plus yard shot in Wyoming could still work, but not as effectively as a .308 or .300 Win Mag. 
That's what you're looking for in a trout reel—the tool that most quickly gets the job done without being overkill. And unless you're a globetrotting angler who's into steelhead and sea-run browns every other week, you don't need to bring your .338 Lapua to a 50-yard gun range. A good ol' .22LR will work just fine.
Wrapping Up
If that hunting metaphor didn't work for you, think of it this way—the best trout reel is the one that does everything you need it to and little more. You can spend as much—or more—on a reel as you did on your rod, but that's often unnecessary. For years, I fished with an old cast-aluminum Redington reel that likely had an operating drag at some point, but not when it was in my hands. I put plenty of above average rainbow and brown trout in the net with that reel on an old mid-tier Sage rod, on water from the Lower Provo River to the Green below Flaming Gorge.
Then, when I finally broke down and bought a flagship fly rod, I paired it with a now discontinued Abel click-and-pawl reel I found on clearance. I still fish that rod and reel combo these days and rarely think twice about that Abel reel being up to the challenge. It hasn't let me down yet.
If I had to be concise, I'd tell you to pick a reel that balances your rod, has enough drag for the fish you most often catch, and is one you like using. All the rest is, as they say, window dressing.
Recommended Reels
If you're just starting out on your trout reel purchasing journey, or want a few more options, then consider anything on the following list. I've personally fished and reviewed all of these reels and wouldn't hesitate to recommend them to any trout angler in the world.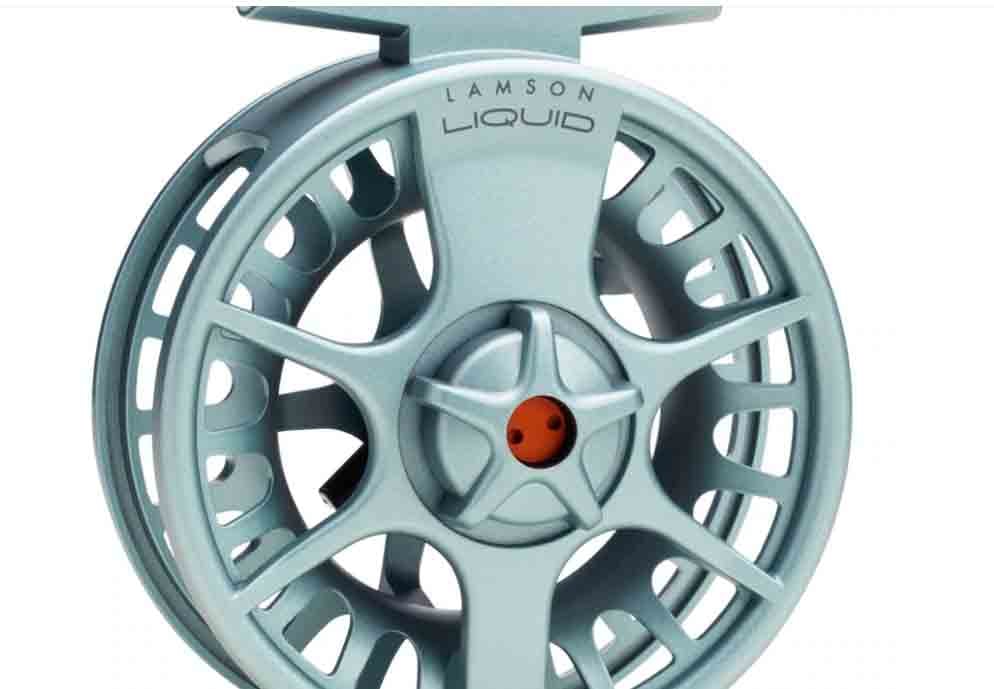 Rock-solid drag
Lightweight
Die-cast construction
No list of great trout reels would be complete without a Lamson. The folks at Waterworks-Lamson have consistently created some of the best trout reels on the market, and their entry-level Liquid is no different. It's die-cast aluminum, but features the same sealed Conical drag as other Lamson reels. In short, for $129.99, it's an absolute bargain.
Very light
Infinitely adjustable drag
Absolutely gorgeous
This is one of the prettiest reels on the market, and it's fairly new, too. Introduced last year by Hardy, the Ultradisc UDLA is a light, durable reel with just the right amount of drag for most trout. It was designed to pair with Hardy's new Euro-nymphing rods, so it's definitely built with landing fish of all sizes in mind.
The only knock against this reel is its price. A 5-weight reel runs $350.00, which is on the higher side. But this is a reel you could fish for the rest of your life with confidence that it'll perform.
Easily-adjustable large drag knob
Sleek design
Little startup inertia
The Ross Animas has quietly grown on me as one of my favorite trout reels. I first fished this back in 2019 when Ross redesigned the reel. It's light, with sleek lines that look good on any fly rod. The drag knob is large for easy adjustment, and I've noticed little startup inertia.
Again, the only knock against the Animas is the price. $360.00 is where these reels start, but just like the Hardy Ultradisc UDLA, it's a reel you can use forever.
Durable cast aluminum
Solid drag
Budget-friendly price
The Orvis Clearwater is one of the reels I love to use when guiding. It's a reel that takes a beating when clients drop them on rocks but still has enough of a drag to wrangle the surprise big fish. I've used larger versions of the Clearwater on sockeye and king salmon in Alaska, as well, and have no complaints. A 5-weight Clearwater will run you $98, which is an absolute bargain.
Affordable
Solid construction
Great drag
If you want more color options, or simply a different design than what's offered on the Clearwater, look no further than the Redington RUN. The RUN is one of the best affordable fly reels I've ever fished. The drag is great, with minimal startup inertia, and the reel is fairly lightweight, too.
Classic styling
Unique V-Groove spool
Rock-solid construction
My buddy Brad Smith is one of the owners of Walton Rods, and last year they started making fly reels, too. The Avail is their only current model, but it's one of the best reels I've ever used. I love the classic lines and stylings of this reel, and I really appreciate the deep V-groove in the spool. That allows for more backing to pack onto the reel for big-trout situations.
For $219, this reel is a fantastic deal.
Other Options
While the five reels above represent a good overview of what the industry offers, there are plenty of other reels worth considering, too. The following list contains reels that I've either used myself or heard testimonials about their greatness from guides and anglers alike.
While this is far from a comprehensive list of reels, it should give you a good jumping-off point from which to start when looking for a great trout reel.
---