Best Budget Fly Fishing Reel for You: Review & Buying Guide
A few years ago I was in an antique shop in southern Utah. It was around Christmas, and I was there visiting my parents who've made antiquing a sort of family tradition. Naturally, I gravitated towards the shop's collection of fishing gear. It was mostly old trolling rods and spinning poles with a few bamboo salmon rods mixed in. From my time in antique shops here in the West, that's a normal assortment. What I was not expecting was a shelf full of fly fishing reels.
Most of the reels had seen far better days. Martins and Scientific Anglers dominated the selection, but a battered aluminum one styled like a Hardy Princess caught my eye. I picked it up, looking past the dings and scratches to see it was still in pretty good shape. I popped the spool loose, surprised to see a bit of grease on the spindle. Almost as an afterthought, I turned the reel over.
The Princess. Made by Hardy Bros. Ltd. Alnwick, England.
The price tag read $65.
I quickly pulled out my phone and Googled "how to identify a real Hardy Princess." After a few minutes of reading and a more thorough examination of the reel, I reckoned it was the real thing. Judging by the style of the line guard and reel foot, it was likely made in the mid-'70s and in fairly good shape.
By the time I left the antique shop I'd talked them down to $45 for the reel.
In my experience, that's the best way to shop for a fly fishing reel on a budget.
Kidding aside, I shared this story to highlight a point—you don't need to spend a lot of money to get a great budget fly reel. Antique stores are a great place to look for reels, but they're not the only place. Facebook Marketplace, eBay, and other online forums are fantastic places to find a serviceable reel for a good price.
Before you head off shopping, though, it's important to know exactly what features you need—and which ones you don't—in a budget fly reel.
The Fly Reel Drag
The drag is the most important part of any fly reel. Without a drag, a fly reel will spin freely when casting. You can feel it if you try. If you have a drag that doesn't work, you'll notice it.
Aside from holding fly line, the purpose of a fly reel is to help retrieve fish through the use of a drag system. A drag is a brake designed to slow down the rotation of a fly reel spool. Fly reels use either a click-and-pawl or disc drag.
The click-and-pawl is the OG drag. This is the drag system your dad and grandfather had in their reels. It's still widely used today.
Click-and-pawl reels work by using a spring and a screw to apply pressure to a gear, otherwise known as a "pawl," that's fitted into machined teeth that encircle the reel spindle. The pressure on the pawl works as a brake against the revolution of the reel spool.
A disc drag is the most common type of drag system in use today, and it's what you'll find in almost all budget fly reels. Most disc drags are fully sealed, meaning you can't service the drag itself and the drag is relatively impervious to outside destruction.
Disc drag reels function by applying pressure to a series of washers and plates, often made from a synthetic material, that in turn add pressure to a reel spool.
Disc drag reels are often seen as the best choice for most fly fishing because they're durable, adjustable, provide more stopping power than a click-pawl, and can sometimes be easier on tippet and leader.
Fly Fishing Reel Materials
Almost all modern fly reels are built from aluminum. The major difference in budget-friendly and expensive reels, however, is how that aluminum is molded into a fly reel. Most budget-friendly reels are cast, which means aluminum is poured into molds and the reel is assembled after the metal has cooled and hardened in the correct shape. In contrast, machined aluminum is cut out by machine from a solid block of metal. Often, machined reels are lighter than cast reels.
Fly Reel Aesthetics
Finally, a fly reel should look good. Often, I think fly anglers pick a reel based on how it looks on their rod and less on that reel's performance specifications. While I don't think it should be the determining factor in picking a reel, I think it has to be considered.
Now if you keep all that in mind when shopping for a budget fly reel, chances are you'll find something great. It may not be an antique Hardy Princess, but it'll be more than enough reel to get the job done.
The following list is made up of reels I've used myself. As always, they're not ranked in any particular order. And reel sizes in all cases match a typical trout or freshwater setup.
Lightweight
Gorgeous design
Pretty click sound
The Orvis Battenkill is probably the best budget-friendly click-and-pawl reel on the market. Size for 5-7 weight lines, it's only $149. This reel is light, looks great on just about any rod, and has a click-and-pawl drag that sounds gorgeous when under pressure from a big fish. While the drag isn't adjustable from the outside, you can change the setting of the pawl to increase or decrease spool tension. The Battenkill is designed for palming during long runs by bigger fish. I've had a Battenkill on a few of my rods for years, and they're just a pleasure to fish.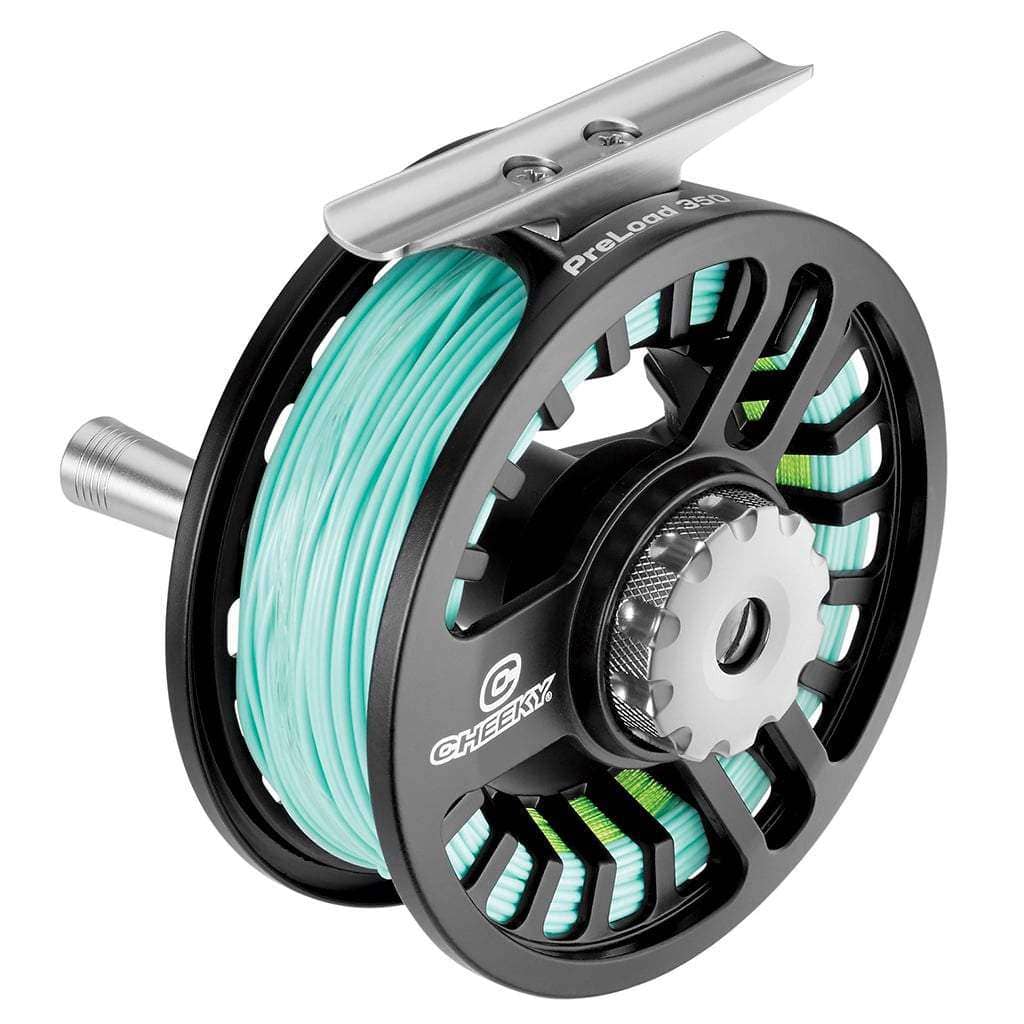 Comes with line and backing
Rock-solid construction
Very affordable
The Cheeky PreLoad is one of the more unique reel options on the market. It comes loaded with backing and line, so you're ready to hit the water as soon as the reel arrives. At only $99, it's an outstanding value and built well above its price point. While it might not have the guts to stop a really angry, really big fish, the PreLoad is more than enough reel to tame big trout. The overall design looks great on tons of fly rods, too, so you'll easily find a color scheme that fits your needs.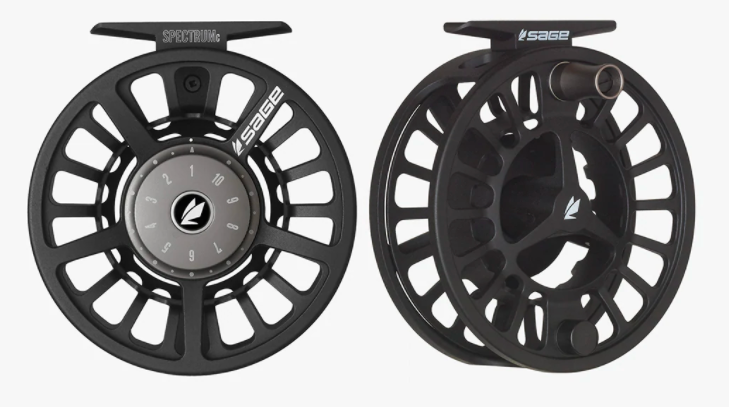 Rock-solid drag
Sage-level quality
Good weight
The Sage Spectrum C is a solid option if you're looking for a budget disc-drag fly reel. It features a rock-solid disc-drag system that's pretty adjustable, especially for a budget reel. The startup inertia is decent, so you won't notice major issues with your tippet and leader snapping when fish take off on sudden runs. Finally, Sage built a die-cast reel that's not too heavy, so you don't need to worry about it not properly balancing your rod.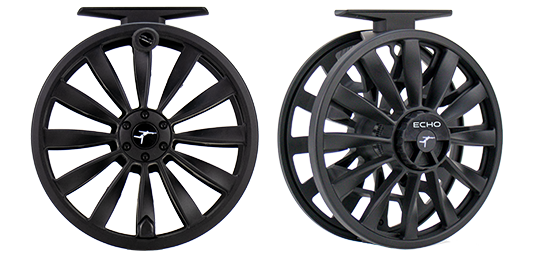 Fantastic price
Great drag
Sleek design
Echo is famous for their budget-friendly rods, but they make a great set of fly reels, too. Their Bravo LT lineup is particularly impressive. One of the more premium features is the use of roller clutch bearings to eliminate most startup inertia and provide a smooth drag experience. That's complemented by the sleek design that looks at home on just about any fly rod in today's market. Pair that with the minutely adjustable drag and you're looking at a reel that'll handle every fish it meets.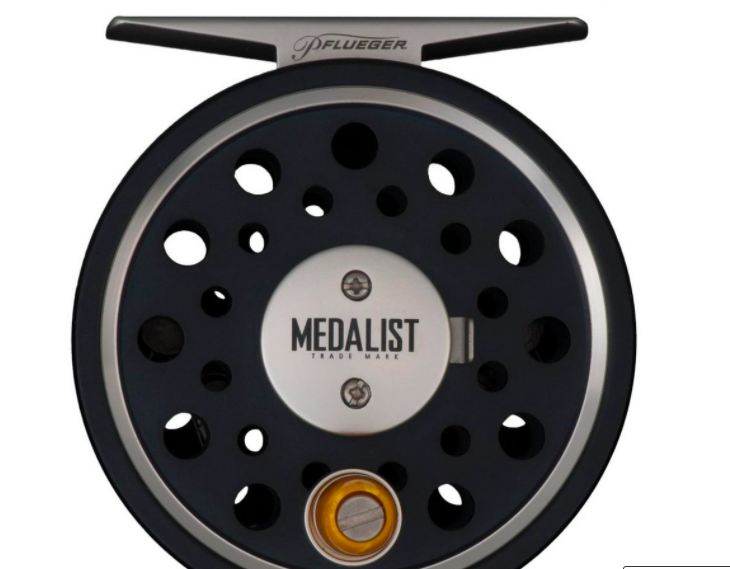 Timeless design
Classic quality
Perfect for trout
A few years back, Pflueger reintroduced their wildly-popular Medalist reel. This was a mainstay reel for years in fly fishing, and it's been well-received since being brought into the modern angling world. While it doesn't have a disc drag that'll stop a fish in its tracks, the Medalist does have a time-tested click-and-pawl drag system. That drag is encased in the classic design that looks right at home on just about any fly rod in the world.
These reels are meant to be a starting point for you to start your own shopping from. Hopefully, this list illustrates just how many options exist to find a great trout reel on a budget.
If you want to look at some other options, these are also great budget-friendly fly reels:
---