Sage FOUNDATION Fly Rod Review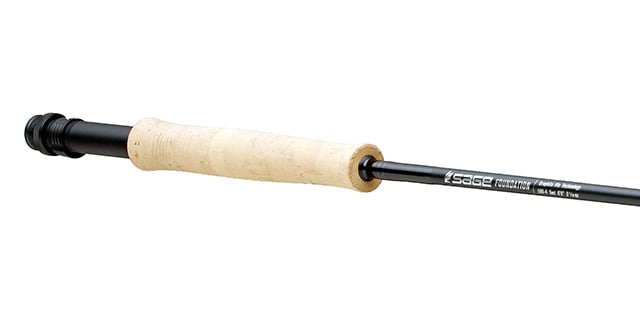 It's all about the blank. A good blank with decent hardware easily trumps a poor one encrusted with gems. Balancing those two extremes is what Sage does best, and their new FOUNDATION fly rod series is a perfect example of that fine balance.
As per Sage, this is a fast-action rod built for diverse fishing conditions. The rod is light in hand, but serves up enough swing weight to get even the biggest jobs done: Graphite IIIe technology serves it well and encourages a smooth and, if need be, powerful casting stroke. Short casts are best accomplished by gripping the rod high up the handle, or (casting tip) even the base of the blank itself. What stood out in particular on the 5-weight I tested was the blank recovery speed, which was very quick and responsible for launching those extra few feet of line when needed. Beyond this, the rod is very forgiving: a slightly whippy upper-quarter will give your line that extra zip and allow for considerable degree of high-pressure tactics when attempting to manage a tenacious fish.
The FOUNDATION's biggest attribute? Value. If you've been struggling to crunch the numbers in order to determine what the optimum performance/purchase price ratio might be, this is a rod that will cut through the mathematical acrobatics. Components all make the grade, build and finish are above par for the price category.
Definitely not your novice/starter rod, yet not priced that much higher than many starter rods on the market today.
Retails $325, comes with a nylon rod tube and boasts a lifetime warranty.
FOUNDATION rods are made in the USA and are available from 4 through 8-weight.