Rodholders: John Gierach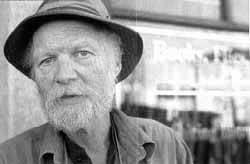 YOU'RE A CAB DRIVER in New York City in 1971, trying to make a right hand turn at a busy Manhattan intersection but there's some cocky bike messenger in your way and he won't move…
…so you nudge him. Not hard, just enough to let him know that you're in a cab and he's on a bike and if he doesn't move and soon you might run his ass over. But the bike messenger does a strange thing. He doesn't move out of your way. He gets off his bike, walks to the front of your cab, and swiftly kicks your headlight in. Then he invites you to step outside and discuss the matter further. You, as the cab driver, make a wise choice and roll up the window instead. Because you've just met John Gierach on a bad day and getting out of your car would only make it worse.
"By that time I'd figured out what it took to live in New York City," Gierach now says of the Big Apple incident over 30 years ago. "You didn't take any shit."
Gierach and I are sitting in the back room of the South Creek, Ltd. rod shop in the tiny town of Lyons, Colorado—a setting so seemingly Gierach-like that it's hard to imagine him ever being part of any other world, much less Manhattan. Cigarette smoke fills the room as he describes how he migrated from Glenwood, Illinois, to Colorado back in the late '60s.
"I graduated from Findlay College in Findlay, Ohio, with a major in philosophy and a minor in art and English—an absolutely worthless degree," he says. "And I came west mostly because you could—you could do that back then, when you were 20 years old and it was the late '60s."
But it turns out that his degree wasn't worthless. In fact, if you own all 13 of Gierach's highly successful books and you think that constitutes his entire collection, you're wrong. Because his 14th book, the one you don't hear about, the one nobody knows exists, is actually a collection of poetry.
"I never thought I'd become a fishing writer," he says—a rather surprising statement coming from one of the most successful fishing writers of all time. "I thought I'd be a poet or a novelist or something. I started writing about fishing because I was doing a lot of fishing anyway and I figured, 'Hey, why not do this?'"
Like many participants in fast-growing outdoor sports, Gierach has mixed feelings about the increasingly crowded conditions he finds on the rivers he fishes. "Flyfishing has been very good to me and I make a decent living from it," he says. "But it's just too big and commercial. Back in the '60s and '70s it had this sort of cool, underground, Bohemian feel to it. And I miss that."
Gierach addresses this issue, however, through a longtime love of hiking to high lakes and headwaters where other anglers are unwilling to go. He has never been much of a big fish guy and in 40 years of angling he's never caught a fish over 20 pounds. He prefers not just fishing for trout, but also generally fishing for them close to home, on small streams.
"There's so much good fishing, I just don't see spending all that money to go someplace really exotic." His name alone, and the publications he writes for, would get Gierach access to any fishing lodge on earth. Yet he will choose a local road trip first, at least in part because he rather prefers roughing it. One of his great lines from the 1996 title, "Another Lousy Day in Paradise," in a chapter called 'Travel,' reads: "If nothing else, a road trip amounts to several days of running conversation with friends, and since good conversation is so hard to come by these days, that in itself, is worth the effort." Amen.
It is this desire for intimate knowledge of a river, his drive to really know a place, that has limited his saltwater experience. He's been to Islamorada but came away with his feelings for trout intact.
"I wasn't terribly impressed," he says. "I think if I were really interested then the thing to do would be to move there, work for an outfitter or something and really learn what's going on."
Though he has written instructional-type books ("Fly Fishing Small Streams," "Fly Fishing the High Country," "Fishing Bamboo"), Gierach has made his name and his career with the folksy, me-and-Joe stories collected in his many other books, including "Sex, Death, and Flyfishing"—now in its 20th printing—and the cult classic, "Trout Bum," which he wrote in 1985. It is on these pages that Gierach shows his true colors as a down-to-earth guy, preferring the company of a couple good friends to the posturing of a large industry gathering. And though he's been friends with Colorado's great tailwater fisherman Ed Engle for even longer, nobody has appeared in more of his stories than A.K. Best. "Somebody asked me once who was the better fisherman between the two of us," Gierach recalls. "And though it really depends on the day, I can say that A.K. is certainly more persistent. He'll get on a ten-inch fish and just spend hours. He's relentless."
For his part, however, A.K. insists that Gierach is as persistent as he is, but adds that, "John is a much better nymph fisherman than me." (Knowing both of these guys' opinions about nymphing vs. dry fly fishing, it's hard to tell whether this is meant as a compliment.) Gierach and Best have both long been known as purists. But even the purists have their moments. "I don't like beadheads," Gierach says,"but I can't say I never fished with one. And I've been known to buy a Dave's Hopper or a Royal Wulff. When you get to be known as a purist, it sort of takes on a life of its own. I might even buy a spey rod this year."
Gierach recently turned in his 60th column to Fly Rod and Reel magazine, and FR&R's editor, Paul Guernsey, says Gierach's influence extends far beyond the pages of his columns and books.
"John is the angling voice of his generation," says Guernsey."He is probably the best known fly fisherman in the country next to Lefty Kreh. His sense of irony and introspection is outstanding and he is a very authentic, very American writer."
Again it is Gierach's lack of pretension that shines through. "In fly fishing there is a strong streak of snobbery," Guernsey says. "But Gierach will turn in a column about fishing for carp or something and he'll actually help bring some of his readers down to earth." Guernsey adds that up to half of the stories or ideas for stories he'll receive from aspiring writers are obvious attempts to imitate Gierach in their writing style. "Nobody can, of course," Guernsey says. "But they all try."
Because Gierach so enjoys both writing and fishing, I asked him one last question: "If you had to put down either your pen or your rod for a year, which would it be?" He thought for a second while his friend, Mike, in the background, gestured like he were holding a gun to his head, as if to say, "Fishing, of course. That's a no-brainer."
And Gierach did agree, saying, "It's more likely that I'd need a break from writing than a break from fishing." But lucky for his fans, he probably won't need a break from either. "I don't travel or fish to 'get away,'" he once wrote, "because my life at home isn't something I need to escape from."
We should all be so lucky.